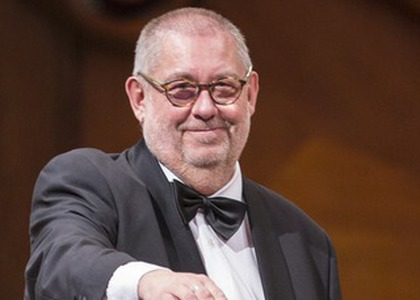 Interview with Rémy Franck, President of the ICMA jury and Founder of Luxembourg's Pizzicato Magazine
Monday, 22 November 2021 , ora 11.07

Yesterday, November 16th, 2021, the list of records nominated for the ICMA - International Classical Music Awards was published. The jury also includes Radio România Muzical through its editor-in-chief Cristina Comandașu, along with 19 other media representatives from 16 countries.
More details about this year's nominations we can learn from Rémy Franck, President of the ICMA jury and founder of Pizzicato magazine in Luxembourg:

First of all, I would like to talk about the general context of this year. We are already in the second year of health crisis triggered by the pandemic, but I have the impression that the record industry was the only artistic field that functioned without interruptions. From your point of view, how do you see the situation in this field?
If I look at the albums that I've received in the recent months, I could say there are no major changes from the situation two years ago. Maybe only that there are special productions, inspired by this pandemic period. In general, I notice that many artists saw this period as an opportunity, recording works, as long as they could not perform concerts. So we have a lot of material for this year's edition of the Awards.

Do you think that the pandemic has changed the way artists think and their choice in what regards the repertoire? And how do you see these changes reflected in the albums released this year?
Yes, some artists have been able to take their time to find works that are not currently performed or that they particularly appreciate, but have not had the chance to have performed them before. There is a small change in this direction, in the sense that we have an in-depth documentation before the recordings are made. We have works identified in archives, even premieres of some, but I couldn't say that it's about a general impression.

For this year's edition we counted 387 nominations. Which category do you think was the most productive or a real surprise?
For this year we have added a new category, which has never existed before, that of Premiere Recordings. So this is the category that I like the most, as it brings together recordings of pieces that have never been recorded until now. But we also have a lot of baroque music, just like we did in previous years. There are also many albums nominated in the Solo Instrument section, probably due to the pandemic that led artists to record on their own. At the same time we have many appearances that fall into the category of Chamber Music. So, we have a lot of recordings, extremely varied, for each category.

What was the argument for adding this new category, Premiere Recordings?
Because we consider as very important the record appearances of the works that are recorded for the first time, as this widens and diversifies the offer of products on the classical music market. If you look at the list of nominations in this category you can notice what extraordinary pieces were recorded for the first time. So this is the argument for introducing this category that I want to highlight.

I was glad to notice 3 nominations of some compositions by George Enescu - Suite No.2 for Piano with Alexander Krichel, Caprice Roumain for violin and orchestra with David Grimal and Les Dissonances, as well as the complete works for cello and piano with Rudolf Leopold and Raluca Știrbăț. How do you appreciate these works?
Personally, I can't listen to all of the recordings, but I count on the reviews of my colleagues, who listened to them, their impressions and mine being the ones that are the basis of the nominations. Of course I appreciate the works composed by George Enescu and I am glad that they are nominated. We have a great diversity of composers, young performers, record companies - all of which form a wide range of what the International Classical Music Awards mean.

Speaking of Enescu - how important do you consider the presence of his works in the international concert repertoire, but also in record productions?
Of course it is very important; Enescu's works have been recorded for years, and a record company will record his complete works, which has never been done until now. For me, Enescu is not entirely a Romanian composer, as the long period in which he lived in France left its mark on his creations. For the first time I listened to music composed by Enescu almost 50 years ago, here in Luxembourg, in a concert of the RTL Symphony Orchestra conducted by the conductor Louis de Froment. So, he is a composer that I have appreciated for a long time and I think it is very important that his works are recorded, and not only by Romanian artists, but by a plethora of international artists.

Romania has several nominations at this year's edition of the awards through artists too - the violist Adrian Stanciu, guest of the Lontano Trio, the Arcadia Quartet, the conductor Cristian Măcelaru and the National Chamber Choir "Madrigal - Marin Constantin". How do you appreciate the contribution of Romanian artists for this edition?
I must say that I have never taken into account the nominations according to the nationality of the artists or the countries from which the recordings come. I think that this derives from my Luxembourgish status, I live in a very small country in Europe, but very open to all the surrounding countries. Probably other members of the jury might be more attached to what has been achieved in their countries, but I am open to all and I am glad that we have a very wide representation of them through artists who come from a multitude of states. As you know, there are Romanian artists who do not often perform in Romania, but are part of ensembles with which they perform in all corners of the world. I consider it very important that Romania is a distinct voice in the world musical landscape. I am very happy that Radio Romania Muzical is a member of the jury, so that Romania's voice can be heard both within our jury and in the whole world.

When is the announcement of the prize winners scheduled?
In January next year. We will probably fix all the details by the end of December 2021, when the jury will know the list of winners, but we will make the announcement towards the end of January. We will also take care of inviting the artists who will participate in the Gala Concert that will take place on April 21st, 2022 in Luxembourg, and we will establish its musical programme.
Interview by Florica Jalbă
Translated by Ecaterina Bucovanu,
University of Bucharest, Faculty of Foreign Languages and Literatures, MTTLC, year I
Corrected by Silvia Petrescu