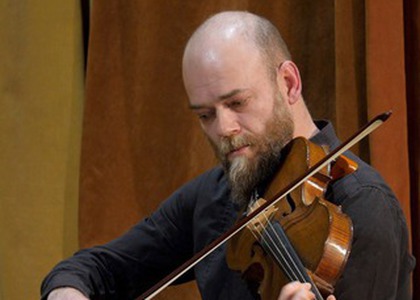 Interview with violist Traian BoalŃ about his Arcadia Quartet nomination at ICMA Awards
Monday, 22 November 2021 , ora 11.09

This year's ICMA Awards list of nominated discs includes CD's signed by Romanian musicians. Among these, there is the first volume of the Mieczys│aw Weinberg Quartetcomplete series, signed by Arcadia Quartet and Chandos record label.

How did you find out the news?
We found out when you called us. Actually, my colleague RŃzvan Dumitru had found out just beforehand, but he hadn't had the chance to let us know and hearing the news was a very pleasant surprise and an honour.

What drew you to the Mieczys│aw Weinberg string quartets?
The idea of recording a Weinberg complete series came from the record label Chandos, whom we have signed a contract with. They suggested that after we completed the Bartˇk series, they would like to add this series to their portfolio, as they consider it interesting music that has gone undiscovered by the large majority of melomaniacs. We listened to the quartets after hearing their suggestion and we were completely entranced by the music, and surprised that we hadn't heard of it either. They are unknown pieces and we decided to contribute to the reaffirmation of this composer by recording the seventeen quartets that he composed.

When can we expect the next volume?
As good timing would have it, we are just beginning the second recording session today. We are recording the second CD, which will include quartets 1, 7 and 11. We usually record in spring, and in autumn the CD is already on the market, being evaluated and sent to all the specialty magazines.

How did you come into contact with this record label and how was process of recording the Bartˇk quartet series?
Sinead O'Carroll, our London-based general manager had been 'hunting', if you will, Chandos for quite some time. We really wished to record Bartˇk's quartets. We felt very close and understood his music very well. Our manager proposed our project to Chandos. They initially said they had other plans for the Bartˇk quartet series, but our manager insisted they come to one of our concerts in England where we played Bartˇk's Quartet no. 4 if I remember correctly. The label's director came to that concert to listen to us and then came up and said 'you've got Bartok's quartet series with us.' He had been impressed by how we performed Bartˇk's quartet and in that moment he made the decision of recording the series with them, and so we signed an exclusive contract.
Interview by Petre Fugaciu
Translated by Carla Bețianu,
University of Bucharest, Faculty of Foreign Languages and Literatures, MTTLC, year I
Corrected by Silvia Petrescu