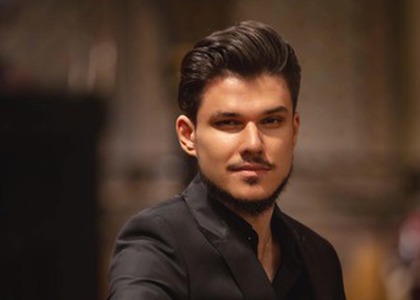 Interview with Andrei Stănculescu, conductor of the Prelude Chamber Choir
Wednesday, 24 November 2021 , ora 16.18

The Prelude Chamber Choir performs on Monday, November 22nd, 2021, a concert at St. Joseph's Cathedral in Bucharest. The ensemble evolves under the leadership of its new conductor, Andrei Stănculescu, in a program dedicated to Saint Cecilia. Andrei Stănculescu, the conductor of the Prelude Choir, told us about the meanings of this event in the following interview.

November 22nd is the date of the concert where you will be conducting the Prelude Chamber Choir, in an event dedicated to St. Cecilia's Day. What is the significance of this moment for you and for the ensemble?
As you probably know, St. Cecilia is a venerated martyr in the Catholic, Orthodox, Anglican, Lutheran churches. Legend has it that despite her vow of chastity, her parents tried to force her to marry a pagan nobleman. In that moment, on the night of the wedding, Cecilia retreats somewhere and begins to pray, in her heart starting to sing and recite psalms. Legend has it that an angel appears and tells her that he will protect her. Cecilia tells her future husband that she has an angel by her side and that she asks him from the bottom of her heart to respect her decision, and thus Valerian - for that is the name of the pagan nobleman - is also converted to Christianity. In this way, the music somehow protects Cecilia and, further, Cecilia becomes the protector of music.
The significance would be that this first concert with me at the rostrum in front of the Prelude Choir in Bucharest will be a protective concert for everything to come.

Let's talk about the evening program. We know that you have a preference for works rarely performed on Romanian stages. What can we hear this time?
The chosen repertoire proposes a combination of works from universal literature; we alternate the secular creations with the religious ones, flanked by the diaphanous hymn signed by Benjamin Britten - the Hymn of Saint Cecilia. We start from da Vittoria and go into the history of music, we go through Bach, Mozart, Bruckner, Ravel, Rheinberger, Poulenc etc. Basically, we are once again making a foray into the history of secular and religious music.

The concert poster features several names of soloists. Please tell us in a few words about collaborating with them.
All soloists are part of the Prelude Choir - Alina Bosovici, Victoria Burdea, Gabriela Ieșan, Daniel Ghirvu, Marius Nine and Cosmin Melinte. Playing the organ we have the fabulous organist Eduard Antal, the organist of St. Joseph's Cathedral in Bucharest, and playing the piano ... the fabulous pianist Flavian Chitic, who also signed the arrangement of one of the pieces we perform in this concert.
Interview by Alexandra Scumpu
Translated by Medeea Alexandra Stan,
University of Bucharest, Faculty of Foreign Languages and Literatures, MTTLC, year I
Corrected by Silvia Petrescu