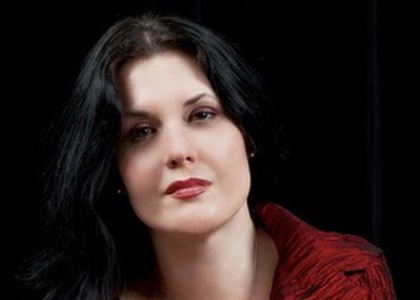 Interview with ICMA Awards nominee, pianist Raluca Stirbăț
Friday, 26 November 2021 , ora 16.08

Among the Romanian musicians who are International Classical Music Awards (ICMA) nominees, we find pianist Raluca Stirbăț in the Chamber Music category.Together withcellist Rudolf Leopold, she has recorded George Enescu's complete works written for piano and cello.We find out more about the nomination and the pieces on this album from RalucaStirbăț.

Firstly, congratulations on your nomination!
Thank you from both myself and Rudi who isn't here with us.

We are aware that you are a remarkable supporter of the most important Romanian composers and that you especially focus on everything regarding George Enescu - from performing his pieces to helping restore his Mihăileni home. As a result, recording his complete works for piano and cello alongside Rudolf Leopold has brought you a beautiful International Classical Music Awards nomination. We are talking about the album you launched this year, first in Romania at Mihăileni, and symbolically on Enescu's birthday. How did you and cellist Rudolf Leopold receive the news?
We were, of course, thrilled. I say this without false modesty, but aside from our personal joy as musicians, I am also happy that Enescu's music is finally being taken seriously and has begun to matter on a European and worldwide level. These awards are given by chief-producers at classical music radio stations across Europe and through Ms Cristina Comandașu who has always had our backs and has supported my efforts in promoting Enescu and Romanian music in general. The nominee list is very exclusive and it includes remarkable recordings and musical achievements.

Please tell us, in short, about the pieces included on this album. How would you represent them?
Enescu hasn't composed much for cello, but his pieces are very consistent. We are working with two compositions from his youth - Nocturne and Saltarello - which was discovered late in the '90s, I believe, in a private collection in America, and Allegro in F Minor - which is the first version of the first Sonata in F Minor, and of course, the two big sonatas, both confusingly numbered by Enescu as op. 26, although composed almost four decades apart. He wrote the first sonata at the age of 17, and the second one much later on, in 1935; we are talking about a masterpiece of maturity in Enescu's very specific language which has actually written him down in history. What's even more interesting is that these youth compositions (including the first sonata in F Minor), although written in Paris, sound as if Enescu hadn't left Vienna at all, as we hear influences and see traces of his idols - Beethoven, Brahms, even Schubert and Mendelssohn; his pieces are extremely difficult even for piano. As a matter of fact, Enescu labelled his sonatas as meant for piano and cello. We know he loved this instrument - when he arrived in Vienna at 7 years of age, he wanted to write primarily for piano, but his father (who was a talented amateur cellist), insisted on the violin. Regarding the second sonata - Enescu discreetly notes in his manuscript parts of this sonata, finished, refined in Vienna. He was near Vienna in Purkersdorf, as his future wife, MarucaCantacuzino was going through a mentally challenging time and had been hospitalised at the Purkersdorf sanatorium, which was renowned back then. The echoes of this hardship can be heard during the fast part of the sonata, in that diabolical scherzo - brilliant and extremely well-written. Even more, I consider the entire sonata to be closely related to the themes and harmonies of Oedipeand Sonata no. 3 for piano.

Your collaboration with cellist Rudolf Leopold on Enescu's oeuvre has been going on for fifteen years. How did he join in on this story that led him to this current project?
We have been performing together for many years. Our first collaboration on Enescu was in 2005 when we performed Piano Quintet, one of Enescu's last pieces - and with that, Rudolf confessed that he had a revelation. He, of course, knew Enescu but not wholly. Things evolved quite naturally - we began performing Enescu's sonatas. I had wanted to record this complete works with him, but I never forced it. I had wished that the desire came from him, and it did. We performed the pieces several times in concert because they are extremely complicated, complex and refined pieces. Enescu requires his own time regardless, you can't rush it. Last year (because until then it had been difficult to coordinate our schedules for this recording), the pandemic came with its negatives and positives. We completed the process in June, at the famous Bösendorfer piano factory in Wiener Neustadt. I also had the chance to choose and work with an exceptional instrument. It is a product of which I dare say we are extremely proud.
Interview by Florica Jalbă
Translated by Carla Bețianu,
University of Bucharest, Faculty of Foreign Languages and Literatures, MTTLC, year I
Corrected by Silvia Petrescu