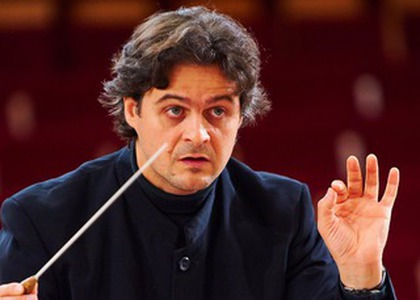 Interview with conductor Cristian Oroșanu
Thursday, 2 December 2021 , ora 9.43

On Friday, November 26th, 2021, the Radio National Orchestra will be conducted by the conductor Cristian Oroșanu in a concert that will present the cellist Răzvan Suma as a soloist. Conductor Cristian Oroșanu spoke about his return on the ensemble's rostrum and about the programme of the evening in the following interview.

You will conduct the Radio National Orchestra at the concert that takes place on Friday, November 26th, 2021, on the stage of the Radio Hall. How are the rehearsals going?
The rehearsals are going very well. I was glad to find my colleagues from the Radio National Orchestra in a formula that is somewhat more of a chamber one and even in this formula I work with them with great pleasure. I feel that they also need a bit more romantic repertoires, a little different from what we got used to lately because of the situation we allhave become accustomed to. I dared to schedule two works that are normally played with a larger orchestra, namely Elgar and Gounod. In fact, Constantinescu too should be played with a larger orchestra, but it may also be played with a chamber orchestra. It is a piece that I scheduled for the chamber orchestra too, a few years ago and it turned out very well and I thought that thanks to the National Day we can also reschedule this piece for the Radio National Orchestra, which, as I found out, hasn't played it in a long time.

How did you come up with this programme formula? Do you see a connection between these works?
Yes and no. To say, initially, in addition to Paul Constantinescu, I had scheduled another Romanian work, but it turned out to be a larger, more popular work and a work for a larger orchestra, especially in the case of wind instrumentalists, and then I proposed this ballet suite from Gounod, which is less often performed and which is, so to say, a spot of light during this a bit tense period that humanity goes through and that we all go through. It seemed to me as a good idea and even if, to say that it is not a very logical thinking in terms of styles, well, I proposed this piece and it was accepted.

What can you tell us about the collaboration with the cellist Răzvan Suma?
Răzvan has been,for many years, a good colleague and friend, with whom I performed countless times and I think the concert by Elgar was one that I hadn't performed with him and he proposed this concert earlier, already. Basically, the programme was made around this concert. I left Elgar after the interval, because, stylistically, I think it is better this way and because it is a very deep work. It is basically like a concert symphony, so I thought it would be a good idea to finish the programme on Friday evening with Elgar.
Interview by Alexandra Scumpu
Translated by Ecaterina Bucovanu,
University of Bucharest, Faculty of Foreign Languages and Literatures, MTTLC, year I
Corrected by Silvia Petrescu