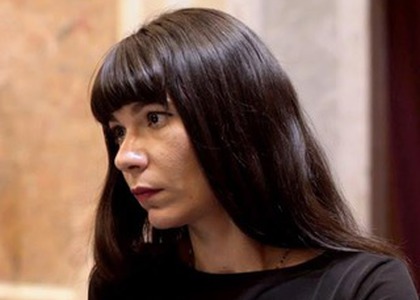 Interview with the pianist Eliza Puchianu
Thursday, 9 December 2021 , ora 16.27

Tuesday evening Season from Hall of the Romanian Athenaeum propose today, December 7th 2021, a recital hosted by the pianist Eliza Puchianu. Those present will be hearing creations done by Johann Sebastian Bach, Cécile Chaminade, Robert Schumann and Amy Beach. More details you will find in the next interview with Eliza Puchianu.

On December 7th you will be hosting a recital during the Tuesday evening season in the small hall of the Romanian Athenaeum. How do you prepare to return to the public?
With hard study, amongst hours of work, listening to the repertory, and also, by singing to those that I trust in their opinion.

Let's talk about the program. How did you choose the works you will interpret?
It all started with the idea of Fantasy by Schumann, the opposite of no 17, consisting a composition that I worked a long time and on which I have contemplated a lot. It's genesis attracted me. It is about one of Robert Schumann from his first years of composition, which he wanted to publish on the occasion of the erection of the monument to Beethoven in Bonn. My attention was drawn by because of Charles Rosen book, this opposite no 17 was considered first sonata which is breaking the classicism barrier, so I went further, listened it and learnt it. The other songs, Prelude and Run by Johann Sebastian Bach, which will open the recital was chosen because is one of my prayer songs, in a way of speaking, which I am singing every time I feel the need of introspection and I considered it is a good moment to make it public on the Athenaeum scene. About Cécile Chaminade and Amy Beach I could say that they are new additions to my piano repertoire. Cécile Chaminade - I will sing her sonata in C minor. I also performed some of his songs last year during the Tuesday night season and Amy Beach, a hero composer, I could say, in Boston, where I finished my studies. I first played her Sonata for violin and then I started to know more of her composition, so I have included her in my repertory.

We know that you are especially interested in the musical creations of the composers of the XVIII-XX centuries. This time you chose works by Cécile Chaminade and Amy Beach. How did the idea for this approach start?
The idea of this demarche was induced to me in America, where I have lived for a very short period, only two years. At my colleague, that lived there, invitation to accompany them or to collaborate in their recitals, I started to get familiar with this type of repertories and I realised that is all about another dimension of history of music of which I haven't heard yet, like this entire musical gender, classic music, seems defined by only one type of music and starting from this idea I began my research through the work papers, to listen to music and it seems like it fascinated me more and more. In the same time, I won't forget the standard repertory that I still keep it.
Interview by Alexandra Scumpu
Translated by Laura-Elena Dobrin,
University of Bucharest, Faculty of Foreign Languages and Literatures, MTTLC, year I
Corrected by Silvia Petrescu