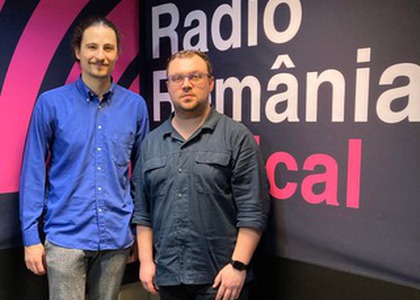 The guitarist Dragoș Ilie, the guest of the week at Perpetuum Mobile
Monday, 13 December 2021 , ora 13.59

On Friday, December 10th, from 7 p.m., you'll have the chance to listen at the Radio HallConcierto de Aranjuez, under the interpretation of the young guitarist DragoșIlie, alongside the National Radio Orchestra. A graduate of the Musical Romania Heirs scholarship (a project run by Radio Romania Musical in partnership with Rotary Club Pipera), DragoșIlie is currently a PhD student in the United States at the University of Texas at Austin, where he also began teaching. On Thursday, December 9th he was the Guest of the Week in Perpetuum Mobile.

In the Radio Romania Musical Studio, the guitarist Dragoș Ilie, laureate of the "Musical Romania's Heirs" scholarship this year and the soloist of the National Radio Orchestra in tomorrow night's concert at the Radio Hall. Welcome, Dragoș!
Glad to be here!

You are one of the two winners of this year's "Musical Romania's Heirs" scholarship, organized by Radio România Muzical and Rotary Club Pipera. You finished the competition tied with the cellist Cornelius Zirbo. You impressed the jury with the evolution and the suggested projects. How was all this experience for you?
First of all, everything came to me suddenly, very quickly. I was notified of the scholarship very close to the deadline. I had a project in mind, I've wanted to record a CD for a long time and I immediately thought that it would be very nice if I could do this as a project in the country. Until now, I hadn't really collaborated with the Romanian music world. I had left quite early. Right after high school I went abroad and for me the scholarship somehow a way to go back home to work.

Let's talk about your beginnings, because we got here. You graduated the Music High School from Iași in 2015, the guitar class. After that you decided to go to the United States. Why there? Why right after high school?
It's a little funnier. I had already started going to festivals in Europe around the beginning of high school and I had been fascinated ... the guitar is such an international instrument, you can find it in all cultures, it's popular all over the world. And I've always been very inspired to see great guitarists of all nationalities, artists who have inspired me. The idea to go abroad came with a concert that my future teacher, Andrew Zohn, from the United States held in Iași. At that time there was no question of me going to study; I was still in the 8th or 9th grade. But I was so impressed and I got on well! He told me I could come to a festival there; It didn't happen in the end, but I kept in touch with him until I finished my studies and he said, "Why don't you come here?" And so I decided to apply and go there.

And how was all this experience in the United States? How has it been so far, because you've been there for six years?
For six years, yes, and I'm still continuing.

You are a PhD student at the University of Austin, Texas. You've been teaching there since starting this year. What does an ordinary day in your life look like?
A day in Dragoș's life in Austin ... interesting. I have my student duties, I have classes I go to. At the same time, I have the duties of a teacher. So, sometimes, I say ... alas, I woke up late and I'm going to be late! It's okay, I'm late for some classes. But I can't be late, because there are courses I teach. You can't be late once you're a teacher. But I like it a lot because I had this guitar disease when I was little, it fascinated me all the time, that's all I liked to do. And the fact that I manage to teach classical guitar, to study classical guitar, to have other colleagues around me classical guitarists - in the studio in Austin my colleagues are very good, they're from all over the world ... so I'm always connected with guitar from several angles.

Are you also thinking about a long term teaching career?
Absolutely! I've taught before. I've always did private tutoring lessons, I tried to teach most of the time. I think the two are somehow connected. In order to be a good performer, you have to understand what you're doing, and the fact that I have to explain it to other people makes me better at singing. After 4-5 hours of teaching, I start studying and I really feel ... aaa, that's what I would do now, because I kept telling my students what to do! In a way, it's as if I'm starting to follow the advice I give them.

You realize how suitable they are for you too!
Exactly. Very interesting, I did not expect! I expected to be more tired, not to be able to study after classes, but in fact the effect is the opposite, it inspires me even more to want to find out, to see what I told them to try.

I'm glad you came with the guitar tonight, in the Radio România Muzical studio. I'm going to ask you to sing something to us at some point. But until you think about what you want to sing to us, I'd like to go a little further back. High school, college graduation ... when did you decide you wanted to play guitar? Because in Romania, in the primary grades, the guitar isn't a studied instrument. We choose between piano and violin. When did you realize you wanted to play guitar and why?
Very early, in fact. I think sooner than I was ready. My parents bought me an ukulele when I was 3 or 4 years old, I think, and at that time I guess I either liked rock or contemporary music, but all I did with the instrument was bite it and hit all the walls around the house with it...

It was still a toy.
Yes, it was a toy for me. The instrument was real, but ... And so they kept it aside for a few years, until I grew up. When I was about 7 years old, my father played the guitar a little, played some chords, and I remember begging a lot for him to teach me. That's how it started. I begged him for a long time. And he kept postponing it until one day he said to me: "Ok, let's do it, but I suggest the following: you do a month with me for an hour every day; you are not allowed to step down." And he knew very well what he was saying, because after the first hour I didn't want to continue. My fingers hurt, I started to cry ... the instrument was very big, I was very small, but I had to follow the rule, the bet. And he said to me, "After a month, you decide if you want to continue or what you want to do." After that month, I didn't want to stop. I continued. But really, I was still young and you couldn't take classical guitar lessons at the music high school. So, I enrolled in a popular art school in the 3rd grade and did it until the 5th, 6th grade, when I was able to transfer to guitar in middle school.

(...)
You signed up for the "Musical Romania Heirs" scholarship with a CD project. You want to record an album with an international and Romanian repertoire. I would like to stop on the last part, the Romanian repertoire. What work did you think of?
The first one, in fact, that sparked this project ... sorry, I can't help but tell more than I should ... I've always liked Porumbescu's Ballad, for violin. I never thought of playing it on the guitar, and one day I was playing some of the passages in the song and I thought, "Wow, wait a minute, I could do it!" I have many friends and people from around the world who don't know Romanian music. And the Romanian repertoire for guitar is very limited; it only recently started to be written more for guitar. And I'll mention here the name of CostinSoare, from Bucharest, who does an excellent job in this regard. But, apart from that, there isn't much repertoire for Romanian guitar. And many friends said to me "Ok, sing us something Romanian!". And since then, the idea has started that I would like to combine the Romanian repertoire, Romanian music, with the international one and to show it to the people.

So, The Ballad ofCiprianPorumbescu in your guitar arrangement is one of the works that will be included on this record…
Yes.

Other works? Written by you?
Not written by me. Arrangements and songs written by a Romanian composer who's still alive, strong and active - Gabriel Almaș, a Bucharest composer and guitarist - Adrian Andrei, who wrote Three Studies that were dedicated to me before I thought about the CD project, and a piano sonata originally written by Bela Bartok, five Romanian dances that she put together, Bartok being in love with traditional Romanian music.

The recordings will start in the studios of Radio Romania at the end of next week, December 17th. How are you looking forward to December 17th?
I'd be lying if I said I'm not a little excited or stressed. But at the same time, because I've been preparing for the last few months, that's all I have in mind, that's all I've done... CD, CD, CD. In a way, I can't wait to get into the studio to try to sing, to see how it sounds, to put them together. But I'm a little nervous, I'm not going to lie to you!

(...)
Dragoș, tomorrow night, debut on the stage of the Radio Hall, with the orchestra. You'll sing Aranjuez Concert. Coming from the rehearsal, I will ask you to talk for the first time about this meeting with the musicians from the Radio Hall and the conductor of the evening, AnastasiosSymeonidis.
It was a debut in every way. It's actually the first time I've played with an orchestra, the first time I've been able to play the whole Aranjuez and work with both a conductor and an orchestra. I really liked it! It went much better than I expected, I was nervous, but everything was so natural and the orchestra was so receptive to how we phrased, what we played ... the conductor and I got along perfectly. It seemed very, very easy to work with. I can't wait to sing!

Tell us about the work! How do you see it?
Concierto de Aranjuez, without a doubt, you can say that it's the most famous piece for written guitar. It is, I would say, brutally difficult for the instrumentalist. We note that Rodrigo, the composer, was a pianist, a blind pianist who didn't play the guitar. But, in a way, we are grateful to him for being able to create a masterpiece. We could say that the song is one of the most beautiful songs ever written. Everyone has a personal relationship with that song and I find myself among those chords. For me it was a kind of a challenge that I gladly accepted, because I wanted to play it with an orchestra for a long time. But there are a lot of famous stories… There's a love and fear relationship with this concert. Everyone loves him, but everyone is a little scared of him.

Tomorrow night's concert will be just the beginning of a series of events that you will hold in Romania, because after winning the "Musical Romania Heirs" scholarship, two more concerts are scheduled this season. When will we see you again on a Romanian stage?
On January 14th I will be in Cluj, and the concert for Brașov has been moved somewhere in the summer; we haven't set an exact date yet. But, again, I'm even more excited to be able to play Aranjuez with more orchestras.

Maybe on this occasion we'll see you even more often than just on the Romanian stages. As you know, tomorrow night's concert will be broadcasted live on Radio România Muzical, starting with 7p.m. Do you have a message for those at home?
I invite you to listen to maybe the most special piece for guitar and orchestra... wow, I really didn't think... I feel very interesting now... you work so hard for a song and then you think about how to present it to people... I would say that this song actually put the guitar on the international stage. It transformed the guitar from a more folk instrument, an instrument that wasn't taken very seriously, it brought it to where it is today. It's a monumental piece for us, as guitarists, very beautiful, you will hear many different colors; the story of the play is very interesting. Rodrigo wrote it... it also contains beautiful parts of his life - the first movement brings images from the Aranjuez Gardens and the palace during the spring, you hear the songs of the birds, the water flowing from the wells; the second move is very emotional and personal - it's related to the loss of Rodrigo's child, we are talking about a rather gloomy and very, very emotional topic; and the third movement is a kind of energetic carousel of Spanish music. So I invite you all, if you can and if you want, to listen to the Aranjuez Concerto for guitar and orchestra, tomorrow!

Thank you for accepting this interview. Good luck with your debut tomorrow night and from now on!
Thank you.

Translated by Paula-Silvia Codescu,
University of Bucharest, Faculty of Foreign Languages and Literatures, MTTLC, year II
Corrected by Silvia Petrescu