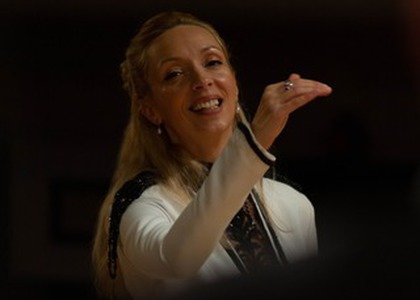 Interview with Anna Ungureanu, conductor of the Madrigal National Room Choir – Marin Constantin
Wednesday, 15 December 2021 , ora 20.17

On the way towards Christmas is the name of the two shows in this week held by the Madrigal National Room Choir - Marin Constantin, presented in the Christmas market which is organized alongside the National Opera of Bucharest. Anna Ungureanu, conductor of the ensemble, offered us more information in the following interview

On the 16th and 17th of December 2021, the Madrigal Choir offers the public the traditional Christmas concerts, which will be held at the National Opera of Bucharest - shows which combine the theatrical art, scenography and music. What are the new things which you bring? What should the public expect?
First of all, the very way in which we'll present ourselves in front of the public. Instead of a traditional concert, where we receive applauses after each song, this year we'll have direction and dramatic thread, with stage layout and stage movement, things which haven't characterized our Christmas concerts until now, but I think that this year they'll enrich the musical language. As such, we'll have Marius Turneanu and Ofelia Popii alongside us and the fact that these two artists will come and will enrich with their art what we want to transmit, which is that we live in difficult times, but that at the same time, there's hope in our souls, gives us great pleasure.

Regarding the musical part, which works will be auditioned?
The Madrigal, as always in its traditional concerts, offers first of all known songs, scores and sounds, to which songs in their first auditions or unsung works in Romania are added. The fact that this time, or this time too, the Cantus Mundi choirs will be alongside us on the stage for some musical moments and that through their crystalline voices they'll enrich the harmonics proposed in these musical pages gives us joy. I would only mention a few titles: we start with a pretty modern, a bit jazzy Jingle Bells, but we go through Coroana de trandafiri, Moș Crăciun, Asta-i sara lui Crăciun, Trei crai de la răsărit, and we'll bring a dramatic thread through an extraordinary beautiful song - unsung in Romania outside of the Madrigal Chorus, it's about Dan Buciu's song Remember Hiroshima. And from here I'll let the public guess and think about the moment it could represent. This is actually an invitation for those who want to see us and listen to us… out of curiosity, they could come to find out why this dramatic thread is in a Christmas concert.

The two shows are also in the Christmas Market's program, which you'll organize in collaboration with the National Opera of Bucharest, through which you intend to bring the winter holidays' classic music to the forefront. Tell us more about this initiative.
Every year, on Christmas, Easter and Children's Day, we create opportunities for the Cartus Mundi choirs to come alongside the Madrigal choir, but at the same time, to have possibilities and important stages where they can bring their art. They prepare themselves a lot, they're very serious and are happy to express themselves in front of the public. Every day this market offers a few choirs and vocal groups the chance to manifest themselves in front of the public, thus bringing a lot of joy to those who come to the market. I think this is the actual purpose of music - your sonority, your sensitive expression has to reach the public. These children are already being applauded for days on the stages in front of the National Opera and they have proved a seriousness in their preparations, and also a lot of happiness for bringing Christmas sonorities into the souls of those who stay there to listen to them, even if it's cold outside.
Interview by Alexandra Scumpu
Translated by Hakan Ugur Geafer,
University of Bucharest, Faculty of Foreign Languages and Literatures, MTTLC, year I
Corrected by Silvia Petrescu