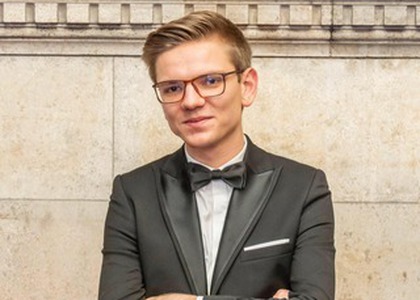 Interview with the pianist Cadmiel Botac
Friday, 17 December 2021 , ora 16.08

The pianist Cadmiel Botac and the violoncellist Cornelius Zirbo - the laureates of the scholarship The Heirs of Musical Romania in the editions of 2020 and 2021 - are the protagonists of the tour that will take place during this project in Cluj, Timisoara and Bucharest in January of 2022.

Cadmiel Botac, you are the laureate of the edition of 2020 of the scholarship The Heirs of Musical Romania, a project where a tour will take place in January of 2022 of three cities of Romania. How are you waiting for this event?
First of all, I would like to say that I'm extremely happy and honored to be the prize winner of this project, The Heirs of Musical Romania and the happiness to be back on stage is even bigger seeing as the events we are going through right now are difficult and it seems to get harder to be get on stage. Due to restrictions, many cultural events are either canceled or postponed so the happiness of being back on stage, especially in Romania next to my very good friend Cornelius Zirbo, is truly very big and I'm so looking forwards to these three concerts.

As you have mentioned, you will be on stage next to the violoncellist Cornelius Zirbo whom you will play the Sonata op. 19 in sol Minor for violoncell and piano by Serghei Rahmaninov. Have you collaborated before?
Of course. We have known each other for many years and we have even played together in different occasions. We are very good friends, which makes our collaboration for these three concerts even more pleasant and more beautiful and I cannot wait for us to play together such a difficult, very complex, famous work of the concert programs in the whole work, this sonata for violoncello, which, in my opinion, from a pianist's point of view it's truly like a piano concert - extremely difficult, extremely complex and probably Cornelius can say the same thing about his view of the sonata, so I'm looking forward to playing this work together and I hope the present public will remember something beautiful and to get spiritually rich after these concerts.

You will interpret the Sonata in si minor by Fransz Liszt. How are you approaching this work? What difficulties does it present from your point of view?
I think that this sonata is a complex universe that contains everything that means pianistic technique, everything that means philosophical ideas, musical ideas, the most intense and deep feelings of a human being are found in this sonata. It is indeed a very complex story, extremely beautiful, a very, very difficult work, perhaps the most difficult one that I have ever studied and played. I'm so looking forward to playing it in front of the Romanian public and I believe it fits the violoncello sonata very well. I think that, together, these two works done by Liszt and Rahmaninov have a common direction, a romantic construction so I'm looking forward to play them both.

In the concerts that you will have during the tour of The Heirs of Musical Romania, your debut album will be presented as well, the one that was published by the Radio House Publishing in November the same as the prize you have won in 2020 during the competition. What does the album have?
This album is made of three works out of the solo piano repertoire, namely, Sonata op. 57 Appassionata by Ludwig van Beethoven, followed by the Second Sonata by Frederic Chopin, the sonata that contains the famous cemetery marsh and the last work is a Romanian one, the Second Suite op. 10 in re major by George Enescu. These recordings took place in the year 2017 and I am so happy that, after three years, Radio Romania Musical offered me this chance of releasing my first disc, which is truly amazing for me and I cannot be more than grateful for such initiative and for their trust in this project to release it so bow this disc is completed and can be listened by the listeners of this radio or by the ones who are willing to purchase it, which is a huge honor and happiness for me.

Right now you are studying at the Academy of Music and Arts in Vienna and you are taught by the professor Stefan Arnold. How can you describe your experience with the artistical environment there?
This is a good question and I must admit that the Vienna atmosphere is a very especially and different on. During this time I have met only internationally known musicians, very special professors who pretend a lot, who are very strict, but whom I can learn extremely many things from, so I'm honored to study at Vienna and I am honored to meet so many different types of musicians, I am honored to study here with a professor that I deeply respect and appreciate and I am willing to learn even more so I can be more mature and take advantage of this period of being a student in Vienna.

What plans does your agenda have for the next period of time?
Perhaps that this questions is the hardest to answer to because I have no idea what future holds for me, I have no idea what will happen in 2022. Right now I am just waiting for these three concerts in Cluj-Napoca, Timisoara and Bucharest and after that I'll see what happens. I am getting closer to finishing my studies in Vienna. Surely there will be a final exam and the ending of my Master's thesis and I hope that other opportunities and concerts and hopefully some international concerts that I want to participate to, but other things are still unclear and nothing is scheduled yet, apart from these three concerts.
Interview by Alexandra Scumpu
Translated by Anca Cristina Georgiana Mihai,
University of Bucharest, Faculty of Foreign Languages and Literatures, MTTLC, year I
Corrected by Silvia Petrescu