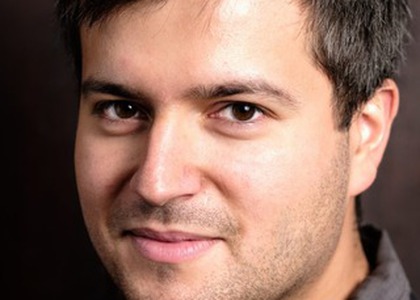 Interview with pianist Florian Mitrea, founder of the Hoinar Festival
Thursday, 15 December 2022 , ora 10.16

Mr. Florian Mitrea, you are the founder of the "Hoinar" festival, a series of events that aims to bring to the public a new concert format, one based on interdisciplinarity. How will this concept be reflected in this year's edition of the festival?
First of all, the edition takes shape on the basis of collaborations between musicians and another type of artist, such as the dramatic artist or the director, the man behind the stage, the one who thinks up a show. All the events are based on a duo on stage most of the time, except of course the first recital, where the duo is somehow behind the stage, it's a duo between the teacher and the little student, who ends up on one of the country's biggest stages.

What can you tell us about this evening's concert, whose protagonist will be Luca Newman?
Luca Newman has a scholarship at the Purcell School and is only 12 years old. He already has international awards, he won the grand prize at "Elite Musicians", prize in Brussels, but also in Orbetello, in Italy. He is a young man who is already shaping an extraordinarily interesting and impressive career from his school days and is coming to Bucharest with his first author's recital. He will perform a complete sonata by Beethoven, which already shows his precocious maturity, followed by large-scale romantic pieces, including pieces from the ballet "Cinderella" by Prokofiev, transcribed for solo piano by Prokofiev himself.

What should the public know about the December Story recital, which you will perform together with the pianist Daria Tudor?
This event is our guilty pleasure, so to speak, within this festival. It's a very bubbly, holiday-themed concert with Christmas songs. Our journey will begin with Tchaikovsky's wonderful ballets - The Sleeping Beauty and The Nutcracker, which the composer believed at the time would lose popularity, so he asked the young Rachmaninoff, who was a student at the time, to he transcribes them for piano duets, thus trying to increase their longevity and popularity. Of course, the ballets became "hits" of the ballet repertoire, but the piano transcriptions by Rachmaninoff, who loved putting two pianists together, are extraordinarily successful, they are real concert pieces. They are not, so to speak, simplifications of the orchestral score, but on the contrary, they truly are concert works worth listening to. We will then move on to Romanian and international carols, paraphrases of Christmas songs. It is a bright repertoire.
The whole theme of the "Hoinar" 2022 festival is to bring people together. We made an edition during the pandemic, last year, when we sang with restrictions, when people couldn't come to shows, concerts. Now we can, and I really wish from the bottom of my heart, to meet as many people as possible at all the concerts, and the one entitled December Story even has free entry.

On Friday, December 16th, you have the actress Sarah Gabriel as a guest. What is the specificity of this event?
Sarah Gabriel is already very well known to our audience. It is her third appearance in the festival and comes with an original musical, a script written by her about this great personality of the 20th century, too little known here in Romania. It's about Dorothy Parker, a journalist, an author actually, very talented, who wanted to write the novel of her life, but failed. She was totally in love with Ernest Hemingway who rejected her very brutally, and at one point she became involved in the political struggle for equal rights in the United States. It's a fantastic character and Sarah creates a superb piece of musical theatre. I called it "a comedy with tears", because on the one hand you laugh, and on the other hand, the show encourages meditation and reflection. The music is absolutely gorgeous, jazz music, by George Gershwin, Harold Arlen and famous arias from musicals, again, quite little known in our country, a "one woman show" of one hour and 15 minutes in which we go through a tumultuous life through the music of those times and which somehow connects with the last concert of the festival, from the Great Hall of the Romanian Athenaeum, where we meet again with American music.

You mentioned this last event that will take place on Sunday, December 18th. You will give a recital with pianist Joana MacGregor on two pianos. How did you put together the program for this event?
It is a program thought in an arc, in symmetry. I called it Bridges and Echoes because that's what it's about. We start from the classical standard repertoire - Liszt, Wagner, Mozart - and go through a plethora of composers of the most diverse and reach Nina Simone, an American jazz legend who is one of the idols of Joana MacGregor, a pianist whom I respect enormously. She is the leader of department I am part of, at the Royal Academy of Music and has created a concert paraphrase, which she very modestly titled For Nina Simone, using Nina Simone's songs, blues and ballads.
And in the second part we turn our gaze to the future, to the avant-garde, and make an arc of symmetry between Gyorgy Ligetti's Musica Ricercata, a pioneering work of the 20th century, and find echoes in other composers as revolutionary as Ligetti, but of course, in other eras. It is about Chopin or, in other geographical areas - Bartok, Liszt, Paul Constantinescu or Sigismund Toduță. Now it is a big question in our area, this Carpatho-Danube region, where the interpenetrations of folkloric music are very close, if Ligetti had not inspired his work from the doins of Eastern European villages, be they Hungarian or Romanian. The arc closes again in Liszt, also in a bridge piece, this time between Liszt and Mozart. It is the great concert paraphrase of themes from Mozart's Don Giovanni performed by Liszt himself for two pianos. For a long time it was believed that this work was not signed by Liszt himself, it was actually believed to be the work of Ferruccio Busoni. But it is Liszt's original work for two pianos.
I hope that this year's edition is a varied one, that we offer something for everyone, from concert music and jazz, to Liszt and Chopin. There should be something for every music lover and culture seeker. We look forward to seeing you at all four events!
Interview by Ana Sireteanu
Translated by Cosmin-Ionuț Petriea,
University of Bucharest, Faculty of Foreign Languages and Literatures, MTTLC, year I
Corrected by Silvia Petrescu