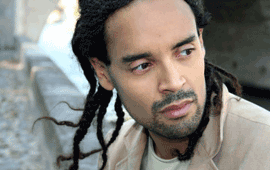 Fabrice di Falco, a Countertenor on the Athenaeum Stage
Tuesday, 19 April 2011 , ora 11.04

A countertenor's recital on a Romanian concert stage is not something ordinary, so the proposal made on Sunday, April 17th, 2011, by the French Institute was inspired. The Martinique native sopranist, Fabrice di Falco, accompanied on organ and piano by Ian Hockley, was an exotic and charismatic appearance which evoked a mysterious world, that of the emasculated singers of the 17th and 18th centuries, but which at the same time approached contemporary works specific to his originating register. Thus, we partook of a heterogeneous programme which included works from all eras, but also of Ian Hockley's solos. The title itself is extremely suggestive in regards to what happened last night at the Athenaeum: Voices of Angels… Celestial Voices. From the Emasculated Farinelli to Klaus Nomi.
Fabrice di Falco did not enter the stage from the very beginning, thus having a surprising appearance. But when he did, he gave way to a consistent voice, which spanned with an astonishing flexibility from the lowest to the highest registers. This was spectacularly highlighted in Henry Purcell's Cold Song, where due to the first grave chords you feel as if you were listening to a tenor with baritone modulations, finally transiting to an acute register. It must be a very demanding technique, but Fabrice di Falco successfully faced the challenge.
Cincos Canciones Negros by Xavier Montsalvage was interpreted in the end of the programme. This moment indeed assured the note of exoticism I mentioned earlier, recalling the sunny harbours, the ocean unhurriedly spreading its spumous waves towards the shore, the smell of spices and the incessant noise of the Caribbean coast.
Ian Hockley is an accompanist who precisely feels the movements of his stage partner, offering them solid and trustful support. The two communicated well on stage, which is understandable given the fact that it was not their first collaboration. The public appreciated their evolution, so that they offered an encore before they went towards the Athenaeum lobby for an autograph session: Ave Maria by Giulio Caccini; a masterpiece of serenity, piety and depth.
As an ending, here is the interview given by Fabrice di Falco before the concert for Radio Romania Music:
This is your first concert in Romania. How do you feel before the concert?
I am very happy to be in Angela Gheorghiu's homeland. We have the fortune of enjoying the presence of a lyrical fairy such as Angela Gheorghiu in the world of classical music. She talked so much about Romania; she is a true ambassadress of worldwide classical music. So I am very happy to be in your country, to be able to hold this concert in the wonderful hall of the Romanian Athenaeum.
In your program you have also included Afro-Caribbean works; can you tell us something about them, as the Romanian public is less familiar with them…
Xavier Montsalvage is a Catalan composer who spent many years in Cuba. During his stay there, he composed the Five Black Songs (Cincos Canciones Negras). These are five songs which retrace his journey and experience among the Cubans. Thus, in the first song he tries to reflect the image of a Cuban mother with her child, the second is a sort of lullaby sung by the Cuban mother to put her child to sleep and there is another song that evokes an episode in which a jealous man assassinates his beloved in the street. She was so beautiful that he preferred to murder her than let other men have her. The last song is a dance. All five are accompanied by piano. I myself was born in Martinique, so not that far away from Cuba. I wanted to put this programme together as a tribute to my father who is of Italian origin. I thought it would be interesting to simultaneously offer the Romanian public the chance to experience these Afro-Caribbean songs, these Canciones Negras by Xavier Montsalvage.
Technically speaking, how hard is it to transit from Baroque arias, which are technically very difficult, to the songs you mentioned earlier?
Vocal technique allows us to sing Baroque songs with a "white voice", a voice with no vibrato, capable of ornamenting, but to also transit to a completely different register, to sing French songs, German lieder or even Afro-American songs. Thus, the passage from one register to another takes place through a bridge, represented by the aria from Mozart's Mitridate. For me, the aria is a transposition from Baroque to the music of Montsalvage. Mozart appeals to the Baroque technique in this opera, but he also uses elements from songs which show up later. So although the styles are different, the technique remains the same.
You are accompanied by pianist and organist Ian Hockley. What can you tell us about your collaboration?
Ian Hockley and I have held many recitals together. He is, at the same time, a great pianist, a great harpsichordist and a very good organist. In our environment, people specialize on a single instrument. I met Ian Hockley seven years ago. To be able to sing Baroque music accompanied by the organ and the music of Mozart and Canciones Negras accompanied by the piano was ideal for me. Otherwise, I would have been forced to bring two different instrumentalists. He is British, as you probably have figured by his name. He is, just as I am, very versatile, being able to easily transit from the organ to the piano.
Petra Gherasim
Translated by Dana-Mihaela Toma and Elena Daniela Radu
MTTLC MA Students, Bucharest University