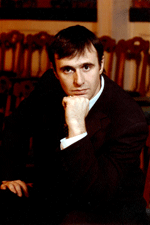 Interview with the Baritone Alexei Tanovitsky, Soloist in the Oratorio Ivan the Terrible by S. Prokofiev
Monday, 12 September 2011 , ora 12.45

Mister Alexei Tanovitsky, how do you feel in Bucharest?
I am for the first time in Bucharest, I feel excellent - a remarkable city, I like it a lot, I like the musical atmosphere, that of the festival. The organizers have a very important role in this aspect; I thank everyone that surrounds us.

Do you appreciate your collaboration with the maestro Gennady Rozhdestvensky?
Of course, it is not the first time. We meet often. He is an excellent conductor and musician; it is very enjoyable to work with the maestro Rozhdestvensky.

A few words about your role in this oratorio…
My role is the character Fyodor Basmanov. A historical character, one of Ivan the Terrible's oprichnik, member of the army created by Ivan the Terrible to impose order in Russia, an army that obeyed solely to him. Of course, history rendered what resulted, there were advantages and disadvantages, but it is about that moment when the feeling of limitless liberty appeared. Fyodor Basmanov felt that he could anything he wanted: there were bloody moments, but we will not go into detail. It is a historical character and he is well delineated.

Do you think that there will be a linguistic barrier in the perception of the work?
I think that the linguistic problem can be solved through the burst of energy and music because Prokofiev's work is very suggestive! You see images, you know what happens. That is why I believe that there will not be any linguistic barrier.
Sorina Bobeico
Translated by Izabella Feher
MMTLC, Bucharest University