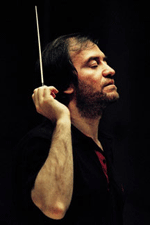 Interview with conductor Valeri Gergiev
Friday, 9 September 2011 , ora 12.45

Master Valeri Gergiev, how do you feel about returning to Bucharest?
I have wonderful memories from my first visit to Bucharest, which took place 27 years ago. I was a very young conductor back then, at the beginning of my career in the former Soviet Union. I had received numerous invitations after I had participated in the "Herbert von Karajan" competition in Berlin, which I won at the age of 23. One of the invitations came from Bucharest. I remember conducting at the Athenaeum, a hall with very interesting acoustics. It was a bewildering first experience. After that, I returned to Iasi and Cluj, where I found a very pleasant atmosphere. Other concerts were planned after fall of Ceausescu's regime, when things were changing at a very fast pace. I participated in the "George Enescu" festival a few times, and here I am again this year. I have always conducted Enescu's music with the utmost pleasure, as it is interesting for me, as well as for the orchestra.
This festival is meant to bring into the spotlight George Enescu's personality, in the most varied of junctures: in relation to his contemporaries, in relation to contemporary art, but also in relation to universal music…
Enescu was a figure of mark, with a remarkable vocation for composition. He was whole-hearted, profound and highly appreciated amongst his European contemporaries…I think that it is of grave importance that the great orchestras, the contemporary musicians learn more about the music of the 20thcentury. I am glad that we still have the chance to uncover interesting aspects in Bach's, Mozart's, Beethoven's and Schubert's music, with the help of new performers, whose vision brings a breath of fresh air. There are so many novel aspects to be discovered in the music of the last century and I am referring to a group of composers to which I may add George Enescu, along with Karol Szymanowski, Leo¹ Janáèek, or even Richard Strauss. The latter is becoming more and more popular outside Austria and Germany, where his works have been revered for decades. I have conducted Elektra, Salomeea, Ariadna in Naxos numerous times…my repertoire grows constantly with names such as Serghei Prokofiev, Dmitri Shostakovich, Igor Stravinsky - the powerful group of Russian composers - works that I have promoted in the last few years, in Europe and beyond, including Asia. Therefore, I salute the philosophy of Bucharest's festival , which relies solely on promoting Enescu by means of the great orchestras of the world, symphonic assembles that bring along their own knowledge and offer Enescu's repertoire an international dimension.
What can you tell us about your choice regarding the programs of the two concerts in Bucharest? Did you have in mind some of the important works in the Mariinki's Theater orchestra repertoire? Were you looking to complement the festival?
The acoustics in the Great Palace Hall in Bucharest is a very special one, which somehow invites the conductors to choose the repertoire according to this generous concert space. I think that the works of Richard Wagner, Alexander Scriabin, Richard Strauss, Rodion Scedrin, Modest Mussorgsky and Enescu's Symphony No.2 would fit perfectly. Scriabin is an incredibly original composer and his ideas proved to be essential for the progress of the great school of Russian composers of the 20thcentury, but also outside the borders of Russia. Szymanowski was also close to the Russian school and Skriabin's ideas, which he has enhanced. I think the public in Bucharest will be interested in experiencing the sonority of Enescu's symphony, along with the other opuses in the program. We now have to opportunity to compare and appreciate something which is entirely new and was very unusual a few decades back…
We will indeed be listening to works created a few decades back, the most contemporary being Concerto for Orchestra, by Rodion Scedrin, which also has a subtitle, Naughty Limericks. It is a piece inspired by folklore, impeccably orchestrated. Are you going to include it into an anniversary project dedicated to the composer in 2012, when he will be celebrating his 80thbirthday?
This year and the next, we will be celebrating two Russian composers, who are also close friends of mine: Sofia Gubaidulina and Rodion Scedrin. Their works have a special place in my life, so there will be premieres and replays of their important works. The piece that I have included in the Bucharest program has already been recorded. I have worked on most of the projects on my own, for example The Enchanted Wanderer, edited a while back at the Mariinski record label. It is a work of the 21stcentury that is already renowned worldwide. It was performed in Moscow, Helsinki, Stockholm and I am encouraged by its success. Hopefully, we will someday be able to perform it on the Romanian stage.
I am very glad that a contemporary work, written in the 21stcentury is so greatly appreciated and I feel encouraged by this. Rodion Scendrin is a composer well represented at the Mariinski Theatre - we are performing Dead Souls - the famous opera based on the story of Gogol. We have the Calutul Cocosatballet, which we have recently presented in New York, a month ago, with a wonderful music and impressive choreography, and a Scendrin from his first years of creation, then the Anna Karenina ballet, which we have presented in London two weeks ago. It also has an incredible choreography and a mature score, composed by his wife, Maya Plisetskaya.
The Enchanted Wanderer - this new production, and Carmen - highly appreciated by our ballet members and the audience - reason for which it is permanently included in out season. As you may have noticed, a significant chapter of our repertoire is dedicated to Rodion Shchedrin. So many creations of a living composer remind me of Tchaikovsky or Rimsky-Korsakov... Tchaikovsky had many of his works performed on the stage of the Mariinski Theatre: Evgheni Oneghin, The Queen of Spades, Iolanta or Mazeppa. This proves that the value of a living composer is appreciated on a great opera stage. This is what is happening today at Mariinski, this is our theater's mission.
A while ago, Enescu's main work, Oedipus, caught your attention…
When I return to Romania, I should pay more attention to this project…It is not at all impossible to include it in our programs. There is, of course, a long list of priorities, but if we talk to our Romanian colleagues, maybe we can do something about it.
Master Valery Gergiev, you are considered one of the most influential men in the world. Do you think you can change the trend of the classical music, that you can influence the taste of the contemporary audience?
To my mind, classical music is very much cherished nowadays. I have recently conducted two concerts at the Proms BBC Festival in London, where Henri Dutilleux and Serghei Prokofiev filled the hall with thousands of seats. This festival shows the massive interest in classical music. All we have to do is work hard enough to perform it successfully, to achieve the level of performance, to compose good music and to make an effort to involve as many young performers as possible. I have recently been in charge of the Tchaikovsky competition that took place in June in Moscow and Sankt Petersburg. The result was overwhelming, for millions of spectators joined us on the internet. I order to help the young gain a professional behavior, we must handle schools and universities the right way and involve the young generation, not to become elitists and perform only for those who can afford to buy expensive tickets. This should not happen.
You have once stated that you are focusing on the important relationships in life...On which criteria is your selection based upon?
I'd start with the musical collaborations. The colleagues, the performers who bring the quality and the ideas that catch the interest. I know I can depend on this kind of collaborations in life. Friendship is also important...
And Alexander Toradze is one of your oldest friends...
Oh, of course, we've been friends for 23 years now! Since my college years, when our extraordinary relationship began.
We have recorded together the 5 piano and orchestra concerts by Serghei Prokofiev, the poem Prometheus by Alexander Scriabin, we are planning for Stravinsky... Alexander Toradze is one of the most individual, radical, personal, and what I would call unorthodox performers. He surprises the public, but also his own musician colleagues, with his original point of view and direct, piercing message.. His performance is energetic, spectacular and intensely emotional, even when he chooses very well known concerts. You think..."I've heard this so many times, I know how it sounds"...and then he comes up with his very personal lecture and manages to surprise you.
How does passion fit into your life? When we admire you conducting, we notice a temperamental chief of orchestra...
When you talk about yourself, you don't want to describe how emotional, how passionate, how modest or arrogant you are...you prefer to let others describe you. When I'm in front of the orchestra I know what I want to achieve, the sound I want....And you will experience the opportunity to notice some of characteristics of the sound of the Mariianski Orchestra: some glamour but also some depths, some characters, moods but also some tenderness and transparency; these musicians are extremely capable, I have enjoyed their presence for so many years.
This is just one of many collaborations you have...
In fact, I have two main engagements now - Mariinski Theatre and London Symphony - which take most of my time. Of course, I also work with The Metropolitan, La Scala, with the Philharmonic Orchestra of Wien and occasionally with philharmonic orchestras of Berlin, Chicago, Philadelphia, New York, but also The Rotterdam Orchestra. At one point in my life, I have invested a lot in Rotterdam, enhanced the repertoire of the orchestra and created a festival which continues to be a real success, well appreciated by the public, so I feel at peace with myself within this relationship. Another extremely important chapter is my relationship with the living composers, like Sofia Gubaidulina, Rodion Scedrin, Henri Dutilleux and of course, some younger composers. I want to create new productions and premiers of their work in all genres: choir, symphony, opera, I intend to achieve more within this domain in the next 5 years - somehow coming closer even to George Enescu's music. When I come to Bucharest, we'll talk about it.
Alina Velea
Translated by Laura Bosnea
MTTLC, University of Bucharest