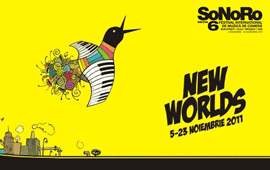 SoNoRo Festival at its Sixth Edition
Monday, 7 November 2011 , ora 10.20

Saturday, November 5th, 2011, marked the opening of a new edition of the International Music Festival SoNoRo, which will take place in Bucharest, Cluj-Napoca, Brasov, Iasi and Bistrita until November 24th.
We have learned about the news and who the special guests are from an interview with violinist Razvan Popovici, the Artistic Director of the Festival:

The title of the 2011 SoNoRo Festival is New Worlds. After five years of existence, we thought it would be best for the Festival to step into a new world, and this title is full of possibilities. The surprise and the biggest novelty is jazz: through the compositions and interpretations of the New York saxophonist Daniel Schnyder, Bucharest singer Luiza Dan will improvise famous songs of Duke Ellington or George Gershwin;the Lithuanian pianist Petras Geniučas will perform on the ArCuB stage improvisations inspired by the film Life in a Day, which TIFF International Festival in Cluj-Napoca provided for us through our traditional partnership. Jazz will also be represented by the trio gathered around the famous violinist Benjamin Schmid in Austria, who will perform in a new 2011 SoNoRo location, The Ark, the old Commodity Exchange.

Who are the special guests of this year's edition?
We have invited violinist Benjamin Schmid, who, together with violinists Boris Brovtsyn and Alina Pogostkina, will be performing for the first time in our Festival. Cellist Adrian Brendel has returned to SoNoRo, and then we will have a group consisting of violinists, such as Lars Anders Tomter - one of the most famous violinists of the moment, and Polina Leschenko and Mara Dobrescu as new pianists performing at the Festival. I am very happy we have managed to bring two quartets for the first time, the Casal Quartet from Zürich and Kelemen Quartet from Budapest. Here I would like to mention Barnabás Kelemenwho is one of the most special and creative young artists of the moment, a professor at the 'Franz Liszt' Academy in Budapest.

What performances have the SoNoRo grant receivers prepared?
After the four workshops in Romania and Italy, we have selected the very best for the concert that will be performed in the Auditorium Hall of the National Art Museum. The 2011 SoNoRo Interference grant receivers will interpret pieces from Quintets by Brahms, Rachmaninoff, Shostakovich and Dvoűák. The repertoire is becoming more ample and complex, and in the concert Rising Stars Matinée which is dedicated to them, the young musicians will interpret works by Rachmaninoff, Shostakovich and Beethoven at the Central University Library 'Carol I'.
Andreea Chiselev
Translated by Florina Sămulescu
MTTLC Bucharest University