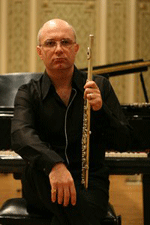 Ion Bogdan Ștefănescu at the British Flute Society's International Convention in Manchester
Wednesday, 22 August 2012 , ora 9.12

Between 17th-20th August, 2012, Manchester was the host of the British Flute Society's Eighth International Convention. Among the participants in the event there was one of the most renowned Romanian flute players, Ion Bogdan Ștefănescu, who offered us his own account of this subject:
« The British Flute Society International Convention takes place every two years. The greatest flute players in the world are invited. It lasts for four days and has an extremely intense schedule- from 8 o'clock in the morning until midnight. Every day there are tens of events, that , of course, are attended by numerous pupils and students, who have the opportunity- every other year- to listen to what is the best and the newest in the flute domain. To be honest, during these four days I had the feeling that I have been living in some sort of a flutists' heaven. It is amazing what can happen is just four days- from William Bennett, who is the president of the British Flute Society, James Galway, who is the honorary president, to Amy Porter, who had an exceptional recital, but also pipe players with a rare talent- they all hold recitals and, at the same time, masterclasses which are attended by hundreds of flute players.
It is a sheer delight for the flute world. Being able to listen to four or five great flute players in just one day is a rare opportunity, during which you can learn what goes on in the flute domain. Craftsmen and menders are also present at the congress and along with instrument displays, there is a mixture of publishing houses presenting their scores.
I had a recital during which I played Romanian music. It was extraordinarily well-received. They were eager to listen to Romanian composers. Laura Manolache, Dan Dediu, Doina Rotaru, Violeta Dinescu also performed. Matthias Ziegler, for example, approached me with excitement; he wanted the scores by all means, he wanted to meet these composers. It is a place where you can simply meet the elite in the flute domain and you can exchange ideas. For me it was an extraordinary opportunity and an honour to have been invited to perform together with these great international flute players.»
Andreea Chiselev
Translated by Valeria Anghel
MTTLC, Bucharest University