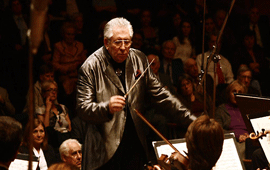 Ilarion Ionescu-Galați - Thoughts on His Birthday
Wednesday, 19 September 2012 , ora 9.13

The conductor Ilarion Ionescu-Galați turned 75 on Monday, 17
th
September. 75 years which he began with an excellent carrier as a violinist and continued with a carrier as a conductor just as valuable and appreciated by the audience. He will share with us what thoughts crossed his mind on his anniversary, but also the satisfactions he had throughout his life, exclusively with Radio Romania Music.
Happy birthday, Mister Ilarion Ionescu-Galați! You mentioned a while ago that you had a bond with Radio Romania. Would you like to share with us the first memories which bond you to this institution and to this institution's orchestra?
I would love to! But first I would like to thank you for calling me up and for remembering my name and my birthday, as you do every year. I have told you that I have a bond with Radio Romania Music, the Radio Institution, and with the Radio Orchestra because when I was 5-6 years old, when I started studying violin, all my violin and conducting instructors were members of the Radio Orchestra. I am going to tell you just a few important names: Bela…, Constantin Dumitrescu, my violin instructor, who was also my instructor in music school and in the Conservatory - George Manoliu, the great cellist Teodor Lupu, who was part of the Enescu Quartet; they were all my music school instructors. Then my debut as a violinist - when I was 15 - was with the Radio Orchestra and maestro Conta. The Shostakovich Concerto, which I played for the first time in Romania, was with maestro Elenescu; my son's debut was with the Shostakovich Concerto, when he was 9, with Radio Orchestra, Paul Popescu so on and so forth. I have done many recordings and concerts with Radio Orchestra; it was always a pleasure, and I am grateful.
You are turning 75, an extraordinary age. Would you like to tell us which are the successes in which you take pride?
75 years old and over 55 years of artistic activity! From a conductor's point of view, one of my greatest accomplishments is when I managed to turn the Philharmonic in Brașov, where I had worked for over 40 years, into an orchestra which could represent with honour the colours of Brașov and Romaniain our country and abroad, and the recordings, of some value, which I had done with this orchestra. Of course, it is hard to enumerate my accomplishments on the phone, but there are a few things I take pride in and which I gladly leave to those who will come after me. There are others who can appreciate what I have done.
How do you plan on celebrating today, if you would like to share this with us...?
Today I have had a rehearsal with the La Traviata, because in three days I have a show with the La Traviata in Brașov, and next week I am going to begin rehearsing with other orchestras form the country, who were kind enough to celebrate me on turning 75. In the afternoon, after the rehearsal with the La Traviata, I am going to celebrate with my family. My son, my daughter-in-law and my granddaughter, who are very sweet, have organised a family celebration with close friends.
Petra Gherasim
Translated by Andrei Popescu
MTTLC, Bucharest University