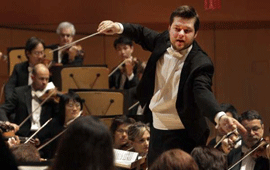 Interview with the Conductor Juraj Valcuha
Tuesday, 25 September 2012 , ora 9.09

Mister Valcuha, when and how did you get you invitation to perform in Romania at the RadiRo Festival?
The invitation was addressed to the Rai Torino Orchestra of the Italian Radiobroadcast, where I work as a conductor. We were very thrilled and we accepted immediately because it is important to go abroad, at international festivals, as many times as possible.

Will this be your first time in Bucharest?
I, for one, am going for the first time there. I am happy and thrilled by the invitation because I have heard many good things about the audience there, a very enthusiastic audience, and with a good insight into opera music; not to mention the great Romanian musicians. For me it is a great pleasure to conduct in Bucharest.

What is the difference between radio orchestra and philharmonic orchestra?
This is not an easy question. I would say that radio orchestras have little hold-backs in front of the microphone, they play with a larger ease in their company. They are used to their music being broadcaster. This is the case of the orchestra which I am conducting, but I think it is the same case in any radio orchestra.
The role of such an ensemble is to perform as many contemporary or already consecrated works as possible, either live or in recordings which are broadcasted afterward. Radio orchestras have an excellent level, they tend to play for the radio, it is something on the daily agenda for them, that is why they have no problem and no complexes in front of the microphones, even though they can be stressful sometimes.
The microphones are like microscopes which track down any flaw; the level of the radio orchestras needs to be excellent in such a way that it sounds good when broadcasted.

Ilya Musin, a great conductor renowned for his technique, but also for his teaching skills, was you teacher. Would you like to share with us the experience of having had such a great maestro?
I have to tell you a little story. The first time I have heard anyone speaking about Ilya Musin was in 1994. I was in New York with the Bratislava chorus. I went with some friends to a concert of the Philharmonic Orchestra from the great metropolis. In the booklet of the evening I have read for the first time the great conductor's name. In March 1995, I was already at the Conservatory in Sankt Petersburg conducting in front of Ilya Musin.
A year before I didn't even know if he was alive of not, because only afterwards I had discovered this great personality. You can say that this man founded the conducting school in Leningrad. I realise that it was a huge opportunity for me to be in his class. I was lucky enough to even meet him daily, which was great, considering his age; he was 92 in 1995. He would come five times a week at the Conservatory. So, yes, I can say that it was a very important step in my formation.

He would still go at the Conservatory at 92 years old? Unbelievable!
Indeed, he was born in 1903, three years before Shostakovich. They were colleagues at the Conservatory in Leningrad. Ilya Musin was one of the first, if not the first, to perform Shostakovich's Symphony No.1.
The whole Russian music, and not only, knew it perfectly. Even if I knew little at the beginning of my college years, because I had just arrived in a new city from Bratislava, where I had to learn in an unfamiliar institution, with new methods, I needed little time to adapt and to understand what those people were talking. I now realise that I was privileged.

Would you like to give us three reasons why we shouldn't miss the Rai Torino Orchestra concert?
As I have already said, it is important for an orchestra to break out of the ordinary. The members of the orchestra and I are very happy to be able to travel to present our programme in Bucharest. We are going to have two concerts with two very interesting programmes. We are going to perform Rachmaninoff's No. 3 Symphonywhich is less known than the first. This third symphony deserves to be performed.
Rachmaninoff himself was very pleased by this opus, one of the first he chose to record with the Philadelphia Orchestra. In the second concert we are going to present two works from Richard Strauss: Tie Eulenspiegel and The Knight of the Rose.
We also must not forget the soloists with whom we share the poster, Christian Zacharias and Alexandru Tomescu. Another reason why you should come to these concerts is also the opportunity to listen to the only radio orchestra in Italy and one of the few to approach exclusively symphonic music; because Italy is known especially for its repertoire in the field of opera music. There are orchestras in Italy which approach both types of repertoires, but only a few focuse exclusively on the symphonic repertoire.
Petra Gherasim
Translated by Andrei Popescu
MTTLC, Bucharest University