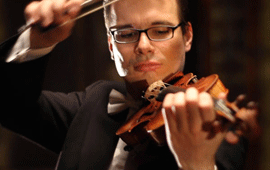 Interview with violinist Alexandru Tomescu
Tuesday, 25 September 2012 , ora 8.05

Alexandru Tomescu, for the RadioRo Festival you prepared the Concert in Re Major by Tchaikovsky. The first question refers naturally to the place that this piece occupies in your repertoire?
It is a work that is very dear to me. I played it in many contest finals of this concert during my college years and I have extremely moving memories related to this work, then I even played it several times on the concert stage of the Radio Hall. It is a concerto that requires a lot from the violinist, first of all a physical strength out of the common; it is a lot of work there with the arms. Playing it again at 36 years old I realized that I already see it in a different way compared to how I saw it at 20 or at 30 years old. What I mean is that I try to put myself exactly in Tchaikovsky's shoes, the XXth century Russian, I try to revive exactly the memory and to retrieve his sensibility precisely for being able to build the interpretation that would represent me the most.
As you have already told us about how strained you are during this Tchaikovsky concerto, I won't ask any more questions about it, but I shall make a comment regarding what critic Eduard Hanslick said after first hearing this concerto. He said that the violin was seriously beaten, not played. Do you think this is what he meant, of how straining and difficult this is?
It depends on the violonist. Of course, you can play in a way in which you knock the shoe on the table or you can play powerful violin sounds without hastening it. I know that this concerto had at least a controversial start and I think that the major place that it occupies in the violinists' repertoire is recognizing its value without strength of denial .
Juraj Valcuha, the conductor you work with, is your age. Is it easier or harder to collaborate with musicians the same age as yours?
I don't know... the easiness or hardship does not necesarily come from the date of birth, but from each's sensibility. I have a good feeling about this, although I didn't meet Juraj personally. I am sure that our collaboration will be a smooth one. Tchaikovsky's concertis not a work to require major effort from the conductor and I am convinced that it will be a gallop of health for everyone.
As you mentioned you played the Tchaikovsky's concerto several times. Do you adjust to the conductor's indications or you'd rather maintain a certain point of view and eventually say no?
Even if it is about a soloist work, a soloist work plus orchestra, in fact the relationship of forces is established between the members of a chamber music group. I see the orchestra as my partner of chamber music. There are manifold moments where I take on themes from them, moments where I conduct soloist instruments of the orchestra, although my number one priority is to cooperate both with the orchestra and the conductor in order to achieve a musical result as coherent and beautiful as possible. On the other hand, I played many times with foreign orchestras and most of the times I was told: "do whatever you wish, we will follow you without any effort/trouble"; we shall see how it turns out.
If you master the musical score very well tehnically and you clearly have in mind the kind of interpretation you need to give to each musical moment, I wonder Alexandru Tomescu, if there is any room for letting anything at the inspiration's will on stage?
Inspiration is unforeseeable. The muses show up whether and whenever they wish. But, I am convinced that it will be a very beautiful evening in which we are able to show the audience a very good interpretation of Tchaikovsky's concerto.
But, in general, your experience on stage has showed you that you are able to do something you least expected?
Yes, of course. There is also a slight or big difference between the interpretation on stage and the one at the rehearsals, because there is another amount of adrenaline involved; not only in my blood, but both in that the conductor and the members of the orchestra. We live differently, we breathe differently and we feel differently during the concert, in front of the audience.
From breath and adrenaline, let's pass on to the feeling of saturation. Have you ever been annoyed by a work that has been part of your repertoire for too long?
Annoyed, never! It is true that there are works that seem less worn out, as it is the case of Tchaikovsky's concerto, but this is where the challenge arises. The artist, a very good interpreter, he needs to find exactly the freshness that the concerto had when it was first composed and played. Each concert needs to be like a first time interpretation of that piece and all performers, everyone from the stage, need to have the same opening and joy of descovering the music.
You have recently released a new CD a few days before the start of the RadiRo Festival- called Stradivari Obsession, a result of the 2012 Stradivarius Tour, in which you presented The Integral of Sonatas for soloist violin by Eugene Ysaye. How does this album contribute to the Romanian discography market?
I hope it has an important contribution. It is a disk that is very dear to me, because I put a lot of soul in making it. I have found an extraordinary understanding from the sound engineer, the one who is responsible with 50% of the final result of the recording - and 50% belongs to me - namely Jacob Handel, which has come especially from Germany, awarded with a Grammy, and who understood that I don't necesarily want a technical perfection of the recording, and this thing is felt also in the energy emitted from the disk. The CD is just the prelude, I would say, to the future release of the DVD, that will include the whole show Stradivari Obsession, a spectacle produced by Oana Drăgulinescu, in which I had beside me actors Paul Cimpoieru and Ana Pepine, in a show that combined classical music with mute theater. It was a premiere on the Romanian musical market and the results were as successful; even three sold-out performances in Bucharest were not enough, therefore we intend to play this concert as soon as possible.
You said in an interview that the Stradivarius violin undoubtedly brought you to a higher level due to its expressivity options and, although I am not an expert in this instrument, perhaps in its technique options, as well. But I would like to ask you, Alexandru Tomescu, if this wonderful instrument also caused you any troubleat all?
Let me tell you how it goes: it goes like a relationship, in which you accept the loved one with her good and bad ones. The violin is already 310 years old and it also has its whims and moodiness, but a violonist who really knows it well - and after almost 5 years of playing it, I may say that I'm beggining to know her -knows how to achieve its greatest potential even on a bay day. Any violin is extremely sensitive to the changes of humidity, temperature and all these need to be also found in approaching the instrument, an approach that has to be made by the violinist.
Maria Monica Bojin
Translated by Iulia Florescu
MTTLC, Bucharest University