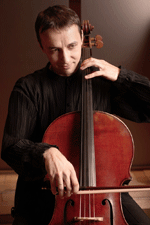 The National Tour Do You Like Bach? Begins Again
Tuesday, 2 October 2012 , ora 8.32

The second edition of the
Do You Like Bach?
tour, carried out by the cellist Razvan Suma, will begin on 2
th
October. The event will have its starting point in Iasi and it will go on in ten Romanian cities, until 7
th
November.
Razvan Suma was kind enough to give us details about the tour, in the following interview:
Today begins the second edition of the Do You Like Bach? tour, which opens in Iasi. What innovations does this second initiative bring?
First of all, it brings plenty of new energy, many hopes that it can come out greater than the first edition, held in March, which also came out very well. It brings new projections, made by a dear friend of mine, Vadim Staver, and it offers these new concerts, in very important cities, such as Iasi, for example, on 1st October, Botosani on 4th October, then at the well-known Philarmonic Halls in Cluj, Timisoara, Brasov and Sibiu. There are also some places of novelty; for example, we have some a concert in the salt mines of Ocnele Mari, next to Ramnicu Valcea. In the final concert, which will not consist in a repetition of the integral of Bach's suites, as it happens in the entire tour, and will take place at the Radio Hall in Bucharest on 7th November- I will be there with two very dear friends: Razvan Popovici, the director of the SoNoRo Festival, and Corinne Chapelle, an extraordinary violinist. Together we will interpret The Goldberg Variations by Johann Sebastian Bach.
What other productions will be featured in the tour's schedule?
Throughout the entire tour I will interpret the integral of Bach's suites for solo cello and, in the final concert, so as not to repeat the performance from 21st March, we will play The Goldberg Variations.
How did the audience receive the first edition of this tour? What do you remember now?
I have just had an interview with a journalist who came all the way from Bucharest to write a story for a magazinein Iasi. She said she had looked for unfavorable reviews and did not find any. This is a very good sign, that the echoes are still some of the best. It was an extraordinary reaction for me as well, because, being a long concert, people did not leave during the intermission - the audience, I mean.
So, after such a good start, the second edition can only be better. I understand that there is excitement, there are technical facilities, so we can only expect some extremely valuable concerts, isn't it so?
This is also my wish and I have made all the efforts to achieve this, and to promote the tour… and the members of the team I am working with know very well what my vision is.
Ioana Marghita
Translated by Valentina Banut
MTTLC, University of Bucharest