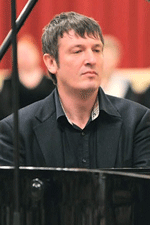 Interview with pianist Boris Berezovsky
Tuesday, 6 November 2012 , ora 8.09

On the 6
th
November 2012 famous pianist Boris Berezovsky held a recital at the Romanian Athenaeum, which was recorded by Radio Romania Muzical and will be broadcast around Christmas time.
What does a recital mean to you? Is it a new opportunity to express your thoughts, your feelings, and to share them with the others? Is it the challenge to win over a new audience, a perpetual search for a new meaning in well-known musical pieces or is it something common, something usual for any artist?
I think it is merely an opportunity to play the music I love. This is the most important thing. Tonight's recital is very important, because I usually come here as a guest of the Enescu Festival, which is an extraordinary event, but it imposes a series of restrictions over the repertory one can play. In today's recital I can show what I truly like. Secondly, it is the way the relationship with people evolves, because I do not think a single festival is enough. In Bucharest, everything revolves around the George Enescu Festival, and there is not much room for other activities, so I am glad to be here at a stand-alone event, because artists should have a relative degree of freedom.
The title of a previous interview introduced you as 'the piano's enchanter'. What exactly do you think makes the charm that the audience feels from a pianist? In Liszt's age, charm was related to extraordinary virtuosity and to the quickness of tempo in certain parts. What brought you, in these latter days, this sobriquet of 'enchanter of piano'?
I believe it is the repertory I play. I always choose very dynamic, extremely difficult parts for my recitals. Tonight will be no exception. It is absolutely wonderful, it's spectacular, it includes parts that have been inspired by folklore, and less known parts, as well. I think it is important not to play only clichés, because it is necessary to leave room for unknown music, along with Johannes Brahms's 'Hungarian Dances'.
Monica Isăcescu
Translated by Irina Borțoi; Coordinator/Reviser Marcela Zorland
MTTLC, Bucharest University