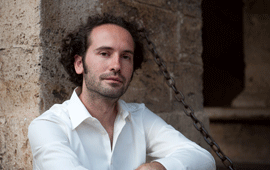 9th November - The Sonoro Festival Debut. Interview with Răzvan Popovici
Friday, 9 November 2012 , ora 14.55

The Sonoro Festival is for sure a catchy and modern approach to the performance of chamber music. The viola player Răzvan Popovici reveals more details.

The Sonoro Festival has come to the seventh edition. What do you think about the development of this endeavour dating back to 2006?
It has developed inherently. Being bred in a healthy manner, it is the kind of festival which has grown constantly and which has reached school age now.

Each edition has its own theme. This time it is called Love Unlimited. Could you tell us more about it?
Love Unlimited is a title deliberately chosen to be in English as the festival has now become international. It is a mixture of what is outside the Romanian borders and the devotion for the Romanian audience. Love Unlimited implies that love itself is the core of the entire programme. Both the repertoire and other additional activities within the festival carry the love mark.

What are the latest of this edition?
There are many. The most significant one is the release of a new SoNoRo CD based on the works of Dvorak, Suk and Johannes Brahms whom the Radio Romania Music audience would certainly love. The protagonists are the two well-known pianists Diana Ketler and Konstantin Lifschitz. I play the viola and the Ukrainian violinist Andrej Bielow performs two of Brahms' Lieder for the viola and piano and a love song by Josef Suk for violin and piano
(Editorial note: the CD is released on the Radio Romania Music broadcast of "Music box" at 8.00 P.M on 10th December). Secondly, a literary workshop takes place on the terrace of ArCuB Hall in Bucharest. Distinguished scholars like Horia Roman Patapievici, Ioana Pârvulescu, Marius Chivu, Tudor Giurgiu and Alex Bălășescu will debate over love. The latter is, in my view, one of the surprises that guarantees a successful festival.
Alexandra Cebuc
Translated by Sorina Cimpoeru and Elena Daniela Radu