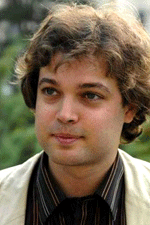 The 'Lipatti Days' Festival - Interviewing Andrei Licareț
Wednesday, 28 November 2012 , ora 8.56

One of the musicians who will perform during the marathon recital organised as part of the 'Lipatti Days' Festival at the Romanian Athenaeum on December 2
nd
is pianist
Andrei Licareț
, a young performer with a promising career. Below is the interview he has given to us on this occasion:

The programme for the Romanian Athenaeum recital on 2nd December is heterogeneous, as you will perform a Baroque, a Romantic, and a 20th century Romanian piece. This last piece, Dinu Lipatti's Nocturne in F Sharp Minor, is actually very appropriate for the composer's commemoration. How would you describe it compositionally and pianistically?
There were both pianistical and compositional influences on Lipatti's music, but they were always passed through the filter of his emotions, of his ability to express himself musically. Actually, he composed two very different nocturnes, but I will perform only one of them. Its writing is rather florid, with a great deal of chords and big spans, which suited Lipatti's very big hands; it's a rather choral, Busonian writing. The other one resembles filigree as it has a lighter texture and an obvious Romanian theme, hence its name, Nocturne in A Minor on a Moldavian Theme. Therefore, it's hard for me to choose between the two of them, as they are very different, and I also think the Romanian audience isn't familiar enough with them. It's a shame, because both pieces are remarkable.

Do you constantly perform these nocturnes during your recitals?
No, I don't perform them constantly, but I have been familiar with them for some time, ever since I was studying at the Conservatoire, and I have always liked them. I think they can be quite easily included into a musical programme, in the sense that they go well with works by many other composers - they are approachable.

What do you think about Dinu Lipatti's role in Romanian music, as a pianist and composer?
Dinu Lipatti was a great pianist and a remarkable person from every point of view. The people who knew him said he was an exceptional person. I remember that Lory Wallfisch used to tell me Lipatti was an angel. His presence was remarkable. We all know his life ended too soon. He managed to do everything he did in such a short span of time, and yet, he has left us a remarkable legacy. We are not certain what his destiny would have been after the 1940-1960 political events, when things changed, but I'm positive he would have done his best to support his country. He truly had a Romanian soul. It's a shame we didn't have the chance to see him blossom and, furthermore, reach an age when things might have been different for him. Unfortunately, we never had the chance to witness this.

Coming back to your 2nd December recital, I'd like you to give us more details about the programme.
Alongside Lipatti's Nocturne, I'll perform Bach's Partita No. 6, which I call the Great Partita, as it is a completely overwhelming work in terms of duration but mainly in terms of content. I cannot put into words what the music expresses, but it is truly impressive. Besides this piece, I'll perform Chopin's Sonata No. 3, which is one of the most important pieces in the piano repertoire as well as a remarkably beautiful masterpiece. They are also quite appropriate in this context, as we know Lipatti performed Bach's and Chopin's music beautifully - he cherished the two composers and performed their music all his life. I think it's appropriate to perform their works during an evening dedicated to Dinu Lipatti.

The marathon recital organised during the 'Lipatti Days' at the Romanian Athenaeum is also meant to commemorate pianist Mihaela Ursuleasa, who, before her sudden and tragic death, had accepted the organisers' invitation to perform at this festival. As you are somehow linked to the great pianist by the 9th June concert, when she was supposed to perform, but she was unavailable, so you replaced her at the last moment, I would like you to remember and share with us what you felt then and what your memories of Mihaela Ursuleasa are.
I had met Mihaela a few times, but we never got very close. Of course, she was a truly great pianist, and you are at a loss for words when you hear that people in their prime are suddenly gone. It's shocking. Back then in June, I was going to the concert in order to listen to Mihaela perform, and I received a phone call around 6 p.m. telling me that she could no longer do that. They asked me if I could perform in her place. I said I would try, and eventually they moved the second part of the concert before the first one, so after the break I went on stage and performed Beethoven's Piano Concerto No. 1. So, anyway, the whole thing was rather fast and unexpected.

As I was searching the Internet for information about you, I found out an important piece of news: on 6th February you will perform at New York's Carnegie Hall, one of the world's most prestigious concert halls, where Mihaela Ursuleasa performed as well. How did you manage to achieve this? Whose idea was this and how important do you think this recital will be for your career?
It remains to be seen. The recital will take place at Weill Recital Hall at Carnegie Hall, and I'm obviously very happy to be there. It's a legendary concert hall, where I will perform one of the pieces included in the 2nd December concert programme - Chopin's Sonata No. 3. I have chosen Enescu as a representative of Romanian musical composition, as he was extremely successful in the US. I also think people here don't discuss enough the impact Enescu had there, mostly at Carnegie Hall, where he was idolised. So I'm obviously very happy and I'm looking forward to the recital, mainly from an artistic point of view.

Do you choose the programmes for your concerts according to your repertorial preferences or do you try to cover as many musical styles as possible?
Certainly, I grew up listening to the music composed by Bach, Mozart, Beethoven, Chopin, and Schumann. These are the composers who marked my early years. But I also love 20th century music and its great composers, such as Bartok, Stravinsky, and many others. I don't shy away from performing contemporary pieces as well, but so far I have done this to a lesser degree, not because I'm prejudiced against them, but because it just happened so. There are extremely worthy contemporary composers whose music should and must be performed. As a matter of fact, a few years ago I participated in a concert in New York, which was organised by the Romanian Cultural Institute and was dedicated to 'young composers'. There were several performers, all of them Romanian, and the concert was a great success. So I have a quite wide range of preferences. As a matter of fact, it's hard to make a choice because there are so many masterpieces, and, fortunately, there is a huge piano repertoire, enough to keep you busy your whole life.

Apart from New York's Carnegie Hall and the Romanian Athenaeum, where will your upcoming concerts be held?
I've recently performed during the 'Lipatti Evenings' - held at the memorial house in Fundățeanca - a series of events which represents a so-called younger sibling of the 2nd December concert. A week from now I will be in Cluj, where, alongside maestro Andreescu, I will perform Rachmaninov's Piano Concerto No. 2. In mid-January 2013, before the Carnegie Hall recital, I will go to Italy to give three concerts. Afterwards, my schedule includes recitals and concerts alongside orchestras both in Romania and abroad.
Larisa Clempuș
Translated by Cristina Firoiu and Elena Daniela Radu
MTTLC graduates, Bucharest University