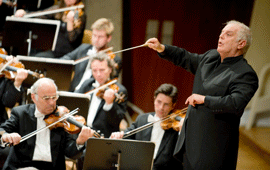 The Staatskapelle Berlin - Interview with Volker Sprenger, Violist and Board Member
Friday, 7 December 2012 , ora 9.23

One of the oldest orchestras in the world, dating back to 16
th
century Germany, was conducted by Mendelssohn, Meyerbeer, Richard Strauss, Wilhelm Furtwängler and Herbert von Karajan. It began as a court orchestra and became an opera one. Today it includes both a lyrical and a symphonic repertoire and it has received several awards for the quality of its performance. The Staatskapelle Berlin is, in fact, either mainly, or equally, the ensemble of the German city's State Opera and a concert orchestra whose history goes far back in time.
It is indeed one of the oldest orchestras in the world, dating back to 1570. One may say, though, that its history began when Frederick the Great founded the royal opera, the Unter den Linden, in 1742. The Staatskapelle Berlin has been both an opera and a concert orchestra ever since.

The ensemble was often been conducted by Richard Wagner. How important were those moments for the ensemble and for its history?
That Wagner conducted us for his own compositions was definitely very important - for instance, the premiere of The Flying Dutchman and a series of rehearsals for Tristan and Isolde. It is still very important for us that there are many composers who choose us to perform their compositions - we collaborate with Mr Pierre Boulez, composer and conductor, who has also conducted us in a cycle dedicated to Mahler's symphonies. Our chief conductor, Mr Daniel Barenboim, has set a repertoire that comprises quite often pieces by Elliott Carter, the 105-year-old American composer.

The Berlin State Opera's ensemble, the Staatskapelle, is also an ensemble that hosts concerts frequently. Isn't it difficult to make the change between these two very different types of music - one that is mostly meant to accompany, the other having its own voice?
I feel this enriches us in a way, and without trying to appear self-important, I believe our orchestra is of a rather rare kind, exactly because it can combine these two kinds of activity and it can do them both very well. The Staatskapelle Berlin is at the same time an independent concert orchestra, which performs both in Germany and in international tours, and an ensemble which performs opera inimitably. To me this is a very happy situation, especially since it can lead to extraordinary collaborations - great conductors want to perform with us: Claudio Abbado, Zubin Mehta, Sir Simon Rattle, who is the conductor of the Berlin Philharmonic, come to us because they know we can perform lyrical creation at a great level. We can, therefore, offer two different kinds of music - the autonomous one and the one that can have the role of companion.
This double activity also instills in us certain qualities: speed of reaction, the way in which we respond to unforeseen events, because two opera shows are never alike. If it is possible that, having concerts in a rather steady rhythm, they are somewhat similar, a lyrical performance is always different. This requires the ability to react quickly, it requires us to be spontaneous and careful, which reflects on the quality of the music that we make. Similarly, the technical perfection of a concert on stage appears in the orchestra pit. I think this is wonderful, and it pleases us and it gives us joy to be able to perform both types of music. There are three opera theatres in Berlin - The Comic Opera, The Deutsche Oper and the Staatsoper, and I think it is interesting that the only lyrical orchestra in our town that has a name of its own is ours - the Staatskapelle Berlin. It is true that these ensembles are not as present on concert stages as we are happy to be.

The German magazine Opernwelt gave the Berlin ensemble the title of the orchestra of the year five times; it has also won the prestigious Furtwängler award, the Grand Record Award, a Grammy and an ECHO award. What are then the qualities of the Staatskapelle's musicians, or rather what qualities are required of those who want to become its members?
Our contests have a few auditions, each of them eliminatory, where contestants perform a concert from the classical period, then a romantic one, and then pieces of orchestra literature, from the music that they will basically perform every day, which will earn their bread, if you will. We also pay attention to the way in which they perform the music, and to the colours that the contestant can pull out of his or her instrument, to the phrasing of the music. You also asked about the human qualities of the new members - I believe it is the desire to belong somewhere, to put their knowledge to the use of the whole, of the orchestra, that is. Sometimes they have to learn this - it is, in a way, similar to professional sports. You study a lot, you practise a lot, but on your own, you depend on yourself, and then you have to bring all these achievements to the general sound of the orchestra - this is something school cannot teach you.

I was pleased to listen to the members of the Staatskapelle Berlin in the two concerts that they held at the Enescu Festival in 2011 and I, for one, admired the cohesion between the artists: they performed as one, they sounded as one. Mr. Volker Sprenger, how do you define the sound of this orchestra?
It is difficult to put down in words - it is as if you asked someone to talk at length about the differences between a Cabernet Sauvignon and a Merlot! It is better to simply drink those wines… But I shall try. Since you have mentioned cohesion - we owe a lot to our chief conductor, Mr Daniel Barenboim, who has been conducting the Staatskapelle for 20 years now. In all these years, he has managed, as he says himself, to create a musical style of his own, to feel this style, to project it in the orchestra. I performed a lot with Daniel Barenboim, and sometimes he says in his interviews that he is glad that we managed to play the music together as if we were one. But it is true that such a thing can only be achieved with someone who knows how to explain, how to show you how to get there. You are shared a vision of music and you appropriate it; it may be the way in which you see music, as well, it may be a different opinion, you may say 'I have never thought that things could be done in this way, but it is wonderful'. Thus we come back to the human qualities of the musicians of the Staatskapelle Berlin - the cohesion you mentioned can only be achieved if we all play as one and it is only then that the audience can notice it.

The chief conductor of this ensemble is Mr. Daniel Barenboim, under whose baton the orchestra held the concerts at the Enescu Festival in 2011. Since I have praised the obvious excellent connection between the musicians, I have done the same for the relationship between them and the Argentine-born musician. How tight is this relationship?
Very tight - with all that comes with it! It is a very strong, intense connection. It is like within a family whose members have got along well with each other for a long time, there are tense moments, as well, but none of our colleagues is ever truly unhappy. We are very happy to have Mr Daniel Barenboim with us, he is one of the most important contemporary musicians, and we are glad to be able to work with him and offer him what he needs in order to make music. He has very well-formed ideas on how music must sound like. When he came to the Staatskapelle Berlin, he considered us a valuable piece of antique furniture that you only have to dust. He already had a sound ideal, so to speak, and we are glad that we could give voice to this ideal, and that it is continually improved, enriched and perpetuated through Mr Daniel Barenboim.
Maria Monica Bojin
Translated by Irina Borțoi and Elena Daniela Radu
MTTLC, Bucharest University