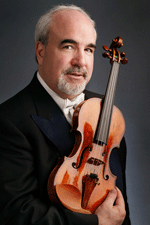 The New York Philharmonic - an Interview with the Concertmaster Glenn Dicterow
Wednesday, 5 December 2012 , ora 10.09

The New York Philharmonic is an old orchestra in the United States of America, which was set up in 1842, gives approximately 180 concerts a year and in 2010 reached the concert no. 15,000 - a record that no other symphony orchestra has reached. It ordered or performed as first auditions opuses without which no season would be complete nowadays: Dvoűák's Symphony no. 9 From the New World, Rachmaninoff's Piano Concert no. 3, Gershwin's Piano Concert in F. Dvoűák himself conducted this orchestra and so did Otto Klemperer, Richard Strauss, Aaron Copland and Arturo Toscanini.
The guest of the programme Great Orchestras of the World was Glenn Dicterow, the concertmaster of the New York Philharmonic, who at the beginning of the interview gave a summary of its history and meaning:
'It's probably one of the oldest orchestras in the United States of America and at international level - I know that there are European symphony ensembles with a longer tradition. It's the most important ensemble in America and its history included a series of amazing musical directors and famous musicians who came to perform with it. It's been a significant landmark of our country, from its setup until now, and so it continues to be.'

What makes you say 'yes' to an instrumentalist who wishes to join the New York Philharmonic?
Our orchestra is an international ensemble, bringing together excellent musicians who come from all over the world. Of course, many of them graduated from the Juilliard School and from the Manhattan School of Music; there are others who come from Asia - from China, Korea and Japan, so we are truly an international orchestra, made up of high-quality artists. The musicians we are looking for have to meet many criteria: not only do they have to be good soloists, capable of managing the stage by themselves, but they also have to be very good orchestra instrumentalists, able to make music within a team and to contribute to developing and maintaining the team united. So, besides their individual contribution, they need to have team spirit and the wish to turn the orchestra into a perfect ensemble, with wonderful performances. The new musicians must also possess the capacity to listen and to be flexible - I think that our flexibility is a strong advantage which enables us to organize concerts in a very short amount of time, while maintaining a very high artistic level.

Glenn Dicterow, how would you describe the sound of the New York Philharmonic?
I think that all orchestras have their own particular sound. The sonority of our orchestra was described as bold, 'open' as opposed to 'restrained', honest, very powerful. The hall where we perform has such acoustics that each musical note is perfectly heard, becomes resonant, which, of course, adds to our qualities. What is also very important is that we live in New York: the personality of the city and of the New Yorkers is reflected in the way that we play - we are an orchestra with a full, beautiful sound. I believe this is what probably differentiates us from other ensembles in the North-East of America - the Chicago Symphony Orchestra has a sound similar to ours, but in Boston and maybe Cleveland, too, the sound is a little more European. This also depends on the conductor who is our music director or the conductor with whom we work for a concert: he can change our sound, simply by asking us to emphasize certain elements, which we can do very easily and very fast.

The New York Philharmonic has amazinly many programmes dedicated to musical education: concerts for children, teenagers and young people, concerts in schools. For instance, children with ages from 3 to 6 are invited to discover how a musical phrase sounds through movement, singing and humour. How are these educational concerts generally structured, Glenn Dicterow?
They have a multi-layered structure. There are concerts which take place in Avery Fisher Hall, located in Lincoln Centre, and there are others, performed by young musicians and in which our instrumentalists are also involved, that take music to younger audiences. They are very good at that - and what I mean here is that in order to present classical music to young people we have to interpret it differently, that is in a fresh, up-to-date manner. References to music belonging rather to pop are acceptable here - that's how we attract them, awaken their curiosity and thus they will become our future audience. This is our purpose - to educate children, to prove to them that highbrow music, even new music, is not as scary as one might think, that listening to it can be fun, that it's interesting and full of colour. I think that many of our concerts have this purpose: to stimulate people, to urge them to come and listen to music and create a new generation of music lovers, because the average age of our New York audience is increasing. We wish the great music of our world to continue to be known and carried forward and for us to continue to exist. I believe that is what every orchestra wishes: to generate enthusiasm and interest.

The New York Philharmonic has a very impressive and organized archive. The digital archive provides the opportunity of studying online some scores interpreted by the orchestra, including notes made by the conductors who used them: Shostakovich's Seventh Symphony or Bartók's Music for Strings, Percussion and Celesta with Bernstein's notes, the overture Egmont by Beethoven with Toscanini's instructions. One can also access all the presentation brochures of the concerts the Philharmonic has performed starting with 7th December, 1842, which means access to a huge database: exactly who, what and when performed at the New York Philharmonic.
Indeed, here's an incredible portion of history, present in this archive which includes very many elements! If you were here, in New York, you could also visit the archive and consult these fragments of our past - photographs, documents and scores belonging to the Philharmonic. It's fascinating to be able to see all this - the visitors can make a very rich and meaningful journey into our history. We are glad to see their enthusiasm for this wonderful group of musicians, for this cultural institution.

The New York Philharmonic was one of the first ensembles to be broadcast on the radio. Glenn Dicterow, how important do you think the role of the radio is nowadays in promoting classical music?
Radio certainly continues to occupy a privileged position, just like television. Our concerts are broadcast using both means - radio more often than television. We have a wonderful and numerous audience who is looking forward to listening to our concerts on radio. Our concerts are also available in another format, the one provided by iTunes: the concerts are recorded live weekly and if people can't be present in the hall, they are offered the opportunity to listen to them online or to download them in order to make their music collection complete. I believe that radio is very important for those who can't attend a concert, because it provides them the chance to listen to live music. And those who choose or use this means of audition continue to be numerous.

Alan Gilbert has been the Music Director of the New York Philharmonic for the last three years. What novelties did he bring, what did he change and develop, Glenn Dicterow?
I think that every Music Director tries to bring his own style, his own sound. Maestro Gilbert brought an inclination towards the contemporary - he's very good at this type of repertoire, as well as the romantic one. He's an extremely talented and dedicated conductor. He brought not only a personal vision on music and on the way we should sound, but also coherence and unity to the sonority of the New York Philharmonic. Maestro Gilbert is always very careful and thorough, in order for things to be accurate. His dynamism and talent changed our sound and made it very attractive.
Maria Monica Bojin
Translated by Mihaela Olinescu and Elena Daniela Radu
MTTLC, Bucharest University