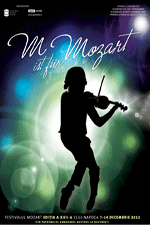 A New Edition of the Mozart Festival Begins in Cluj-Napoca
Friday, 7 December 2012 , ora 13.22

The Mozart Festival will be sponsored by the Austrian Embassy in Bucharest and it has been organized by the Romanian Mozart Society together with the Transylvania State Philharmonic, 'Gheorghe Dima' Music Academy and Qual Media Group. University professor Adriana Bera, PhD., president of the Romanian Mozart Society told us more about the events and guests at this edition and about the award she received from the Sächsische Mozart Gesellschaft.

The Mozart Festival in Cluj-Napoca has reached its 12th edition. What have you prepared for the audience this year?
We have prepared a few attractive concerts that revolve around the name of Sándor Végh. This year the music world is celebrating the Sándor Végh centenary, an exceptional musician born in Cluj, whose career is closely related to Mozart's hometown, Salzburg. Sándor Végh was the first violin in a famous quartet carrying his name and he was the conductor of Camerata Salzburg for twenty years. Therefore, a quartet contest supplied with the Sándor Végh Award, a symposium whose theme is Sándor Véghand a Mozart performance - that will reach its peak with the concert held by the Camerata Salzburg ensemble - will be the main events of the festival. The festival lasts for a week, from 7th to 14th December. The opening and closing concerts of the festival will be performed by the Symphonic Orchestra of the Transylvania State Philharmonic - the first concert will be interpreted under the baton of Ferenc Gábor from Berlin, with pianist Dana Borşan as soloist, and the last concert will be performed under the baton of the Austrian Philipp Pointner, with the Arcadia Quartet members Ana Török and Traian Boală as soloists. Two chamber concerts that will take place at the Music Academy will complete the Festival programme; one of them will be performed by the Münchener Klaviertrio while the lied recital will be performed by the tenor Tiberius Simu and the pianist Silvia Sbârciu.

This spring you received the 2012 Mozart award from the Sächsische Mozart Gesellschaft. What does this award mean to you?
It is a great honour considering that in previous years this award was given to great musical personalities, such as the pianist Andreas Staier, the tenor Peter Schreier or the Trio di Clarone conducted by the famous clarinettist Sabine Meyer, all in all impressive personalitiesof the international musical world. I was truly and pleasantly surprised to be among these winners. I was offered the award as recognition for my work as a performer, teacher, but especially for being the president of the Mozart Society and the organizer of the last twelve editions of the festival.
Andreea Chiselev
Translated by Roxana Ţicămucăand Elena Daniela Radu
MTTLC, Bucharest University