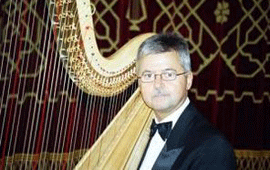 Ion Ivan Roncea is celebrating his 65th birthday
Wednesday, 25 January 2012 , ora 9.58

Ion Ivan Roncea is one of the most renowned harpists in the world and the most important Romanian artist of the kind of the last four decades. He has been performing on major stages including the concert hall of the Mozarteum University of Salzburg, St David's Hall in Cardiff, Paleis voor Schone Kunsten in Brussels or the Philharmonic Hall of Liège.
On 27 January 2012 the famous harpist will celebrate his 65th birthday and has agreed to grant us a short interview.

Happy Birthday, Mr Ion Ivan Roncea! Here you are, at an age when your exceptional career seems to be the most beautiful gift. Do you consider yourself an accomplished man from this point of view?
Thank you for your thoughts. As for the question, I would have to say yes, I do. I believe that I have achieved everything that an artist can achieve in a career which spans more than forty years.

This week you are playing with the Philharmonic Orchestra of Tg. Mureș. Where will you be performing this year?
In two days' time the Philharmonic Orchestra and I will be holding a concert that will close the festival of Tg. Mureș. We will be performing the Harp Concerto in B flat major by Händel, under the baton of Swiss conductor Kaspar Zehnder, with whom we have not worked before, but who is told to be a very good musician, conductor and also an exceptional flutist. Therefore, we hope that the audience will be pleased to see us performing with him.
In February flutist Ion Bogdan Ștefănescu, Verona Maier and I will be giving two recitals, one on 24 at the George Enescu Museum and another one on 25 at the Romanian Athenaeum.
At the beginning of March I will be the soloist of the George Enescu Philharmonic Orchestra and Liviu Prunaru and I will be performing for the first time in Romania a work entitled Concertante for harp and violin by Louis Spohr under the baton of Dutch conductor Theo Wolters. On 12 March Ionuț Ștefănescu and I will be giving a recital with a programme different from the one I played in February at the Conservatory.
In April, Nicolae Maxim, the former principal flute of the National Philharmonic Orchestra, and I will be holding a concert and later on his guests, former students of his, will accompany me in a recital on 25 or 26 April at the Athenaeum.
In May cellist Sanda Guțu, the soloist of the Philharmonic Orchestra of Timișoara, and I will be playing in several concerts. First, we will be performing at the Festival of Timișoara, and then we will be giving recitals on 14 May at the George Enescu Museum and on 15 May at the Romanian Athenaeum. The programme will be diverse, there will be mostly works for cello and piano, which can be sung on the harp. I will also be playing within the International New Music Week in Bucharest, in a Composer Portrait concert dedicated to Ulpiu Vlad. I will be performing solo parts, but also parts in which Roman Vlad and Ion Bogdan Ștefănescu will accompany me.
It is highly likely that at the end of June Ionuț Ștefănescu and I will give a recital at the Athenaeum. After that, everyone will be on holiday, but I will continue my activity. I will take part in a very beautiful master class in the heart of France, which plays a major role in the artistic world. Initially, it was organised by a former great artist, Pierre Jamet, but his followers were the ones who established an international harp academy, aimed at preserving the tradition of this important harpist by holding a summer class, but also several recitals. Therefore, the professor of flute of the academy, Pierre-Yves Artaud, and I will give a recital at the opening of the class.
I have one more thing to mention. I have received an invitation to the International Harp Festival and the Nippon Harp Competition in Sōka, which will take place in autumn, between 13 and 18 November.

Janina Bădici
Translated by Raluca Mizdrea and Ruxandra Câmpeanu
MTTLC, Bucharest University