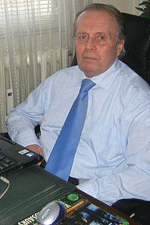 Talking about the composer and musicologist George Draga with his daughter, PhD Associate professor Maria-Sabina Draga Alexandru
Wednesday, 25 January 2012 , ora 10.05

Sabina Draga is a professor in the English Department of the Faculty of Foreign Languages and Literatures of the University of Bucharest and she is a translator of both English and Catalan. The connection she shares with culture, the domain to which she belongs, began because of her father - composer George Draga. We talked over the telephone so she can share some aspects of the musician's personality: active composer up until 2008, the year of his death, but also a musicologist, editor of the 'Music' Magazine of Romanian Musical Performing and Mechanical Rights Society, with studies of works signed by Aurel Stroe, Stefan Niculescu, Tiberiu Olah.
As an introduction to a George Draga dedicated programme 'Romanian Music Today' on Friday, 2nd March, 2012, listed below is the interview with Sabina Draga. The conversation began with a quote by compositor Liviu Danceanu - 'George Draga was a responsible man who obeyed only the truth'.

How would Sabina Draga describe her father?
My father always told me that he is first a composer and musicologist second. He had an enormous musical knowledge. During the years spent as a second editor-in-chief at the 'Music' Magazine and then as a curator at the 'George Enescu' National Museum, he was very involved in his activity as a musicologist and in charting Enescu's manuscripts. But his true vocation was composing, which he fulfilled according to his ideals, making very few compromises, political or otherwise.

You are very familiar with your father's compositional trajectory. It is my understanding that there are two creative stages - prior and after 1989; can you detail them for us?
It is more of a biographical and emotional chronology. A first stage is that prior to 1989 when - although he was always a faithful composer of the classical ideals - he was very tied to the avant-garde of the time, making experimental compositions and using mathematical mediums. During the '90s he compose less - I think everyone was less active in writing or composing, the political climate was too troubled in Romania at that time. It was then that he worked long hours at 'Missa en concert' one of his masterpieces, which he finished in 2002. His second creative stage began in 2001 when, as Valentina Sandu-Dediu mentioned during the compositional portrait 'George Draga - Remember 75' in the Hall of the Cantacuzino Palace (28th April, 2010), he dedicated himself completely to composition, writing not because he wanted to be in line with his generation, or because he wanted his works to be performed but because he felt the need to do it. He focused on the vein of the Transylvanian folklore (Valentina Sandu-Dediu compared him with Béla Bartók or Arvo Pärt), and also on the religious music, at first making only adaptations, then gradually processing these works into major symphonic works, such as symphonies and concerts for violin, flute, oboe, bassoon and orchestra, and chamber music.

You are not only a connoisseur but also a promoter for George Draga's work; you have organized several recitals in your father's memory. Tell us about these events and the reason they came into being.
I have to admit that I believe completely in my mission, to make my father's works known to the world - and so does my mother. Unfortunately, since I am not a musician myself, I cannot really do much. I would not have been able to organize anything without the help of some wonderful people, to whom I cannot thank enough.
Among these special musical events, a crucial role was played by the two 'George Draga' compositional portraits from the Hall of the Cantacuzino Museum with the invaluable support of the director of the 'George Enescu' National Museum, Mrs. Laura Manolache. On 28th October, 2008, the first of these two events was a celebration of my father's return to the museum to finish charting George Enescu's manuscripts. And my father would have been the guest of honour if he had not died before the event. And thus, the compositional portrait became a commemorative occasion.
The second compositional portrait, 'George Draga - Remember 75', took place on 28th April, 2010 (on 23rd April he would have been 75 years old) during which the score 'Missa en concert', recently published by the Musical Publishing House together with an introductory study by Despina Petecel-Theodoru, was launched. Speeches were made by Gheorghe Firca, Valentina Sandu-Dediu, Laura Manolache and Liviu Danceanu, everyone remembering affectionately the man George Draga, but also his compositions.
Chamber and vocal pieces were performed during these concerts, such as 'Piano Sonata' (with Verona Maier), 'Violin and Piano Sonatina' (with Ioan Marius Lăcraru and Rodica Dănceanu), 'String Quartets no. 1 and 2' (with 'Florilegium' Quartet) 'Concert for Flute and Orchestra' in a reduction for piano (with Teodora Ducariu and Catalin Dima), works sang by 'Euterpe' choir conducted by Georgeta Aldea, and last but certainly not least, a rich selection of lieder to folk lyrics and lyrics by Monica Pillat and Carlos Duarte, splendidly performed by soprano Alina Bottez, accompanied on the piano by Ieronim Buga.
To Mrs. Monica Pillat-Saulescu I owe - aside from the living role model of her own efforts in promoting the literary and artistic creations of the Pillat family - the other constant series of cultural manifestations, organized within the Pillat Collection from the Romanian Literature Museum (Rebreanu-Minulescu memorial houses), together with the valuable help of curator Corneliu Lupes. These were several afternoons of poetry and music (at Easter, Christmas or during commemorations for Dinu Pillat) where recordings of my father's music were played and lieder were performed (with Alina Bottez and Ieronim Buga) or different works fragments (such as a fragment from 'Concert for Flute and Orchestra' performed by Teodora Ducariu).
Valentina Sandu-Dediu plays a vital role in conveying the interest for George Draga's creation to the new generation of musicologists. Under her guidance, Alice Tacu is, at the moment, drawing up her master's thesis about compositional techniques in the work of George Draga, starting with the heterophony configuration. It will be a beautiful book, passionately and professionally written, which will open new ways of research for the music of George Draga. The compositional portrait from the Enescu Museum in 2010 was the subject of a Radio Romania Music chronicle written by another talented student of Valentina Sandu-Dediu, namely Andreea Chiselev.
And, in the end, although certainly not last, Veronica Anghelescu, the editor-in-chief of the online musicology magazine, 'No14PlusMinus', opened up its virtual space to articles and musical fragments of George Draga, even in electronic format, where there are no recordings available yet. Veronica's faith that music can penetrate everything and it can overcome any obstacles, including finding orchestras that can perform major symphonic pieces, imbued me with a lot of courage.

George Draga's works were performed by the National Radio Orchestra, by the Bucharest Symphony Orchestra, by conductors Emanuel Elenescu, Mircea Barasab, Paul Staicu, by maestro Cornel Taranu and his ensemble 'Ars Nova'. What is happening at present with your father's scores? Who has them?
A part of the scores were printed at the Music Publishing House: Concert Music (in 1972), Concert Overture no. 2 (1978), Prelude for string orchestra and brass quintet (1981), Heterophony for ten instruments (1982), Concert Overture no. 1, Sarmizegetusa, symphonic poem (1986) and Missa en concert (2010). There is also a series of records and a lot of concert recordings in the Radio sound archive. The scores that were purchased by the Romanian Musical Performing and Mechanical Rights Society are available in its library. The rest of the scores are in our possession, that of the family, and we are waiting for the right time for each and every one to see the light of day. But there are so many that I fear future generations will be required for it!

Some of the names you have already mentioned - Gheorghe Firca, Valentina Sandu-Dediu, Laura Manolache, Liviu Danceanu - are but a few of the musicologists who have written and talked about George Draga. What is the common denominator of the opinions you heard over the years?
Liviu Danceanu wrote several consistent studies about George Draga's creation, analysing works and noticing everywhere his moral honesty and generosity which characterised him as a man and as a musician. In the article you have cited, recently published in 'Athenaeum' Magazine and then in 'Musicology Today', Danceanu talks about the 'vocation of the distributivity': understanding that 'what you receive can, at one point, be stolen from you; no one can take from you what you give away'. Almost all his colleagues who wrote about my father or remembered him - Liviu Danceanu, Despina Petecel-Theodoru, Gheorghe Firca, Valentina Sandu-Dediu, Laura Manolache, Viorel Cosma, Doru Popovici, Vasile Tomescu and others - talked about this generosity, doubled by a great human warmth and his devotion to his work.
Despina Petecel-Theodoru entitles her introduction to 'Missa en concert' suggestively: 'Searching for the lost time', thus underlining the hard work of recovery, in the last eight years of creation, of the musical projects that George Draga did not manage to complete earlier because of his duties as a musicologist, tasks which occupied much of his time that he would have otherwise dedicated to his compositions. Despina Petecel-Theodoru also notices the honesty and the sobriety of the artist who, as well as the man, 'knew how to say a lot of things with few words' governed by 'the triad of the classic man: rhythm, measure (dimension, equilibrium), harmony' and lack of interest for fashion and external constraints, under the burning desire to express himself freely through his music.

Your father, composer George Draga, composed a lot, in a variety of genres - chamber music, works for solo instruments, brass music, symphonies, concerts, cantatas, choral folk music and religious pieces. Apparently music had a deep meaning for your father, he composed everything with certain fervour; could you define it in words?
Music was his way of living. During the last few years of his life he lived like a hermit, composing from morning till night and waiting, with a kind of detached but firm confidence, for the day when his works will be performed. Because he was composing works using the musical notes editing programme Sibelius, which also has playback capabilities, limited as they are, gave him a certain independence that made him more indifferent to the natural impatience of the composer to listen to his work interpreted by live performers - even if, of course, that is why they were composed, and not because it was electronic music. I would also like to mention one detail that touched me deeply when I discovered it, a few days after he had passed away, in October 2008: on the Wikipedia pages, that my husband and I created, after the XIV Symphony (his last piece) he inserted a comma, and not a period. Although he knew that he was seriously ill, he had never imagined that he would stop composing. I changed the comma into a period, and I am still wondering if I did the right thing, whether it was fair to him...

The programme Romanian music today, on Friday, 2nd March, at 11:30 pm by Laura Manzat and dedicated to composer George Draga will also feature fragments from this interview with Sabina Draga, his daughter.

Maria Monica Bojin
Translated by Florina Sămulescu
MTTLC, Bucharest University