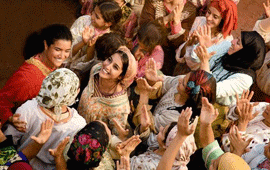 César Nomination for Viorica Petrovici
Thursday, 2 February 2012 , ora 9.51

Stage designer Viorica Petrovici, a household name for the Romanian musical theatre, was nominated for César Awards. This nomination is the object of the next interview:

Mrs. Viorica Petrovici, you have just been nominated for César Awards for designing the costumes of the film 'La source des femmes'. Congratulations! What is the context in which this success comes?
It comes in a very interesting context. First of all, I did not expect to receive such extraordinary news. It was, so to say, like a bomb that exploded beautifully and it fills me with happiness, because it is important to me as a professional, but also for what is happening here in Romania. The cinematography is slowly making its way to light. As you know, directors have obtained huge successes, and now it is our turn, those behind the camera, to have something, to promote ourselves.

How did you envision the costumes for this film?
This film is atypical for me, because I belong to European culture, and I had to create an image that is different from the European one. The costumes for this film are between the folk costume and the one I created. Actually, it is a contemporary film and the action takes place in the Muslim world. I have developed this costume through very thorough research, also based on my careful experience on location and drawing every character, talking with the actors, with the director, noticing very carefully what happens on the spot, what are the specific elements of the female community.
The film tells about a strike of love, a women's strike in a Muslim world dominated by men. So I had to exploit the feminine coquetry, the small details that are seen as coquetry in this world, which I believe I have exposed very well because it was the only element that was noticed in this film - the consistency and the emphasis on the disposition of each character.

What other projects do you have for the musical theatre in the future?
I have just finished staging an opera in Cluj; 'Nabuco', made by a director I respect and love very much - Alexander Hausvater, 'Nabuco 12' which also made a revolution. I will also be involved in a theatre production in Ploiesti - 'A Lost Letter'. I will start the production on a pocket ballet for the Comic Opera for Children - 'Cinderella' - and we'll see what's next.
Alexandra Cebuc
Translated by Florina Sãmulescu and Alexandra Ilie
MTTLC, Bucharest University