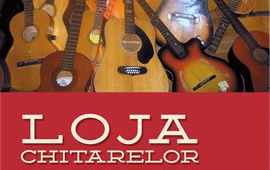 'The Lodge of the Guitars: Instruments from 1800 to 1980' - Temporary exhibition available in Sibiu until 29 February 2012
Friday, 10 February 2012 , ora 9.52

A private guitar collection is available for the first time to the general public during the exhibition which was opened on Thursday, 9 February 2012, at the Blue House in Sibiu. 'The Lodge of the Guitars' is organized by the Brukenthal National Museum and, courtesy of the owner of the instruments, it brings together forty valuable pieces, some 200 years old. On this occasion, on the varnishing day of the exhibition, we talked to the owner of the collection, Mr. Viorel Cordos.

On 9 February was the opening day of the exhibition 'The Lodge of the Guitars' - a valuable collection of instruments in which some are over 200 years old. How did your passion for guitars begin and how did you think of organizing this exhibition dedicated to your collection?
Walking through the centre of Sibiu, I saw in front of the Brukenthal Museum an exhibition of live reptiles. It was then that I said to myself that the guitar is much closer to culture than that. I went to the museum, I talked to the Vice-Manager, and then to the Manager and they were pleased with my proposal. I own a lot of instruments and, although there are some of them that need restoring, I enjoy them every day and I always play them, but I also wanted someone else to see them. And because I did not want to be selfish I decided to make them known to the general public.

Among the instruments in your collection there are some that were made under famous brands. Are there any Romanian guitars among those?
Yes. I think there are about ten Romanian guitars. I have one from the 19th century - somewhere between 1830s -1870s - I do not remember where I have found it, but it was not in a museum. I also have a Donald A. Oliver guitar, also made between 1830s-1870s, it is very beautiful. Likewise, I own a Silvestri guitar, made in Catania, in 1891, and number fifty-six is a guitar made in Japan, it's as light as a feather and has sea horses inlaid in it. I think I will also bring this exhibition to Bucharest as well.
Janina Bădici
Translated by Florina Sămulescu
MTTLC, Bucharest University