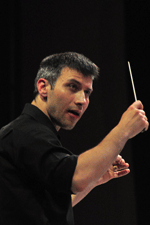 Interview with conductor Tiberiu Soare
Friday, 27 April 2012 , ora 12.12

On 25th April, Angela Gheorghiu had an extraordinary concert at the Muscat-Oman Opera. Answering her invitation, she was accompanied by the 'George Enescu' Philharmonic Orchestra, conductor Tiberiu Soare and tenor Ștefan Pop.

How did you receive Angela Gheorgiu's invitation to conduct the concert at the Muscat Opera?
It is a great honour for me; this is not my first time working with Angela Gheorgiu…we collaborated on several occasions. Practically, we have intensly collaborated since autumn 2010, when we met for the first time. The invitation to conduct at Oman is the opportunity that honors anyone: on one hand Angela Gheorghiu's first thought, and on the other hand conducting the 'George Enescu' Philharmonic Orchestra next to the tenor Ștefan Pop. The last, but not the least the place is something special. The Royal Muscat - Oman Opera Hall is an extremely young institution, being instituted last year, in 2011. The season is exclusively based on famous foreign guests. I would like to name just a few: Lorin Maazel, Valeri Gherghiev. The Vienna Orchestra, The Sankt Petersburg Orchestra. All in all, we may say that this young institution has been blessed to be looked after by the Opera from Washington DC. The Washington Orchestra has done its best to support the infrastructure and the activity of this institution. Our concert, altogether with Angela Gheorghiu, was given the honor to be the last one of this season.

You were talking about the Opera in Muscat; how do you find the musical life here, since the venue was inaugurated only last autumn?
The musical life is at its beginning here, but there is a profound wish to provide quality music in Oman, and fortunately there are, as well, generous funds for the ones here. It is obvious that a major investment should have been earmarked for the world of classical music and opera, and so, everything that happens - even if there are not so many events - is at the highest level.

Can you tell us what the programme of this concert is?
The program is a varied one: orchestral works, airs, duets from well - known operas - there are a lot of musical works in this concert, more than twenty. Of course, beside the airs that made Angela Gheorgiu famous, such as Puccini's and Verdi's airs, I would like to mention that the first part of the concert is based on Romanian music. We start off with Rhapsody in A Major by George Enescu- and this pleases me greatly because Enesco's music should be heard all over the world. We play one of Theodor Rogalki's 'Three Romanian Dances' and various adaptations from Tiberiu Brediceanu's work -'Doina' arranged by Dan Dediu. We have airs by Gherase Dendrino from his operetta 'Let me sing'.
Andreea Chiselev
Translated by Vlad Bîrsan and Alinda-Gabriela Ivanov
MTTLC, Bucharest University