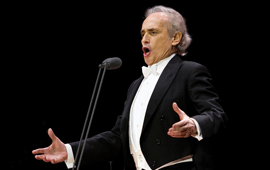 José Carreras Returns in Bucharest, Accompanied by the National Radio Orchestra
Friday, 25 May 2012 , ora 9.17

The Spanish tenor gave an exclusive interview for Radio Romania.
You've performed together with the National Radio Orchestra for some time now, in Italy, at Lucca; we are honoured to have you back with us, maestro Carreras.
It's wonderful to be back; I'm glad to have the opportunity to perform together with this excellent orchestra - I have a lot of wonderful memories from those times - thirty eight years ago, it is incredible how time has passed! It is a pleasure to be back in Romania, to be able to sing for the audience here and to be accompanied by such a good orchestra.

I think there are very few places where you haven't been, maestro Carreras; what is the difference between going somewhere for the first time and coming back somewhere?
Both situations are a challenge; if you return somewhere where you have sang before, you have to deal with the return, and if you have to sing before a new audience, then you have to enrapture it. So it's like stepping from one challenge to another! The audience is the one who reflects - more or less - the mentality, the culture of that respective country. One of the beautiful things about my profession - there are a lot of beautiful ones, but what is truly extraordinary is the fact that you can sing for people so different cultural or ethnic wise; this is what I consider the privilege of being an artist.

What is the secret of opera music? Secret we ask you to tell everyone, maestro Carreras…
I wish I could find the right words to express it! The opera is, I believe, fundamentally connected with emotion: one has to be sensitive to be able to sing this type of music. It is also connected with human passions: one has to be aware that in opera all types of feelings are describes - from love to hate, from tenderness to violence or to the heroic temperaments of the warriors fighting for freedom. Opera is a compendium of human emotions and feelings and that is why it talks straight to the heart.

You've talked about love, hate, heroism, we can also add comedy - isn't it tiring to 'be' so much on stage and with such intensity, maestro Carreras?
On the contrary, it's wonderful, just as wonderful as being able to be part of something like that. We always discover something new, even after many years. As we change as humans, we also change from an artistic point of view. You became more mature and you probably become more mature as a performer, and the music you sing knows new expressions, new perspectives. It's not at all tiring; on the contrary, you regret that someday, sooner or later, it will be over.

This phrase does not apply to you, maestro Carreras! Tell us about the differences between singing on a concert podium and performing a role in a lyrical scene.
I started my career on the scene, performing a role. When you are part of an opera and you are interpreting Werther, or Don Carlo, or Andrea Chenier, from the first note you sing, from the first step you take inside the opera hall and until the last one you are always the same character, even if that character goes through different acting and, of course, musical situations. In a concert, every song means a new story to tell - it can be an aria from an opera, a song, and you always have to be another, to adapt yourself to each situation. But I enjoy both states just as much. I would say that in a concert the artist can show the multitude of faces he can assume, always becoming someone else in the face of the audience.

One last question, maestro Carreras - and I'm sad to ask it because it is the last one. What do you consider to be music?
It is far too difficult to find an answer! It's one thing what music can mean to me, and another - what someone else might give it. I believe that life would be sad and dull without music.
Maria Monica Bojin
Translated by Florina Sămulescu
MTTLC, Bucharest University