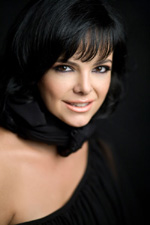 Roxana Constantinescu, 'pour la bonne bouche'
Tuesday, 5 June 2012 , ora 9.56

Cinderella
on 1
st
June, a special child-oriented show with guests and candy offered in the finale? It seems like a wonderful and generous idea of the National Opera in Bucharest. Only problem is that Rossini's
Cinderella
is a story for grown-ups, an opera that is too long and especially pretentious in terms of musical virtuosity to be appealing to children. So, the performance took place with a constant background track, to the exasperation of those who actually cared to listen to it and, evidently, to the frustration of the artists.
Perhaps the only ones who felt somewhat better while on stage were Don Magnifico - aka Petre Burca, and his daughters, Clorinda and Tisbe, played by the soprano Rodica Vica and the mezzosoprano Antonela Barnat. The buffo character of the roles was delivered pleasantly, even if it was somewhat forced here and there. The Italian bariton Marco di Sapia was a genuine Alidoro, and the baritone from Cluj, Marian Pop, an experimented singer and a convincing actor, made an appearance in Dandini. The tenor Gheorghe Vlad--a promising young man blessed with an agile and nice voice whose relaxed acutes can become spectacular with--made a memorable appearance in Don Ramiro.
The choir stayed within the lines of its usual parameters, but the orchestra performed its partiture without a verve, with the accuracy and the synchronization being considerably neglected under the baton of Adrian Morar.
We shall let "pour la bonne bouche" the actress playing as Cinderella, the mezzosoprano Roxana Constantinescu. With five years of international performances under her belt, I found her voice to be more beautiful, warmer and richly timbered. I also admired the intelligence with which she tackled the difficulties of her role, the musicality and the elegance of her lines, the natural expressivity and, last but not least, her wonderful stage presence.
Ligia Ardelean
Translated by Vlad Nichita and Elena Daniela Radu
MTTLC, Bucharest University