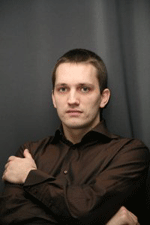 The Director Rares Zaharia Returns to the Academy of the Aix-en-Provence Festival This Year
Tuesday, 3 July 2012 , ora 9.17

The director Rares Zaharia, who settled in France in 2003, was invited once again to attend the Academy of the Aix-en-Provence Festival, to create a contemporary opera creative project. We find out further details about this project and the importance to attend this Academy from a statement given by Rares Zaharia.

Statement
'The fact that I am returning to the Academy of the Aix-en-Provence Festival is a great joy because it is a confirmation. If getting there can be the result of a happy coincidence or by chance, coming back is the confirmation of one's worth. And since we are talking about one of the biggest, most exclusive and refined opera festivals in the world it is a great, great joy, doubled by the fact that I am the first Romanian director to be selected for the Festival's Academy. Performers and conductors have been called before, but this is the first time for a director.
The project that I will be making this summer is called 'Mandragola', and it is made after the homonym piece by Machiavelli and the context of its creation. It is a project where I also compose its libretto - something new for me and I will be doing it together with an Italian composer, Gianluca Verlingieri, whom I have met last year at Aix-en-Provence. I also have another project planned in Lisbon, in 2013, with another composer I've met last year.
At Aix-en-Provence we'll present two scenes from this new opera and the audience will be very select. I'm talking about opera directors, festival directors, managers, producers who have come especially to see what we are making. So it's not an event open to the general public, it's destined to the professionals in this field, but it is an extraordinary opportunity to present our work in front of so many important people from the opera world, people who have the power to make decisions.'

Future projects
Among Rares Zaharia's future projects is the modern representation of the opera 'L'Artaserse' by Leonardo Vinci at the Opéra national de Lorraine from Nancy, as assistant to Silviu Purcarete (September-November 2012), the direction and decors of the opera 'O Sonho' (The Dream) by Portuguese composer Pedro Amaral, after the piece 'Salomé' by Fernando Pessoa, at the Calouste Gulbenkian Fundation, in Lisbon (at the end of 2013) and also the collaboration with Silviu Purcarete at the Colon Theatre in Buenos Aires for the operas 'Francesca da Rimini' and 'Aleko' by Sergei Rachmaninoff (April-May 2013).
Andreea Chiselev
Translated by Florina Sãmulescu
MTTLC, Bucharest University