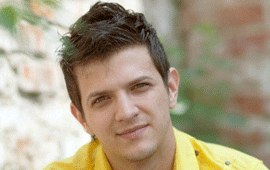 Romanian Singers Abroad - Tenor Mihai Bogdan
Monday, 16 July 2012 , ora 9.37

Tenor Bogdan Mihai is considered a Rossini tenor par excellence in the lyrical international landscape. He made his debut at the Bucharest National Opera in 2007 as Count Almaviva from Rossini's
'Il Barbiere di Siviglia'
and his international one at the Berlin State Opera. Another parts from Rossini's operas followed - Don Ramiro from
'La Cenerentola'
, Aureliano from
'Aureliano in Palmira'
, Adelberto from
'Adelaide di Borgogna'
, tackling a few scores by Donizetti, such as: Ernesto from
'Don Pasquale'
, Ugo from
'Parisina D'Este'
, Tamas from
'Gemma di Vergy'
.
Bogdan Mihai performed, at the Stuttgart and Dresden State Operas, at the Berlin State Opera, Zurich Opera House, at the Théâtre du Châtelet in Paris, at the Rossini Festival from Pesaro, at the Suntory Hall from Tokyo, under the musical guidance of important conductors, such as: David Parry, Ion Marin, Horia Andreescu, Jean Christophe Spinosi, Alesandro De Marchi, Riccardo Frizza, Dmitri Jurowsky, Gullielmo Garcia Calvo, Giacomo Sagripanti, and directors: Beat Feah, Martin Duncan, Timothy Nelson, Emilio Sagi, Grischa Asagarof, Stefan Herheim, Pier'Alli, Katharina Thalbach.
Tenor Bogdan Mihai has contracts signed until 2014, and he told us something about his projects in an interview he granted us after the concert with the 'Messiah' oratorio by Georg Friedrich Händel held on 13th June, 2012, at the Mihail Jora Radio Concert Hall of the Romanian Radio Broadcasting Company.

Thank you for agreeing to this interview. The listeners and readers of the Radio Romania Music website will be pleased to find out new information about Bogdan Mihai. We are here after the concert with the 'Messiah' oratorio by Händel, held at the Mihail Jora Radio Concert Hall of the Romanian Radio Broadcasting Company. What's next after this return to Bucharest? Can you tell us something about your projects which, as far as I know, stretch over a long period of time?
That is true, up until 2014, including. I'm meaning to have a fairly relaxing period this summer and to train myself very good for what is about to start in autumn which is my debut at the National Theatre Munich (Nationaltheater München) in a premiere with the opera 'Don Pasquale' by Donizetti directed by the grand mezzo-soprano Brigitte Fassbaender - it will be a series of shows - afterwards a bel canto concert, it is actually my second invitation that I receive from our grand soprano Angela Gheorghiu at the Auditorium of the State Kremlin Palace - the biggest concert hall in Moscow, with 6000 seats, a hall that replaced the hall of the Bolshoi Theatre for quite a while. After that, I will have my debut at the Concertgebouw Hall in Amsterdam with the opera 'La Scala di Seta' by Rossini, under the baton of Alessandro de Marchi and a lot of other projects.

You sang in Tokyo in 2011 together with Angela Gheorghiu and you will do it again in December. What is it like to perform next to a diva?
It is such a joy! It gives me the strength to overcome my boundaries and to rise myself to her level.

You are considered a Rossini tenor par excellence. What qualities do you think a performer who sings Rossini must have?
First of all, one must have a predisposition to the agility encountered in Rossini's works, towards coloratura, to be able to play very much with vocal colours, to tackle very carefully what bel canto signifies, because Rossini is part of this small family, as it was named by Bellini. I am glad my voice adapts to this style and I truly wish to remain at this vocal stage for as long as possible.

As you have said before, you have focused on Rossini and Donizetti's repertoire. What other parts do you intend to approach?
I really wish to approach Mozart's repertoire, to tackle the tenor parts from 'Don Giovanni', 'Cosi Fan Tutte', 'La Clemenza di Titto' - there are a lot of titles, but, I am patient and time will, somehow, work in my favour.

In a short period of time you've managed to perform some of the most important lyrical scenes. In what opera houses have you mostly enjoyed singing so far?
Almost everywhere I went I found each and every time a new family and an extraordinary surrounding. But close to my heart is Théâtre du Châtelet from Paris with the performances of Rossini's 'Il Barbiere di Siviglia' under the baton of Jean Christophe Spinosi. It was an extraordinary atmosphere; the audience demanded an encore for every performance, the theatre manager saying that even Roberto Alagna and Karita Mattila's performances did not get that kind of success at the Théâtre du Châtelet. Also, I've enjoyed myself very much at Pesaro, last year, where I've debuted in another Rossini opera, 'Adelaide di Borgogna', in Tokyo, at Stuttgart where I've made my international debut and last but not least I always return happily to the Bucharest National Opera where I've performed for the first time in 2007 Count Almaviva from 'Il Barbiere di Siviglia'.

The part of Count Almaviva was the role that launched you on international stages.
Yes, it was the one which opened the way to the Berlin State Opera, to the Stuttgart State Opera, to the Théâtre du Châtelet in Paris, to the Zurich Opera House.

In which of the enactments you performed did you best enjoy yourself?
A beautiful production was at the Théâtre du Châtelet in Paris with 'Il Barbiere di Siviglia', directed by Emilio Sagi, another extraordinary production, again with the 'Il Barbiere di Siviglia' was that of Katarina Thalbach from the Berlin State Opera; when one goes to see this production is like going to see a film. I return to the 'Adelaide di Borgogna', from Pesaro, directed by Pier'Alli - a classical production, from the costumes to the staging. I love classical productions. Almost everywhere I've performed I enjoyed collaborating with great directors and I thank God for this opportunity!

You've said that you love classical productions. And since we are talking about it, let me ask you: do you like modern staging?
I like them to a certain degree, as long as the libretto is followed and as long we do not embarrass ourselves. Sometimes, critics don't pay enough attention to some productions and so directors think of all kinds of shocking things to bring to stage in order to create a small scandal in the press. I sang at Stugartt 'Il Barbiere di Siviglia' in a quasi-modern direction but which did not bother me because everything respected the libretto, the score and was designed in such manner as to not disturb the soloists on stage. I could not, for example, appear nude on stage. I had to sing in a production of 'Il Barbiere di Siviglia' in Prague. When I saw how it was staged I said no, I'm sorry, but Almaviva is not a criminal; they had somehow staged the action during the French Revolution... I think there must be some degree of common sense.

What do you like most about a stage partner and please name a few of the partners you've collaborated with thus far.
There must some team work, some understanding, and a glow. I've met, in Romania as well as abroad, 'luminous' persons. Before everything else, we must be friends, we must get to know one another. The moment these positive energies meet on stage something absolutely extraordinary is created and the public feels it. I've sang together with: Daniela Barcellona - mezzo-soprano with whom I've got along very well, Cecilia Bartoli in Zurich, Maria Aleida Rodriguez - a soprano with a sensational vocal quality which reminds me of Mado Robin, countertenor Franco Fagioli and many more. We have always sung with pleasure and we've tried to give the best we had in us.

You've collaborated with important conductors like David Parry, Ion Marin, Horia Andreescu, Jean Christophe Spinosi etc... From which conductor did you learn the most?
I dare to say that I've learned the most from David Parry. I've made my international debut with him; he is a pillar of Opera Rara discography. He's worked very much with me, he composed my cadenzas for the 'Aureliano in Palmira' opera which I have performed at the Festival from Martina France - in Italy. David Parry is a maestro, he is an extraordinary man. I've also had beautiful collaborations with Jean Christophe Spinosi - a conductor who is focused on Baroque, with maestro Ion Marin in Tokyo... I had something to learn from each and every one, they all brought something extraordinary in my life, and I was able and willing to learn it. I am happy to be surrounded by this kind of people.

You've named some of the opera houses where you performed. On what other stages do you wish to step on next?
For sure, any singer's dream is to perform at the Covent Garden in London, at the Scala in Milan or at the Metropolitan in New York... All I wish is to be healthy and I am sure time will work in my favour, so I'm in no rush; I have all the time in the world. I'll be thirty this summer, I think I have accomplished enough so far and... I'm patient.

What are Bogdan Mihai's hobbies? How do you spend your free time?
I spend as much free time as I can with my family and friends. I like going to the seaside to feel the breeze, to the mountain side, I like listening to music - this is one of the most important things - because listening to music you learn eighty percent of everything a maestro tell you. I want to take this opportunity to thank my professors: Cristina Magureanu from 'Dinu Lipatti' Music High School, maestro Nicolae Constantinescu from the National University of Music Bucharest - who worked my voice on the baritone scale and I do not regret it for a second because every conductor I have ever worked with told me that it had helped me a lot, soprano Mariana Nicolesco and another famous soprano - Mirella Freni - the one who discovered me as a tenor.

A thought for Radio Romania Music listeners...
I send them a hug with all my love and I thank them for being next to me ever since my debut in 2007 on the stage of the Bucharest National Opera. I am sorry I am not currently in Romania on stage but the moment I have a chance and I'm invited at the Radio Hall or at the Athenaeum I will be more than happy to do it. I will never forget that this was my starting point and that they, the audience, supported me, because if there were no audience we wouldn't be here.
Jeanine Costache
Translated by Florina Sãmulescu
MTTLC, Bucharest University