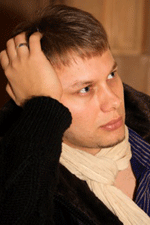 A Romanian Singer Abroad - Bass Baritone Zoltan Nagy
Thursday, 26 July 2012 , ora 9.03

'Persuasive as a performer and as an actor…' this is how the German press qualifies the performances of bass baritone Zoltan Nagy. He graduated the "Gheorghe Dima" Music Academy of Cluj-Napoca in 2007, the year he also won a scholarship to the Universität Mozarteum Salzburg (Mozarteum University Salzburg). While under contract with the Wiener Staatsoper (Vienna State Opera), Zoltan Nagy developed a great part of his repertoire, including the roles: Zuniga in
'Carmen'
by Georges Bizet, Pistola in
'Falstaff'
, Carlo Quinto in
'Don Carlo'
by Giuseppe Verdi, Gregorio in
'Roméo et Juliette'
by Charles Gounod, Masetto in
'Don Giovanni'
by Wolfgang Amadeus Mozart. These are the trademarks of an artist in full international ascent with performances appreciated on important opera stages not only in Germany but everywhere. Zoltan Nagy spoke about his projects in an interview he granted us after the concert with the 'Messiah' oratorio by Georg Friedrich Händel held on 13
th
June, 2012, at the Mihail Jora Radio Concert Hall of the Romanian Radio Broadcasting Company.

Zoltan Nagy, thank you for agreeing to this interview. The listeners and readers of Radio Romania Music website will be pleased to find out new information about bass Zoltan Nagy. What's next after this return to Bucharest? Can you tell us something about your projects?
Thank you for the invitation. After this oratorio I will leave for Vienna where I have to study for another week an opera by Peter Winter called 'Das Labyrinth - The Labyrinth' - opera which will be performed at the Salzburg Festival. It is a creation which Peter Winter envisioned as a sequel to Mozart's 'Die Zauberflöte'(Magic Flute). So, between 4th July and 27th August I will be in Salzburg where I will be interpreting a character in this opera, I will also be a double for the Shaunard character in the production of 'La Bohème' by Giacomo Puccini, with Anna Netrebko playing Mimi and I will also be holding two concerts with the Salzburg Kamerata.

What happens after the Salzburg Festival?
I will be studying again; between contracts I always spend a couple of weeks with my professor from Salzburg - Booris Bakow - the one who discovered me in Braila in 2007 when I won second prize at the 'Hariclea Darclée' Festival and Competition. Booris Bakow - professor at the University of Music and Dramatic Arts Mozarteum Salzburg - saw, while seated in the audience, my performance and offered me a scholarship for my masters, which meant my opportunity to study abroad. Together with Booris Bakow, I will learn Don Giovanni for a Mozart premiere and Escamillo, a part I will be playing in autumn, in Germany.

You have an extensive opera repertoire, from Mozart to Wagner. What are the parts which you feel most comfortable performing?
I think Mozart is the sanest approach for all singers. It is a canto school because technically you have to be very well prepared. In Romania, while at the university, I tackled very little with Mozart's creations. It's also true I was passionate about Verdi and Puccini; there wasn't a bass aria that I did not sing. I have learned a lot of arias by Verdi and Puccini before I realized that I had to wait another twenty years before I would able to approach this type of repertoire. Upon my arrival at Salzburg I realized I didn't know any Mozart and I had not tackled this genre which, in fact, suits my voice very well. I sang in several productions of 'The Marriage of Figaro' in Vienna, Salzburg and Saarbrücken and each and every time I felt very comfortable as Figaro. Don Giovanni has another texture, it's higher from a vocal perspective, it is a challenge. I sang Don Giovanni's arias in several concerts, I also sang the part in a concert, and now I am preparing for a new enactment of Mozart's opera.

What other parts do you intend to approach?
I'm thinking of Alidoro in 'La Cenerentola'(Cinderella) by Rosinni. When I studied this 'Messiah' oratorio by Händel, I realized that I had a certain vocal agility and that it would be a shame not to highlight it. To have a long career the voice must be kept flexible and these scores with virtuosi passages are a very good way of doing that. I would also like to tackle Dulcamara in 'L'elisir d'amore' (The Elixir of Love) by Donizetti - the aria of the character as well as the character itself appeal to me.

When you are faced with a new score do you listen to other interpretations of it? What guidelines do you make?
It all depends; regarding the 'Messiah' oratorio by Händel, I first saw the score, then I heard several performances of it and I think that was a mistake because I kind of panicked. But when I started studying it with my professor I realized that I could sing this score even if it was the first time I approached Baroque repertoire. On the other hand, when I tackled other parts I listened to different interpretations, especially those of my idols: Cesare Siepi and Samuel Ramey - the latter with whom I managed to perform on the stage of the Wiener Staatsoper, he sang the role of Scarpia in'Tosca' and I sang Angelotti. It was a dream come true.

You've performed on some of the most important lyrical scenes. In what opera houses have you mostly enjoyed singing so far?
I have enjoyed singing on each and every one. I'll name first the Wiener Staatsoper - the first opera house abroad where I sang - where I learned over fifty seven parts, some smaller, some bigger. I've also enjoyed singing in Leipzig, where I will return for the third season with a series of shows of 'La Bohème' by Puccini and 'Die Meistersinger von Nürnberg' (The Mastersingers of Nuremberg) by Wagner. I had beautiful experiences at the Opera House in Nice where I sang Schaunard in a new production of 'La Bohème' directed by Noris Escaparo and at the Opera House in Athens where I performed the part of Arcas from 'Iphigénie en Tauride' (Iphigenia in Tauris) by Gluck. I was lucky, each and every time, to have extraordinary colleagues, very good casts and important conductors.

What do you like most about a stage partner and please name a few of the partners you've collaborated with thus far.
Professionalism is the most important feature. When I met Samuel Ramey in Vienna at a performance of 'Tosca', many of my colleagues were telling me: Ramey is not sociable, he talks very little, we don't know how to approach him. I think these things are less important. I was impressed by the professionalism which he displayed during all the rehearsals, even if he had interpreted the role of Scarpia hundreds of times. He paid a lot of attention to the direction, to his colleagues on stage, all the rehearsals being carried on in a relaxed atmosphere.

In which of the enactments you performed did you best enjoy yourself?
I'm thinking of a production of 'The Marriage of Figaro' by Mozart in which I performed at the Opera House in Saarbrücken where I was warned that I had to get used to modern directions, something which made me feel a little reserved about when deciding to collaborate with this lyrical theatre. I met with the director - Inga Levant - who explained to me that in that production the action took place in the '70s, Figaro being a 'hippie'. I had trouble getting used to the idea, during the first few weeks not quite understanding what exactly the desired end was, but before the premiere I had realized that it would be a formidable show, with a very interesting direction that had nothing in common with a traditional one. It taught me then to be more flexible on stage and to be open to any kind of challenges. If these modern directions are given correctly, with a purpose and they are understood by the audience, then I approve of them. Actually, in the major opera houses in Germany, the notion of traditional direction is almost gone.

You've collaborated with important conductors. From which conductor did you learn the most?
I had something to learn from all of them. I collaborated with Marco Armiliato very well, we performed together in many productions of the Wiener Staatsoper. As you know, in Vienna there are shows every night, which does not leave time for rehearsals. Most of the times you start a show without any rehearsal together with the orchestra and the contact between the conductor and performer is very important. I learned a lot from Marco Armiliato, but also from Renato Palumbo with whom I made my début when singing Carlo Quinto in 'Don Carlo' by Giuseppe Verdi again at the Staatsoper. I worked very well with Derrick Inouye, conductor at the Metropolitan Opera in New York, with whom I collaborated during the production of 'La Bohème' in Nice.

You've sang a lot in Vienna where there were a lot of Romanian artists. With whom have you sung so far?
Yes, there are a lot of Romanian artists, even after director Ioan Hollender left. I sang together with: Simina Ivan, Alexandru Moisiuc, Dan Paul Dumitrescu, Ildiko Raimondi, Ileana Tonca, Gergely Nemeti, Anita Hartig.

What are Zoltan Nagy's hobbies? How do you spend your free time?
I like going to concerts, to opera shows, visit expositions, travelling, visiting my friends from all over the globe and cook for them. I like going to Italy, on the island of Capri - it's my favourite spot, where I spend on average three-four weeks a year. I don't have a lot of free time because I'm just starting in my career and, I'd rather stay in Salzburg and study together with my professor.
Jeanine Costache
Translated by Florina Sãmulescu and Elena Daniela Radu
MTTLC, Bucharest University