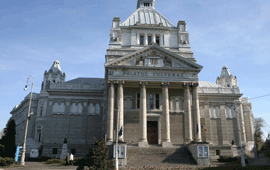 The Verdi-Wagner Bicentenary at the Arad Philharmonic
Thursday, 31 January 2013 , ora 9.03

The State Philharmonic in Arad
joins the Romanian and world lyric theatres that celebrate 200 years since the birth of the composers Giuseppe Verdi and Richard Wagner in 2013, througha gala of operachoirs.
Codruța Dogaru, an artistic advisor at this institution, told us about this musical evening's programme:
"The concert on 31st January is an evening event that we planned during this Verdi-Wagner anniversary year, within which we intend to schedule as many pieces as possible from the compositions of these two musicians. It's an exclusive evening of opera choirs. The first part of the programme includes choirs from Richard Wagner's classical works composed between1840 and 1850: The Flying Dutchman, Tannhäuserand Lohengrin; and the second part of the programme is more ample, dedicated to Giuseppe Verdi's works. Aida, Traviata, Nabucco and I Lombardi, were chosen for the first part of the programme alongwith the numerous successful chorals which are usually performed at these galas. Robert Daniel Rădoiaș is the choir master; he prepared the choral studio for this project while the conductor of the concert is maestro Dorin Frandeș.
Andreea Chiselev
Translated by Andreea Mesescu and Elena Daniela Radu
MTTLC, Bucharest University