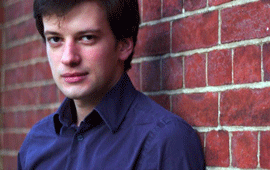 Mihai Ritivoiu's Recital at Drapers' Hall in London
Tuesday, 12 March 2013 , ora 9.41

After his presence at the concert closing the
Lipatti Days
Festival at the end of last year, another important stage event for the pianist Mihai Ritivoiu took place in London, on 6
th
March. Mihai Ritivoiu was invited to give a recital within the series organized at Drapers' Hall; the audience was numerous and quite impressed with the interpretation of the Romanian pianist, who is currently doing postgraduate studies at the Guildhall School of Music & Drama. The warmth of the audience could be felt, during the performance, by the artist himself, as he declared in an interview, just after his recital. The pianist Mihai Ritivoiu also talked to us about the programme of his London recital, as well as his future projects:
'I enjoyed immensely playing at the splendid Drapers' Hall. In my opinion, this was my first really important event in London and the numerous and enthusiast audience made me feel at ease during the whole recital.
I began with the transcription of Bach's Chorale Schaffen Können Ziffern Haiden, a transcription belonging to Egon Petri; I then continued with César Franck's Prelude, Chorale and Fugue - an impressive romantic work whose majestic polyphonic construction makes one think of Bach's complex works. After that, I entered the world of the French impressionism with the first series of Claude Debussy's Images and for the finale I played Franz Liszt's Transcendental Étude in F Minor.
My next performances include Paul Constantinescu's Triple Concert for Piano, Violin, Cello and Orchestra, in Bucharest, within the 'International New Music Week'. At the same time, I'm working on Ravel's Gaspard de la Nuit and Chopin's Concerto for Piano and Orchestra No. 1. On 15th March I'll be giving, together with the quartet recently created here in London, a recital which will include Mozart's Quartet in G Minor and Gabriel Fauré's Quartet in C Minor.'
Andreea Chiselev
Translated by Mihaela Olinescu and Elena Daniela Radu
MTTLC, Bucharest University