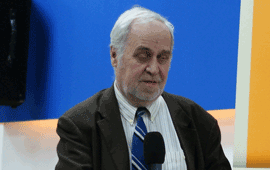 George Enescu - Unpublished Documents
Monday, 19 August 2013 , ora 8.05

On the 132
nd
anniversary of George Enescu's birthday, Maria Monica Bojin conducted a very interesting interview with researcher Mircea Coloșenco.
"Parsing through the historical national archives of Romania at the central headquarters in Bucharest, I discovered in the section reserved for the School Building Fund which was a division of the Ministry of Culture and Education two files about George Enescu, and his 1913 initiative... He made a donation that is very interesting; when he was in Paris he donated 27.000 lei to be used to create a National 'George Enescu' Fund for musical compositions. It's important to note that at the time, a general's pension amounted to 1.000 lei. And he had 27.000 lei, which is the equivalent of 27 general's pensions. What happened? - because the legislation back then was the same as today - the motion had to be submitted to the ministry, passed by the Ministers' Council and then be approved by the head of state, king Carol I at the time. This is how this fund amounting to 27.000 lei was established as a sign of recognition of Romanian composers, through a document signed on 19th March, 1913, by Titu Maiorescu, the head of government, together with Isescu, the Minister of Culture and Education, and the other ministers: Cantacuzino, Marghiloman.
Then, through the grace of God and the national will, by Carol I's decree on 28th March, the Fund was created as a national institution. And finally, on 23rd October, the protocol was made out to award the prizes. Dimitrie Cuclin (who was at the time studying in Paris) was awarded first prize and received 2.300 lei for the work Scherzo for orchestra. First prize was also awarded to Ion Nona Ottescu, in recognition of his work Narcis, but he did not receive any money. Second prize went to Alfred Alessandrescu. There were also honourable mentions for Bohoci and Fotino, music teachers or instructors. It's interesting that 17 candidates registered for this important award which was the National 'George Enescu' Fund.
Two more editions were held during the next couple of years, in 1915 and 1916, up to the First World War. Seventeen composers participated in the 1915 edition, among which Zira and returning, Alfred Alessandrescu, Stan Golestan, Nicolescu, and Gălinescu. In 1915 there were only honourable mentions, as the first and second prizes were not awarded. These went to George Ochialbi for the work To My Country, Filip Lazăr, George Târnoveanu, Iuliu Poenaru, Ion Hârșa, Constantin Castrișanu, and Gălinescu. But this was in 1915.
In 1916, however, there were more aspirants compared to 1915, and first prize went to Alfred Alessandrescu. There were also four honourable mentions - Caravia, Bârsan, Gălinescu, and Gheorghiu. That was up until the First World War; for the period after the war, I didn't find any more documents in the National Archives describing the history of George Enescu's prize, but I did find something that was most interesting! In the Central Committee's Fund section, I found two of George Enescu's documents: the first one from when he addressed the Central Committee for the purpose of his inheritance in Bucharest and Tescani to pass into the custody of the state.
In Tescani today there is a museum property called The George Enescu Museum, although it is located on Maruca's property, whom he had married in 1939. And in 1956 the Central Committee of the Communist Party in Romania discussed commissioning a bust of Enescu. This materialised in a statue that is now found in the central park of Bârlad; it is a black statue which honours this great composer, professor, pianist, violinist, and one of the most important figures of Romanian spirituality, who can stand alongside Brâncuși or Iorga, let alone Eminescu and many others."
Radio Romania Music
Translated by Șerban Dudău and Elena Daniela Radu
MTTLC, The University of Bucharest