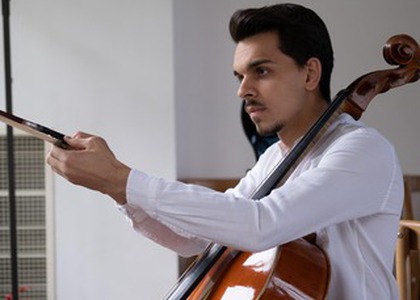 Interview with cellist Cornelius Zirbo
Wednesday, 5 January 2022 , ora 14.10

The winner of this year's edition of the Musical Romania Heirs Scholarship, cellist Cornelius Zirbo will be, along with pianist CadmielBoțac, the protagonist of the first tour organized by Radio Romania Music and Rotary Club Pipera within the Musical Romania Heirs Scholarship project; the event will take place between January 8th and 13th, 2022. For the final concert, which will take place on the stage of the Radio Hall, tickets are already available on the website iabilet.ro.
More about the professional activity of cellist Cornelius Zirbo we find out in the first part of the following interview:

In May of this year, you won the Musical Romania Heirs Scholarship - a prize worth 4000 euro and several artistic opportunities granted by the project organized by Radio Romania Music and Rotary Club Pipera. How much has winning this competition helped you in your professional life?
The Musical Romania Heirs Scholarship meant a very important step for me and for my artistic advancement towards this phase in which I am now. I have already managed to accomplish a few of the goals I presented in my plan of investment of the funds. For example, I managed to buy the bow that I presented within the project and I can say that this bow has fundamentally changed the way I play and my perception of sound. It is very important for us as instrumentalists to have the necessary means for our artistic expression and this bow meant and means a lot to me. My enrollment in the masterclasses that I have proposed is ongoing; the programmes and auditions have just appeared and I have signed up for many of them. We hope everything goes well and I can qualify to attend these summer academies, which are a great opportunity for any musician to meet important musicians, to make new connections and,in this regard,to make progress from the musical point of view.

Also as a part of this year's award was the invitation to open, in September of this year, the concert season of the "Transylvania" Philharmonic in Cluj-Napoca. In retrospect, how was that experience, especially since you performed at home?
I can honestly say that it was one of the most satisfying concerts I've ever given. There were several factors that contributed to this, namely the fact that I performed at home - as I am from Cluj-Napoca - and the hall was full of relatives, friends, former colleagues, teachers, class masters, people dear to me, who somehow contributed to this special moment. And, in another train of thoughts, the "Transylvania" State Philharmonic is a fantastic orchestra. We did a great job and the fact that I managed to perform the Concerto by Shostakovich, which is one of my favourite concerts, which I have been studying since the 11th grade, that is, for almost four years, since then I've wanted to play it with the orchestra and, in the end, all these things have been possible. And, as I said, all this contributed to that incredible and unforgettable evening.

Taking into account the fact that at the 2020 edition of the Scholarship you won a special prize thatgranted you a recording session in the studios of Radio Romania, as well as a recital on the stage of the Radio Hall - how do you look at the involvement of the Radio Romania Music station in the musical life and career path of young musicians?
Me and my colleagues from my generation, my musician friends, really noticed the implication of this institution, Radio Romania Music, in the promotion of young artists, which means a lot for us and is a very valuable thing. Given how difficult it is to come through in this period of life, when you are young and at the beginning of the road, to know that you have someone who supports and promotes you and who offers you opportunities to assert yourself, to be seen by people, to be able to perform is something incredible and, in this regard, I want to thank both Radio Romania Music and Mrs. Cristina Comandașu, Rotary Club Pipera as well, of course, and all those who noticed this need and took concrete steps to solve this problem.
Interview by Florica Jalbă
Translated by Ecaterina Bucovanu,
University of Bucharest, Faculty of Foreign Languages and Literatures, MTTLC, year I
Corrected by Silvia Petrescu