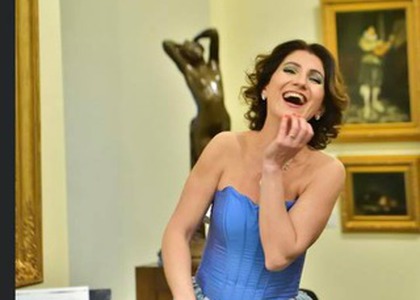 Interview with soprano Ana Camelia Ștefănescu
Monday, 17 January 2022 , ora 10.12

The Bucharest National Opera presents on Sunday, January 16th, 2022, at 6.30 pm, the show"Traviata"by Giuseppe Verdi. In the title role, the audience will watchthe performance of the guest of the evening - the soprano Ana Camelia Ștefănescu.
There are more to be found from the interview done by Florica Jalbă with the soprano Ana Camelia Ștefănescu held Thursday, on January 13th, 2022:

Sunday's "Traviata"show gives you the opportunity to return home - to your hometown, but also to the stage where you started in the late '90s, the one where you evolved for several years as an employee of the Bucharest Opera. It's been two decades since your career took you on important international stages. What is it like to be here again?
I am excited and very happy to be back on the stage of the National Opera, considering that so much time has passed since I did not step on this stage. But, with great joy, I also find itfilled with the people I knew before, and renewed with people whose passion for the artist and the art of singing and dancing can be seen reflectedin their eyes, of course. I could not explain the joy I feel!

Was this representation of "Traviata"your choice?
Yes, it was connected with a simple "Hello!", passing by the Opera to see my colleagues and stage again.I managed to meet Mr. Daniel Jinga, who welcomed me with open arms and told me that he would do his best to schedule me. I didn't even think it would be so easy. It was possible and on Sunday I will return to the stage where I started at the age of 19, under the direction of Mrs. Eugenia Moldoveanu, who gave me confidence at that age, very young though.
So, that being said, you have now opted for Violetta Valery!
Yes, it was one of the choices and possibilities, because you can't always choose for yourself. This choice depends on other people, on other circumstances.

How is the collaboration with the stage partners going? You said ... older colleagues and new colleagues. The baritone Ștefan Ignat is one of the older colleagues, the tenor Alin Stoica - from the new generation of soloists.
Just today I met baritone Ștefan Ignat and it was as if we had parted yesterday ... that was the feeling. I will meet the tenor tomorrow, but I heard very good echoes about him, I am confident and we will surely understand with each other very well.

What does the 2022 agenda look like for you? Will you resume the acting activity on the opera stages?
Of course, this pandemic ... I would like to go back a little bit because it was very difficult for the artists to live through this period. In Brussels, for the first time in my life, I had to give a concert from home.In fact, the director of the Romanian Cultural Institute in Brussels, Liliana Turoiu, who is also a renowned artist, suggested that I do a musical matinee moderated by Marius Constantinescu. And so we managed to remain artists, but in a slightly more bizarre situation. I believe that the Romanian Cultural Institute, during this period, offered a sweetening and hope to the artists. Only from now on will the contracts be renewed.When I return to Brussels, I will have a symphonic concert to sing on January 30th, and after that, of course, I am in talks for other opera productions. I can't tell you the details yet, but they will come for sure. In the meantime, I am also a singing teacher at the Namur Conservatory, 80 km from Brussels, and, of course, a mother of three boys who are waiting for me at home. Surely time will be filled with special moments from now on. I hope ... for me and for all the artists, who deserve to be seen and deserve public recognition.
Interview by Florica Jalbă
Translated by Beatrice-Andreea Porumb,
University of Bucharest, Faculty of Foreign Languages and Literatures, MTTLC, year I
Corrected by Silvia Petrescu