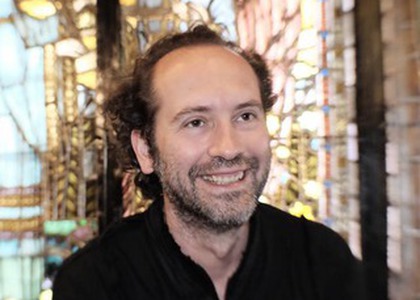 RRM 25 - Interview with the violist Răzvan Popovici
Wednesday, 9 March 2022 , ora 11.53

On the occasion of the anniversary of Radio România Muzical - 25, Liviu Pețu spoke with the violinist Răzvan Popovici, executive director of the Sonoro Association, about the collaboration between our radio station and the various Sonoro festivals, then about the Martisor concert on March 6th, at Sala Radio and, last but not least, about the "Musical Romania's Heirs" scholarship.

Răzvan Popovici, in 2022, on March 24th, Radio România Muzical celebrates 25 years of existence, and one of the missions of our station dedicated to classical music, in particular, is to promote cultural events - events inspired by musicians and offered to the general public. As the executive director of the SoNoRo International Chamber Music Festival, how do you like the collaboration with Radio România Muzical, regarding the over 15 SoNoRo, always with carefully thought out and colorful titles? When did this collaboration between SoNoRo and Radio România Muzical start and what memories do you have of this relationship?
As you say, our relationship is long-lived and, if I'm not mistaken, the collaboration started from the first edition of the SoNoRo Festival. I can't forget the first interviews from when, as a newcomer from Germany, I was trying to make a little better known about this new initiative called SoNoRo - a chamber music festival, which was a little unusual and almost bizarre anyway, if I remember correctly, in those days. And I remember all your colleagues who came to all the concerts, interviewed the musicians, promoted the concerts and then contributed year after year to increase the reputation of the SoNoRo name, to attract a very wide audience. He was an unconditional partner in all my musical experiences. This year marks 17 years - incredible, but true!

It is!
I have always been a big fan of your radio station because it is a professional station, it is a station that upholds the true values of national culture and more. And, what can I say, he became the companion, the daily company of many millions of people in Romania.

Then SoNoRo Conac, no, brought back the chamber music in heritage buildings, imposing, but also in those small palaces located in the traditional villages. It was hard work, especially last year's edition. However, your work was heard again on Radio România Muzical. Were these events sufficiently promoted? Are you happy with the results of the past?
At the SoNoRo Conac tournaments, the halls not always being the biggest in the country, they filled extremely fast and extremely well; on the one hand, by those who follow us step by step in the sound initiatives throughout the year, then, obviously, the representatives of the partners and sponsors who are very happy to be with us every year and to discover extraordinary heritage. And then, thanks to the media partners, among whom, obviously, Radio România Muzical is in the place of honor, to bring people who may have never been to SoNoRo concerts or have not yet had the curiosity or chance to discover mansions, castles, aristocratic villas or not only, churches, synagogues, sometimes located a short distance from the big cities, but somehow...

Unknown.
... Unknown, exactly. And somehow, look. And the fact that this year we are reaching the tenth edition of SoNoRo Conac - an anniversary edition - is a great thing and I think that here and you have contributed extremely beneficial to the popularization of this series of concerts and, finally, to the success of SoNoRo Conac concerts during the ten years.

You travel a lot abroad, interact with several Romanian and foreign musicians for your various projects, but for at least three years you have been making time to arrive in the country and in March to give mărțișor concerts. This year, on March 6th, at the Radio Hall, the third concert of this series takes place, starting with Radio România Muzical in 2020. It is true that last year, due to the pandemic, this concert could not be held on the Radio Hall stage, but these are the times. How was this project born?
Together with Cristina Comandașu, who then created the Musical Romania Heirs Scholarships, we somehow thought it would be nice to do a Mărțișor concert as well. And so the idea of this collaboration SoNoRo - Radio România Muzical was born, a punctual collaboration through which we wanted to honor on the one hand the lovely ladies from Bucharest, and on the other hand, to bring important artists on the stage of the Radio Hall. As you said, last year I couldn't hold the concert on the Radio Hall stage, but fortunately, I saved it by replacing it with the Romanian Athenaeum. So, the concert took place, so this year the tradition continues, returning to the stage of the Radio Hall.

This is true! On Sunday, March 6th, at the Radio Hall and live at Radio România Muzical, collaborate with a violinist from Russia and a pianist born in Monaco. What can you tell us about these two musicians that we rarely have the opportunity to listen to in Romania?
Tatiana Samouil comes from a very interesting family: her father, a Romanian-Moldovan conductor, who in the meantime also became the director of the Moscow Opera - therefore, a conductor of great international stature. She is practically Moldovan born in Russia, but she has been living in Belgium for many, many years and the Romanian public had the opportunity to listen to her last year, at the 16th edition of the SoNoRo Festival. So that's why I think that many who sympathized with her and saw what an extraordinary violinist she is will be happy to hear her on the stage of the Radio Hall on Sunday. Along with her and me, we will have the Parisian pianist Shani Diluka, with roots in Sri Lanka; an extraordinary musician, who has achieved great success all over the world, records for Warner Classics and, what can I say, she is a refined, elegant pianist who I think will actively contribute to this bouquet of Mărțișor that we will offer to the public from Bucharest.

Tell us a few words about the program chosen for the March 6th concert in Mărțișor. They are jewels of classical music signed by six composers plus a famous 19th century creator.
Let's start with the 19th-century creator, the composer Clara Schumann - certainly well known to the Romanian public, Robert Schumann's wife, a romantic personality. At that time she conquered the piano stages and concert halls of Europe, but her great talent was also composition. And although she composed in the shadow of Robert, her compositions are extraordinary. Many have been rediscovered lately. And my great joy is to have "stolen" Clara Schumann's three novels, which are written for violin, to somehow win them as a violinist in the repertoire list and for viola and piano. Thenwe will play songs suitable for the occasion - Ludwig van Beethoven, Pyotr Ilyich Tchaikovsky, and Dmitri Shostakovich. We have five pieces for two violins and a viola, some extremely cheerful pieces, which Shostakovich in a difficult period of his life when he composed music for the film and was extremely afraid of the repercussions that could be brought to the case in which Stalin would have decided to treat him even worse than he had already treated him. Especially these days...

A current topic!
... a current topic. And I am very happy that we will be able to convey our message of peace through these compositions by the great Russian composers, who believe that on a concert program I can show the world that only through peace, music and beauty can all our nations reconnect. they will be where they deserve to be.

You promote many young musicians of various nationalities. You are always preoccupied with chamber music, involved in countless projects carried out in the country and abroad, on Facebook ... you are also a performer and, in addition, collaborate with Radio România Muzical and Rotary Club Pipera in the Project "Romania's Heirs musical "- a project meant to support the values of the Romanian interpretive art in the field of classical music, which is addressed to young musicians. How do you like this idea of competition and what is the life of a member of the jury like, how do you collaborate with the other personalities of the Romanian musical life that are part of this jury?
Last year I had the pleasure of being on this jury for the first time and I was very pleasantly surprised to meet the same spirit of the jury partners and, to say, our decisions were extremely similar. So, basically, we all realize that the best thing is to win the best, the most valuable. What would we do with a country that does not support talent and does not care about the education of young people?! It would be a disaster! This approach of the "Musical Romania's Heirs" Scholarships and our approach with the "SoNoRo Interferences" Scholarships I think help and have helped, they manage to create a true musical elite.

To bring the value to the surface.
Exactly. And what is very nice is that over the last few years, this elite that we have tried to create over the last 16 years, along with other initiatives in the country, is bearing fruit. And you see that already former students or pupils of music high schools, music colleges, conservatories or former scholarship holders "Musical Romania's heirs" or "SoNoRo Interferences" not only have extraordinary results internationally but become directors of philharmonics...

We find them on various posters of various philharmonics, indeed, both abroad and in the country.
Yes, and they are starting to take an active part in the musical life of Romania, with a new breath, with enthusiasm, which gathered him both in the country and abroad. Very important, because we all know that if you have a philharmonic to drive, you have to drive it as if you were in a big city in the world because the competition is high, the soloists go where the philharmonics play well, in the sense of organization, in other words, they sing well and are well-behaved.
So, we are seeing extraordinary changes in recent years at several Romanian philharmonics, where the management is young, enthusiastic, competent, and changing things.

At the end of the interview, I would like you to tell us what your expectations are for the years to come from Radio România Muzical?
Expectations are very high, but they are predictable of course. Lots of good music, a national development that will attract even more listeners and, of course, the involvement in organizing several series of concerts at the Radio Hall and beyond, which could bring not only classical music close to people but could bring very famous artists, very appreciated on the stages in Bucharest.
Interview by Liviu Pețu
Translated by Georgiana-Carmen Rădulescu,
University of Bucharest, Faculty of Foreign Languages and Literatures, MTTLC, year I
Corrected by Silvia Petrescu