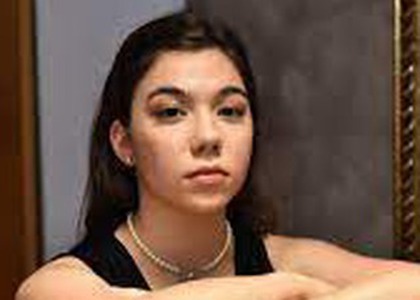 Interview with the pianist Kira Frolu
Monday, 14 March 2022 , ora 9.25

The pianist Kira Frolu will go on the stage of the Radio Hall, during a concert that takes place under the baton of the conductor Christian Ciucă. Along with the Radio Chamber Orchestra, the young artist will perform Concert no. 9 in E flat major "Jeune homme" by Wolfgang Amadeus Mozart. In 2020, Kira Froluwas a finalist of the competition for the "Heirs of Musical Romania" scholarship.

How did the rehearsals go?
The rehearsals went extraordinary, the atmosphere is very friendly and it was easy to communicate with the conductor. Everyone participated in the discussion, it was very nice to hear the section of the orchestra, as well as the problems they encountered or the vision they had; we discussed everything and it wen tvery well until the end, we got along wonderfully. I haven't played with a chamber orchestra before and I haven't played with an orchestra in the Radio Hall as well. There are two new experiences built in one and it's amazing. The balance between piano and orchestra is different, it is a more intimate atmosphere, with a more personal sound.

The concert takes place as part of 2020's edition of the competition for the Musical Romania Heirs scholarship. How do you recall the participation in that competition?
The competition came at the appropriate time during the pandemic, when I returned to Bucharest from London, in a time I thought was going to be the spring break, but it turned into a long stay at home, with no hours of work. piano, without events and in a rather dark atmosphere, and this contest and the application and writing of the program, all we had to do was a very good source of inspiration and it gave me an additional reason to continue to expand the repertoire and continue to study with the thought that "ok, we'll get back to normal life later"; and opened the doors of the radio to me. The first concert after the isolation period was quite scary and it was actually without an audience, but it was broadcast live, and the concerts after, with the audience and they, were a challenge and I felt a difference in the way I played after this pandemic, but the audience will always give you certain adrenaline and a certain enthusiasm that improves your performance level, thing that inspires you and gives you a boost.
Interview by Petre Fugaciu
Translated by Roberta Ana-Maria Gulerez,
University of Bucharest, Faculty of Foreign Languages and Literatures, MTTLC, year I
Corrected by Silvia Petrescu