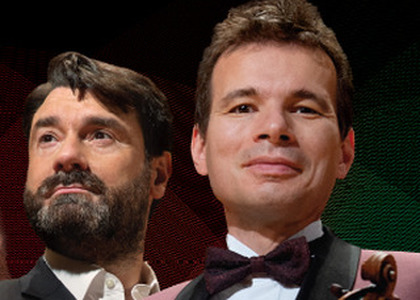 Interview with Dan Popescu and AlexandruTomescu (I)
Monday, 28 March 2022 , ora 9.36

Wind Water Earth - a project in which Radio RomâniaMuzical is a co-producer. An album and a tour that will start on April 1st, with a concert at the Radio Hall in Bucharest on April 12th. Violinist AlexandruTomescu, pianist Sînziana Mircea and cellist ȘtefanCazacu playing music written by Dan Popescu.
We gathered at a friendly meeting to talk about a special project that I think is unique, at least in the Romanian context. First and foremost, a story about an engineer who ends up writing art music, music that gets to be performed by the most famous Romanian violinist of the moment. There is also an album. And there is also a tour, that will take place soon, so we have a lot to talk about. First of all, Mr Dan Popescu, I would like you to tell us, how did an engineer come to composing art music?
A difficult question. Coincidentally, I can say. Or maybe not. It was destined. The piano has been my soul instrument my whole life, and although I did not continue the musical studies up to the Conservatory etc., I always liked it and it was for me the instrument that balanced me in all the difficult periods that I had, as well as made me rise high in my moments of dreaming. And a few years ago, I had a wonderful surprise, namely, my little daughter, who is not so little now, dedicated a fist composition of hers to me and somehow that was the moment when I got inspired to think about this idea of going further in music. Maybe the decades that I spent in front of the piano, digesting the scores of great masters, especially piano masters and romantics in general, somehow probably accumulated in my mind, got filtered and, at some point, I felt this need to release everything that had accumulated.
Alexandru Tomescu, whenever you get involved in something, you get involved in a project that you believe in. Why did you believe in this project, Wind Water Earth, which we are talking about today?
Yes, it is an unusual project and a spectacular project, I would say. Of course, I have known Dan Popescu for many years, since when I, together with the bandoneonist Omar Massa were in our first tour, not after the pandemic, but during the pandemic, and we performed a first work signed by Dan Popescu, dedicated to the victims of the pandemic, an extremely touching work that gave us all reasons to think. Of course, after that, along the way, I found out that there are many other works that we explored together, we developed together, we negotiated together, because, I think it is, after all, a rare privilege to be able to talk with the composer himself. Today we can no longer approach either Mozart or Beethoven directly. Well, with Dan Popescu we can talk and find out what exactly are the intimate motives behind each musical decision. We can search together for sounds, directions of music, energies, and I really liked that.
Indeed, it is an unusual story, very unusual, how many people nowadays still have the courage to be poets, violinists, composers? These are some occupations that, indeed, come from other times, imply a different kind of effort, a different kind of patience, a different power of concentration upon a project, and I think it is a privilege and at the same time a responsibility. I want to say that in this tour, Wind Water Earth, - which will probably be a zen tour, I think, covering the main elements - there will be three of us, artists, on the stage, I together with Sînziana Mircea and cellist ȘtefanCazacu. There will be works for violin plus piano, cello plus piano, and trios, very diverse, very different, very spectacular. I am sure the audience will be in for a big surprise.
Interview by Cristina Comandașu
Translated by Ecaterina Bucovanu,
University of Bucharest, Faculty of Foreign Languages and Literatures, MTTLC, year I
Corrected by Silvia Petrescu