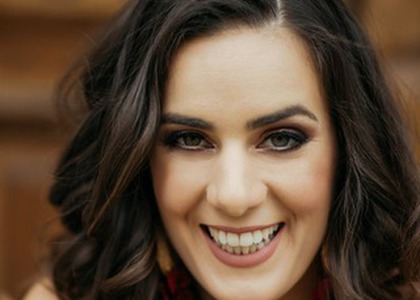 Interview with Irina Sârbu, the singer of the The Old Bucharest Music supported by The Royal Camerata
Monday, 11 April 2022 , ora 10.51

Irina Sârbu, Sunday April 10th, you will be the lead singer '"The Old Bucharest Music" supported by The Royal Camerata. What does this ensemble mean to you?
It is a great joy to sing on the stage again with this amazing orchestra. It is a dear experience to me and I am glad to sing this repertoire close to my heart, therefor, a whole entire emotional experience from my part. We will sing very known songs from The Old Bucharest, Vrei să ne întâlnim sâmbătă seară , Iubesc femeia, Truli, Zaraza, and many, many surprises and I am happy to be on the stage for the first time next to the maestro Radu Popa, who will be conducting this concert.

As you said, Sunday we will be listening to songs such as Zaraza, Iubesc femeia, Noapte bună, Mimi. Why the music of the Old Bucharest?
Because this music will always be up-to-date. It is a music that is tied to our roots, to love stories, it is a music which the audience always resonates with and they will always enjoy listening to such repertoire. It is tested by me, by sir Radu Popa, by everyone who took an interest in these songs. The orchestration is signed by Ioan Dobrinescu, and the repertoire is one close to our hearts which we should not forget, and I think it is very important that the generations coming after us listen to this music and have access to it, especially in such enviroment at the Athenaeum and with these ochestrations and with the Royal Camerata and the maestro Radu Popa.

In jazz, such works are usually played by a few people, which is more permissive when it comes to the improvising parts. In the Sunday concert we are discussing arrangements made for a large ensemble and a lead singer. How do you improvise when you sing with a large ensemble, such as the Royal Camerata?
I am so glad you are asking this. I even had a discussion on this topic with maestro Radu Popa. Indeed, when you play in a small ensemble, a jazz band, is much easier to have freedom and as asinger, your colleagues follow you, but indeed, in terms of such large orchestrations, I found some portions, certain measures, certain places in each song where I can also express myself slightly in the jazz manner. Of course in moderation, because we have to keep the style of the times and years in which these pieces were written. But yes, it was a thing I thought about and succeeded to add in a little bit of jazz and swing.

On the morning of the concert, April 10th, there will be a rehearsal with the audience. From your perspective, what can the experience of attending a rehearsal give the audience?
For me it is the first time I am experiencing this, the general rehearsal with an audience. I find it very interesting to be able to enter the artists' kitchen, their living room. At the general rehearsal we talk, we stop, we consult ourselves, it's not so strict, but with such class like at a concert, but of course the general rehearsal being general is very close to the concert. I really want to communicate with the public, to be open. Tickets were sold out very quickly. People really wanted to attend the concert, and certainly those who will come to rehearsal will not be able to come in the evening, because they were not able to get tickets. So, I'm glad that they managed to come and that they are in very large numbers or for the lot of tickets and the rehearsal and that means that those who come to rehearsal have certainly wanted to come to the concert.
Interview by Maria-Isabela Nica
Translated by Nina Tufă,
University of Bucharest, Faculty of Foreign Languages and Literatures, MTTLC, year II
Corrected by Silvia Petrescu