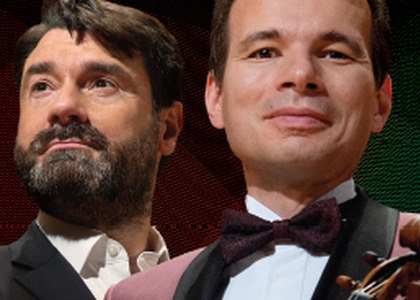 Interview with Dan Popescu and Alexandru Tomescu (IV)
Tuesday, 12 April 2022 , ora 16.12

Wind, water, earth - a tour that ends on April 12th at Sala Radio. Works by Dan Popescu, well-known entrepreneur, performed by violinist Alexandru Tomescu, pianist Sînziana Mircea and cellist Ștefan Cazacu.
Wind, water, earth - a tour that ends on April 12th at Sala Radio. Works by Dan Popescu, well-known entrepreneur, performed by violinist Alexandru Tomescu, pianist Sînziana Mircea and cellist Ștefan Cazacu. Tickets for the chamber concert at Sala Radio are available here.
This tour has other connections too, because we live in a tense and complicated context in which each of us wants to contribute in a way with something good. I will let you, Mr. Dan Popescu, tell us more about the significance of this tour in this context.
Dan Popescu: You see, my work was not planned for such moments, although it has been somehow created after the last two years of the pandemic and all that it meant for society, with all the plethora of feelings and emotions, suffering, maybe moments of joy, relaxation and isolation as well. Many of the songs are marked by these feelings. Songs such as Torment, Consolacion, Cry for solitude - which was performed with Omar Massa, and now in piano version, as it was first composed and intended for piano and violin. So, many of my songs are characterized by these strong feelings and these impressions and transformations and torments that we went through. I am saddened to see that, after two years of torment, we are going through a terrible period in the 21st century, in Europe, an armed conflict at our gate, a war, an invasion and a huge drama for millions of people taking refuge from their own country. And maybe, the feelings we have felt in recent years are unfortunately still relevant today. I am terribly sorry we live such a thing. However I hope to be able to communicate to the public what we have to communicate together. I mean both the feelings and the torment or turmoil we feel, but also the moments of dreaming or hope existing at least in our minds, but also in the public mind. I'm still holding out the hope that this combination is relevant, and I hope to give the public a pleasure, a desire to see the good despite all the challenges, to see hope. Almost all my songs, in the last notes at least, generally try to highlight hope and joy.
There is also a practical aspect, in fact, related to a humanitarian contribution that you have thought of for this project.
Dan Popescu: We decided together that the money from all the CDs we sell on tour to be donated to a cause relevant to the humanitarian situation in Ukraine, namely to provide support both financially and through our relationships, to those Ukrainian artists who are in Romania today and need help.
Alexandru, we need to finish in a more optimistic tone, maybe. This is your first tour in 2022, right? Tell us a little more about your program, which I hope will bring many pleasant surprises for 2022.
Alexandru Tomescu: Yes, I hope so too. The musical life seems to thaw slowly, despite the proximity of the war. I am a superstitious person, even before the pandemic, I wouldn't have talked about the projects in progress or about the projects we were still preparing. And what I knew about the pandemic taught me something even tougher: that everything can change from one day to the next, from one hour to the next. But, well, getting overall the experiences, all the superstitions, definitely a lot of nice things are about to happen. I hope to have the time, to have the respite offered by God and people to be able to carry them out. As for the tour, I would mention the project with the Romanian Chamber Orchestra, which will take place at the end of June - we have with us maestro Cristian Măcelaru - a project with multiple connections: masterclasses, conducting courses and, obviously, those concerts. The Stradivarius tour goes on. We have prepared a slightly unusual program this year too. This is, in fact, the challenge every year: to reinvent the whole show. We will travel to as many cities in Romania as possible, in many of them for the first time. We'll have other concerts abroad during the summer, and, well, I hope the fall season will find us healthy and safe.
Interview by Cristina Comandașu
Translated by Translated by Anca Cristina Ilie
University of Bucharest, Faculty of Foreign Languages and Literatures, MTTLC, year II
Corrected by Silvia Petrescu