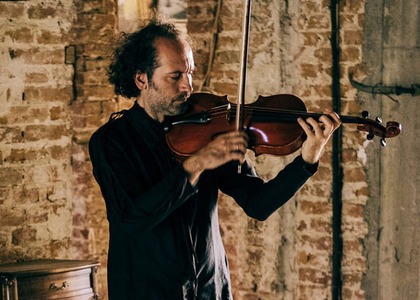 Violist Răzvan Popovici, director of the SoNoRo Conac tour invited to Perpetuum Mobile
Tuesday, 12 April 2022 , ora 16.20

The reason why I titled this tour "La grande bellezza" is that what I did in these 9 years until reaching this 10th edition of the SoNoRo Conac tournaments, was a tribute to the architectural beauty of Romania -Răzvan Popovici
My guest tonight is the violinist Răzvan Popovici, who, in addition to his artistic career, has linked his name to a real cultural platform with various, interesting, and, not infrequently, nonconformists projects - all under the title SoNoRo. Thanks for coming by phone!
Thanks for invitation! Good evening!
Răzvan Popovici, let's make a short history! How long has SoNoRo been around?
It's been 17 years. That's when I laid the foundation stone for the festival. Then, as you said, I developed it very slowly. It has become more and more extensive, bushy, more complex, more diverse, and, look, I think that today we will talk first of all about the anniversary edition, no. 10, of the SoNoRo Mansion Tournaments, right?
Correct! Which has an interesting title and I want to know why? "La grande bellezza"
Obviously, our audience realized that maybe "grande bellezza" is a little about that famous Italian film that caused a stir some time ago, which talked about the decadence of the Rome society, the aristocratic society ... finally, this is a parallel that only those who know the film can feel. The reason why I titled this tour "La grande bellezza" is that what I did in these 9 years until reaching this 10th edition of the SoNoRo Conac tournaments, was definitely a tribute to the architectural beauty of Romania. I have discovered over the years over 100 extraordinary heritage buildings, most in good condition, very good or exceptionally restored, others - in a slightly sadder condition, forgotten by fate ... but, together, I think that the beauty of this extraordinary heritage that Romania has was the center of the SoNoRo Conac tournaments. And through our music, classical music and so many masterpieces that we sang in these concerts, music through which we managed to fill the spaces with vibration, with beauty certainly contributed to the inspiration for the title of this anniversary edition - La grande bellezza
Who are the protagonists of this anniversary edition?
We have a lot of guest artists. Because SoNoRo Conac will start in two days, on Saturday, at the Thalia Theater in Sibiu, I will list the first of these first 7-8 concerts we do in April. I will start with the violinist Erik Schumann, well known to the Romanian public; he is one of the most appreciated violinists in Germany, although his father is of Romanian origin and his mother is Japanese, but he "plays" for Germany. Since coming to SoNoRo, obviously, he has started to improve his Romanian language a bit, which, unfortunately, he didn't learn - he only speaks Japanese perfectly - he tried to bring me back to his roots in Banat. Then we have the Russian-American cellist Boris Andrianov, who is one of the most appreciated cellists of the moment.As pianists, we have Freddy Kempf - the name I think will make lovers of Wilhelm Kempff's legendary piano performances startle; he is a distant relative of his, but he is a pianist with an independent career from London, of English and Asian parents - winner of major competitions, including Tchaikovsky, with an extraordinary career as a soloist and chamber musician. I am very happy to be performing on SoNoRo for the first time. And, apart from me, who will play the viola, we will also have Jose Gallardo, the great Argentine pianist, who will perform in the second part of the concerts in April, obviously also in the concert at the Romanian Athenaeum on April 18th.
In April, can you tell us where SoNoRo Conac stops?
We start in three days, on Saturday, at the Thalia Hall in Sibiu and finish on April 18 at the Romanian Athenaeum. Among them, we have on the list the splendid hall of the UBB, Auditorium Maximum, from Cluj; we will return to the extraordinary Palace of Culture in Târgu Mureș; we go on to the Oradea Philharmonic. I chose with great joy for the first time the Cultural Palace of Arad, which is fresh and extraordinarily restored. In Timisoara, I chose the Art Museum. And we are very happy, being an anniversary edition, to include the building of the Romanian Athenaeum, probably the most famous in Romania.
Now you're in Berlin. You're getting ready to go on stage, aren't you?
Yes, there are two hours left. I had come here for a few days of vacation, to spend time here with my wife and friends, but I got a phone call the night before I got here from Elena Bashkirova and Mihaela Martin. They called me and asked if I could replace Gérard Caussé, a great French violinist who is ill. So, I'm taking part in two concerts today and tomorrow, the last two concerts of the Intonation Festival, which is, in fact, a dependency of the great Jerusalem Chamber Music Festival, which Elena Bashkirova created 10 years ago, so it's also a small anniversary edition. So... there is nothing left of the holiday, but it is a great joy to take part with such extraordinary artists...
You were on the stage of the Radio Hall on March 6th in a project realized in collaboration with Radio România Muzical. For the violist Răzvan Popovici, what is next in the future? Planned, isn't it...
Next week I will have the pleasure - in fact, in the middle of the SoNoRo Conca Tour - to sing Franz Schubert's Sonata Arpeggione with the Oradea Philharmonic. After that, at the end of the month, there will be several chamber music concerts in the Netherlands, Belgium, and Germany. A week to teach at the Royal Conservatory of Antwerp and we are slowly approaching the middle of May when the first festival we created 19 years ago begins in Bavaria, southern Germany.
Răzvan Popovici, so on April 9th begins SoNoRo Conac - La grande bellezza is called this anniversary edition. Thank you for your presence, I wish you success and we are waiting for you here, at Radio România Muzical, to talk about the success of the 10th edition of SoNoRo Conac.
Let's hope so! I think I want the title and the program to bring as many people as possible to our concerts. Thank you very much for the invitation!
Gabriel Marica
Translated by Translated by Georgiana-Carmen Rădulescu
University of Bucharest, Faculty of Foreign Languages and Literatures, MTTLC, year I
Corrected by Silvia Petrescu