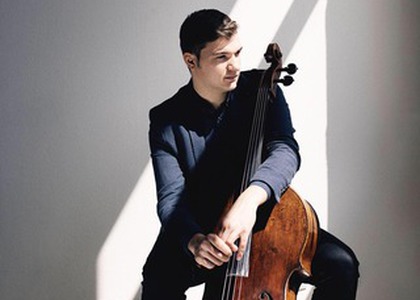 Interview with the cellist Andrei Ioniță- CellEast Festival 2022
Friday, 6 May 2022 , ora 13.37

Mr Andrei Ioniță, on May 5th, together with the "George Enescu" Philharmonic and with the cellists Denis Severin and Valentin Răduțiu, you will perform the opening concert of the first edition of the CellEast Festival, a concert that will be resumed the next day as well. How do you appreciate this initiative, the one of organizing the first cello festival in Romania?
I was approached by Mr. Marin Cazacu about this festival one year ago. It is not the first world wide cello festival, but it is the first Romanian cello festival; I consider this initiative absolutely praise worthy. I can't wait to participate in this inaugural edition and meet other cellists from the Balkans - I already know them very well - and to participate not only in the concerts with the wonderful orchestras from Bucharest, but also to perform along with them. As far as I know, on May 8th, there will be a concert with a cello band and we will also offer masterclasses to other young cellists.

Tell us about the opposite that you will perform at the Athenaeum, on May 5th and May 6th, namely Concerto No. 1 in G minor for cello and orchestra by Dmitri Kabalevski. What place does this concert occupy in the cello repertoire?
The Kabalevski concert is one of the concerts still on my checklist. I feel very close to the music of that period and that geographical space as well. That's why I wanted to approach this concert, which, however, despite the motives and themes that are difficult at times (those themes inspired by folk songs), retains its effervescence and a wonderful playful spirit.

In addition to concerts, the festival will also include training courses for young cellists, entitled Future Cellist and Mini Cellos. What can you tell us about them?
The courses are aimed at young cellists both younger and students. It will be a great pleasure to meet new talents from Romania, but also new talents from abroad, from what I saw on the masterclass schedule. I would also like to thank Răzvan Suma and Elle Bokor for their commitment to organizing this wonderful festival.
Interview by Filip Mihăilescu
Translated by Roberta Ana-Maria Gulerez,
University of Bucharest, Faculty of Foreign Languages and Literatures, MTTLC, year I
Corrected by Silvia Petrescu