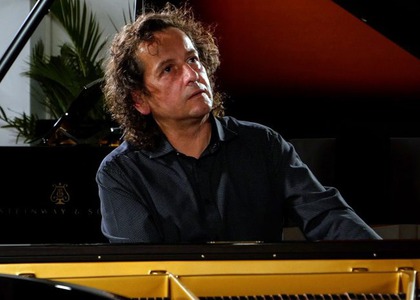 The pianist Horia Mihail – this week's guest on Perpetuum mobile, before a new edition of the Travelling Piano tour.
Wednesday, 18 May 2022 , ora 7.46

Tonight's guest is the pianist Horia Mihail, ready to embark tomorrow on a new Travelling Piano tour. Thank you for accepting our invitation!
Good evening! Thank you for your invitation, I'm glad to be your guest tonight!

Horia Mihail, how many tours does this make?
I don't even know anymore! If we're to count each and every one, starting from 2006 with the Romanian Piano Trio, and then Stradivarius, followed by the Duel of Violins, Enescu's Violin in the countryside, and then just Enescu's Violin, the Traveling Piano, The Golden Flute… I think that makes lots of dozens. I haven't kept count of them until now. If we're only talking about the Traveling Piano, I think this one is the twelfth tour. I was lucky enough to not have to interrupt it during the pandemic too. So I performed both in 2020 and 2021.

In retrospect, how did you find Romania after these over 200 concerts included in this project, held in dozens of cities?
I rediscover it every day. Romania is an absolutely amazing country, but there are indeed problems… we are all familiar with them. Some of them we report, and some of them we're holding in. It's a country that I'm happy to be living in, but I do believe that it deserves to be better.

As far as I know, every Traveling Piano tour has a theme. What's the plan for this year?
Music by Haydn, Mozart, Beethoven… It's a pretty difficult time for me. Actually, it's a very difficult time, because the famous pianist, and also my maestro, Radu Lupu passed away recently and, somehow, I feel that his spirit will probably accompany me on this journey.

Where are you travelling this edition?
Starting with tomorrow I'll be in Moldova, in three cities - Piatra Neamț, Roman and Bârlad. And then, I'm moving to the Ardeal region, once again - Alba Iulia and Deva. There will be one stop in Bucharest, followed by Caracal, a place that I return to with great joy. And then the recitals will be interrupted by a concert in Brașov, where I'll be performing Beethoventogether with the Philharmonic Orchestra- the Emperor Concerto. The tour will resume in June in Tulcea, Bucharest, again... It will find its end in Constanțaat some point. Meanwhile, there are other invites that I'll be honoring - both chamber music and solo recitals in Galați, in Alba Iulia again, in Iași, in the company of some good friends. It will be a busy, busy spring for me. I'm telling you honestly, I have 18 concerts programmed for the next 7 weeks.

And you're enjoying them after the two years of pandemic, I guess!
Of course I'm glad to know that there will be no restricted access in the concert halls, both those who are vaccinated and not vaccinated will be able to attend, without any sort on restriction. I have already gotten used to this normality, because once the restrictions were gone I had a few performances.

Together with the organizers, you have thought about the Ukrainian refugees too, haven't you?
We are all thinking about the refugees from Ukraine. It is a situation that we are not happy about, no matter what the belligerent parties are. It does not seem normal to me that in the 21st century, in an area that we consider civilized, people should kill each other, that is one of the reasons why I try and have tried - as a pianist, as well as the artistic director of the Philharmonic from Brașov - to accommodate as many of the Ukrainian refugees as possible. There is even a very good cellist in the Brașov Philharmonic Orchestra, who camewith her 3-year-old son at the beginning of the war.

I know that the entry of Ukrainian refugees will be free atall of the Travelling Piano tour concerts as well.
Of course! This is happening everywhere in Romania. As far as I know, Ukrainian refugees have access to absolutely any cultural event in Romania; therefore, it is normal and I am glad that our local partners - be they houses of culture, philharmonics or other organizations - have accepted this proposal.

There are 5 travelling pianos that you have played on and,at the initiative of Radio România, they were put at the disposal of some communities in Tulcea, Caracal, Deva, Alba Iulia and Roman. Will you be using them again this year, during the Travelling Piano tour?
Yes, I would like to make a small remark. At my initiative, which was accepted by the management of the public radio, I will be performing on all of these travelling pianos. Unfortunately, the budget no longer allows the piano itself to travel, as it did at the beginning of this story, but I will meet them all.

The tour also includes two concerts. You alreadytold us about one of them. You will also perform with the Radio Chamber Orchestra.
Yes, I will be performing with the Radio Chamber Orchestra on the 8th of June, at 7 PM, at Sala Radio, we will perform The Piano Concerto No. 20 in D minor by Mozart.

Horia Mihail, I wish you a good journey!
Thank you a lot… and I'll also be needing a lot of patience, because I will be spending a lot of time on our roads that are not quite yet highways, unfortunately.

Anyway, I hope you will delight as many people as possible this year and I hope we'll see you again, here, at Radio România Muzical, to talk about all of the things you will encounter during this tour.
Thank you very much for having me share a few thoughts tonight and see you soon! I am hoping to see as many Radio România Muzical listeners as possible at the concerts I will be giving in the coming weeks!

So it shall be!
Interview by Gabriel Marica
Translated by Cristina-Bianca Ion,
University of Bucharest, Faculty of Foreign Languages and Literatures, MTTLC, year I
Corrected by Silvia Petrescu