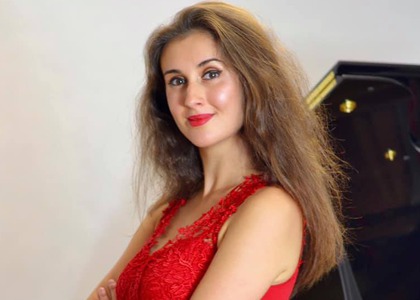 RRM 25 – Interview with pianist Sînziana Mircea
Tuesday, 31 May 2022 , ora 16.07

Sînziana Mircea, I'd like to talk about your emotional connection with Radio România Muzical and, of course, about the events you've been through alongside our station. Firstly, let us talk about 2015, when you performed in a recital at the Cotroceni National Museum, under the auspice of Radio România Muzical, then in an anniversary period as well, celebrating 18 years since the station's first broadcast. How did this event unfold? How did you end up in this collaboration with the station?
I'd first like to wish a Happy Birthday to Radio România Muzical and wholeheartedly thank its team, who have always been by my side and accompanied me across the world, both during my professional endeavors as well as a friend, since each time I felt lonely, be it while in Japan or in America, I'd turn on Radio România Muzical and feel at home. The 18 years anniversary was magical to me, one of my most beautiful and special concerts, held at the Cotroceni Museum; I'll take this opportunity to thank Mrs. Cristina Comandașu, who invited me into that project, among many others. It was a huge opportunity, because I was only a few years older than the station itself at that point; I was 20, presenting a very complex programme, including pieces by Schubert, Liszt, paintings from a Mussorski exhibition. My first record, Nihil Sine Deo, was born from that concert, and was edited by none other than the Editura Casa Radio record label.

That CD came about a year later, in 2016, and its beautiful name, Nihil Sine Deo, probably played a part in it obtaining 3rd place at the Best CD competition, also organised by Radio România Muzical. Around that time you'd begun a collaboration with Alexandru Tomescu, another good friend of the station. What did this collaboration entail?
It was an incredible moment for me because in that competition, Alexandru won 1st place and I, 3rd; when they announced the results live on the radio, Alexandru issued a challenge: "I'm delighted to have won 1st place and I challenge the winner of the 3rd place, Sînziana Mircea, to once again play alongside me." I was just listening to the radio at home, like any regular listener, and I nearly fell over in shock. I was completely stunned, and that is where our professional connection resumed its course. We had played together back in 2011, and in 2017 I did a recital in March, followed by the 10th edition of the Stradivarius International Tour, when I travelled across the contry as well as overseas, together with Alexandru Tomescu and Omar Massa. So this CD was a stroke of luck that came about as a result of the Radio România's 18th anniversary.

The title Nihil Sine Deo was not random, was it? This collaboration was also an opportunity to show the public the works of Astor Piazzolla, who is your favourite composer, correct?
Exactly. It was a tour during which I played, among others, The Four Seasons of Buenos Aires as a trio, with a violin, a bandoneon and a piano. The final recital took place at Sala Radio. It was before the pandemic, so the hall was full and I had my friends by my side; it's still a very, very special moment to me. Sala Radio is like home to me, since I grew up wandering its hallways since I was 7 years old. I'd go there to audition for the now late Rodica Sava's show, which would have been a great opportunity for any young musician. So I'd go and audition, starting since I was in the first or maybe second grade of middle school. I played live each year on her show Musicians of today, musicians of tomorrow. Now that I think about it, it was quite a lot of responsibility for a seven or eight year old to play live on national broadcast. I had that chance, so every time I enter Sala Radio I feel like that seven year old girl again, nervously going in for an audition or a live show.
Interview by Laura Ana Mânzat
Translated by Bianca-Maria Ciucașu,
University of Bucharest, Faculty of Foreign Languages and Literatures, MTTLC, year I
Corrected by Silvia Petrescu