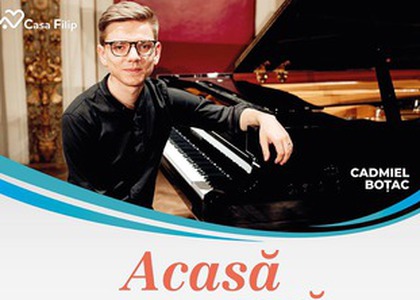 Interview with pianist Cadmiel Botac about the charity concert Home away from home
Friday, 3 June 2022 , ora 9.37

Home away from home is the title of the charity concert held on Wednesday, May 25th, by pianist Cadmiel Boțac and cellist Cornelius Zirbo, at the Auditorium Maximum Hall of the Academic College in Cluj-Napoca.
The idea behind this recital came as a result of a grant we received from the University of Vienna, which is the main sponsor of this event, and was born simply out of a desire to be of service, to help people who need our support. 'Casa Filip' is an organization established 4 years ago, which is dedicated to the care and guidance of cancer patients who come for treatment in the city of Cluj-Napoca. Many of them often have to stay for weeks, months and cannot afford accommodation, cannot afford rent because, as far as we know, the costs are very, very high. And so, 'Casa Filip' comes to the aid of these people who are accommodated and guided. What we want is to organize this charity concert. All the funds that will be raised at this concert will go to this organization.

How would you describe your collaboration with cellist Cornelius Zirbo?
Cornelius Zirbo and I have a beautiful and long-lasting friendship. Earlier this year we had the opportunity to play as part of the 'Musical Heirs of Romania' project. We performed then three concerts in Cluj-Napoca, Timișoara and then in Bucharest, at Sala Radio. Last month, in April, we had the opportunity to play together again in a special recording session in the Radio Romania Muzical studios. And now I'm happy that once again this week, on 25th May, I will have the opportunity to share the stage with cellist Cornelius Zirbo - a great musician, a very pleasant person, an extremely talented young man. I am extremely happy every time I have the opportunity to play with my friend and colleague Cornelius Zirbo.

What programme have you prepared for this performance?
We will perform an exclusive programme of Franz Schubert's works. Together we will play the Serenade 'Schwanengesang' in a special arrangement for cello and piano, as well as the Sonata in A minor 'Arpeggione'. We thought that Franz Schubert would be an easy composer for the general public to understand, and we hope that as many people as possible will come to the concert. He is, quite simply, the composer we are both interested in at the moment. In addition to the works I will be performing with Cornelius Zirbo, I will also be playing the Sonata in C minor D958 for piano. We also consider Franz Schubert to be a composer of suffering - he was an extremely gifted young musician who also lived very little; he was often alone, living in the shadow of the esteemed and well-loved Ludwig van Beethoven. We all consider that he was on the same level as him, but for some reason he did not enjoy the fame and success that Beethoven did. In Schubert's music we can feel this leaning towards suffering. He didn't have an easy life at all, and we think it is precisely this suffering that is often expressed in his music, and we think it fits the context of this charity concert for ill people.
Interview by Petre Fugaciu
Translated by Lenuța Bejenaru,
University of Bucharest, Faculty of Foreign Languages and Literatures, MTTLC, year I
Corrected by Silvia Petrescu